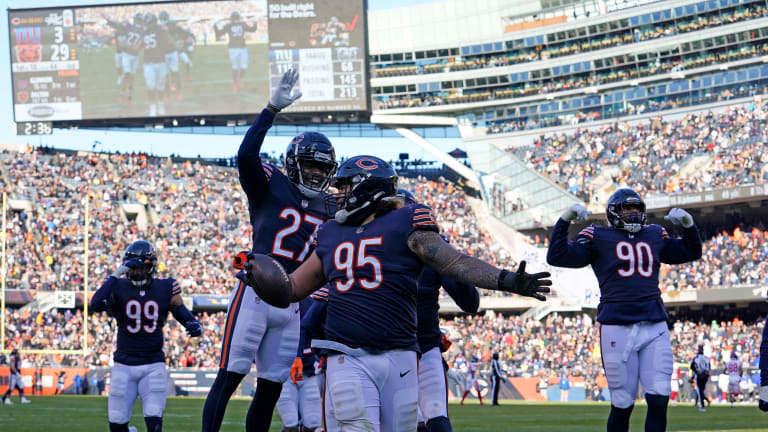 Bears Matchup Flashback: A GIANT Record-Setting Performance
The Bears last played the New York Giants less than a year ago in a game where one individual set a franchise record.
This Sunday the Chicago Bears will take on the New York Giants at the Meadowlands. The Bears enter the contest sporting a 2-1 record after coming off of a 23-20 win over the Houston Texans. 
Meanwhile, the Giants also come into this matchup owning a 2-1 record. However, they're fresh off a 23-16 loss to their divisional rivals, the Dallas Cowboys. 
Both teams have been playing a fairly identical brand of football through the first three weeks of the season, which makes for an interesting battle.
Chicago Bears History
The history between the Chicago Bears and New York Giants runs deep. They have lined up opposite one another 62 times. Chicago holds a commanding 36-24-2 all-time lead over New York. Likewise, they've outscored the Giants 1,103 to 914.
Additionally, in the 62 head-to-head battles, is eight playoff matchups. The Bears hold a slim lead over the Giants in that department.
1933 NFC Championship Game: Giants at Bears (W, 23-21)
1934 NFC Championship Game: Bears at Giants (L, 13-30)
1941 NFC Championship Game: Giants at Bears (W, 37-9)
1946 NFC Championship Game: Bears at Giants (W, 24-14)
1956 NFC Championship Game: Bears at Giants (L, 7-47)
1963 NFC Championship Game: Giants at Bears (W, 14-10)
1985 NFC Divisional Round Game: Giants at Bears (W, 21-0)
1990 NFC Divisional Round Game: Bears at Giants (L, 3-31)
Regular Season: 31-21-2 (961 points to 752 points)
Playoffs: 5-3-0 (142 points to 162 points)
Overall: 36-24-2 (1,103 points to 914 points)
Previous Matchup
These two teams took the field not too long ago. In fact, when they square off on Sunday, it will be ten months exactly since their last encounter. 
The New York Giants visited the Chicago Bears at Soldier Field on January 2, 2022. The Week 17 matchup was the home finale for the Monsters of the Midway. Matt Nagy and Andy Dalton led the 5-10 Bears. On the flip side, Joe Judge and old friend Mike Glennon were at the helm of the 4-11 Giants. 
First Half
The game got off to a great start for the Bears. On the first play from scrimmage, Trevis Gipson forced a strip sack of Mike Glennon. After a Bilal Nichols recovery and a 12-yard return, it set the Bears up with great field position. 
On the next play from scrimmage, David Montgomery took it up the gut for a two-yard touchdown. The Bears had a 7-0 lead in a blink of an eye.
Meanwhile, Mike Glennon was the gift that kept on giving. On the subsequent drive, Glennon's pass was deflected and then intercepted by Tashaun Gipson and returned 31 yards. Their five-play, 20-yard drive came to a screeching halt in just under three minutes. 
Seven plays and 24 yards later, the Bears took a 14-0 lead over the Giants. This time it was Andy Dalton connecting with Darnell Mooney for a four-yard touchdown pass on 4th and 1.
Consequently, the offenses of both teams stalled for a couple of drives as they exchanged punt after punt. 
Giants Punt: 5 plays, 5 yards, 3:36
Bears Punt: 3 plays, 3 yards, 1:36
Giants Punt: 5 plays, 20 yards, 3:06
Bears Punt: 3 plays, 4 yards, 1:03
After the master class of offensive output, the Giants finally got the scoring going again. They marched 35 yards over ten plays in just a tick over six minutes. Ultimately, they settled on a Graham Gano 38-yard field goal. Which cut the Bears' lead to 14-3. 
However, the Bears responded right away. A 14-play, 69-yard drive that spanned 6:44 netted them three points. Cairo Santos booted a 21-yard field goal through the uprights. The Bears' lead was back to 14 points. 
After a fantastic kick-off and good coverage by Chicago, the Giants started the drive at their own five-yard line. But, the Bears' defense had other plans. 
Two back-to-back run stops led to a safety when Angelo Blackson stopped Devontae Booker in his tracks. Following a review, it was determined the ball didn't make it out of the end zone. This overturned the initial call on the field. The Bears were rewarded with two points and now led 19-3.
On the final drive before halftime, the Bears marched 39 yards on seven plays in under a minute. As a result, Santos drilled a 44-yard field goal as time expired. The Bears took a 22-3 lead into halftime.
Second Half
The second half got off to a roaring start. The Bears stormed 75 yards on eleven plays. A drive that spanned 5:30 and was capped off by a two-yard David Montgomery touchdown run. Now, the Bears' lead grew to 29-3. 
However, the rest of the second half was a disaster. Neither team did much of anything with their possessions. 
Giants Punt: 5 plays, 27 yards, 2:57
Bears Punt: 4 plays, 2 yards, 1:34
Giants Fumble: 5 plays, 19 yards, 2:23
Of course, it was Trevis Gipson strip-sacking Mike Glennon again. This time it was Khyiris Tonga with the recovery. 
On the ensuing play from scrimmage, Andy Dalton tossed an interception to James Bradberry. The pass was intended for Allen Robinson. 
After that, the next few offensive possessions went as such:
Giants Punt: 3 plays, 2 yards, 1:35
Bears Punt: 9 plays, 21 yards, 4:42
Giants Turnover on Downs: 9 plays, 36 yards, 3:52
It was on this drive that Robert Quinn logged a sack of Glennon. This play set the Chicago Bears' franchise record for sacks (18) in a single season, which surpassed Richard Dent's record of 17.5 set in 1984.
Now, on the following drive, the Bears went three-and-out. Both teams then exchanged turnovers on subsequent possessions. First, Mike Glennon ended a three-play, six-yard drive with an interception. 
It was a pass intended for Pharaoh Cooper that Deon Bush picked off and returned 15 yards, putting the Bears inside the red zone. 
However, Matt Nagy had other plans. Just three plays later a direct snap to David Montgomery saw the running back attempt a pass to Cole Kmet in the end zone. Unfortunately, that pass was intercepted and returned 17 yards. 
Finally, after three hand-offs and nine yards by the Giants, the game was over. 
Overall
The Chicago Bears walloped the New York Giants by a final score of 29-3. The defense had four takeaways. Of course, all four came from Mike Glennon with two fumbles and two interceptions. 
Andy Dalton was nothing more than a game manager and did the job. He posted the following numbers on the stat sheet: 18/35, 173 yards, 1 TD, 1 INT, and a QB Rating of 63.1. 
Meanwhile, David Montgomery carried the ball 22 times for 64 yards and two touchdowns. Although Montgomery did not post the most efficient numbers, he did get into the end zone twice. 
Additionally, Darnell Mooney was the Chicago Bears' best pass catcher. He logged seven catches for 69 yards and a touchdown. 
Unfortunately, the Bears did give up more than a hundred yards on the ground. Saquon Barkley had 102 of the Giants' 161 rushing yards.
Aftermath
The victory raised the Chicago Bears' record to 6-10. They went on to lose the season finale in Minnesota against the Vikings, ultimately finishing 6-11 and thus ending the Matt Nagy and Ryan Pace eras, respectively. 
As for the Giants, the loss dropped them to 4-12. Similarly, they lost their season finale in Washington. As a result, they finished 4-13 and fired head coach Joe Judge. Additionally, GM Dave Gettleman retired and it was the dawn of a new era for the Giants as well.