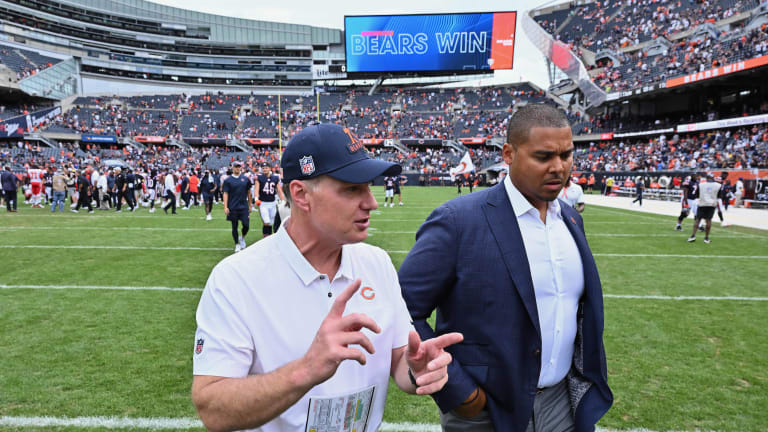 Bears: Matt Eberflus Is Everything Ryan Poles Thought He Would Be
Eberflus was able to truly lead by example in his first season as head coach.
Ryan Poles hired Matt Eberflus to develop a foundation for the Chicago Bears to build on. He did just that and when sitting down with Jeff Joniak, Poles described how impressed he was with the head coach.
Matt Eberflus Is Exactly Who We Thought He Was
How strange is it to feel this positive after a 3-14 season, the worst in the NFL? Chicago Bears fans haven't felt this conflicted since the 2017 NFL Draft. So why now are we more excited for the future of this franchise after one of its worst seasons in history? Because the record in 2022 means nothing for what's possible in the future.
This team finally has a direction and it's because of the leadership. But it started with Ryan Poles and he clearly made the right choice in Matt Eberflus.
The relationship between Poles and Eberflus is crucial and so far, things are actually going in their favor. Maybe not in the standings but fans have experienced lost seasons before and they'll get the hell over it again.
Ryan Poles With Jeff Joniak
The Bears released a video of Ryan Poles reflecting on the 2022 season with Jeff Joniak on their YouTube page. When Joniak asked what Ryan learned about the Bears' head coach he responded with this:
Not only did Poles praise the Bears' head coach but he expressed his dedication to finding value for the organization. Coach Eberflus is incredibly valuable for the Chicago Bears and Poles did his job on that front.
Then he went and traded several players that really shook the fanbase. Regardless of opinion, Poles put the Bears in a position to truly rebuild with those trades. With a huge budget and the number one overall pick — Thanks, Lovie — this team can start the rebuild on a solid foot.
The combination of Ryan Poles succeeding and Matt Eberflus building the foundation of the future for the Chicago Bears is incredibly satiating as a fan. 
Hopefully, in the best-case scenario, fans can get used to this kind of success and become a sought-after destination for not only star players but the next generation of fans as well.