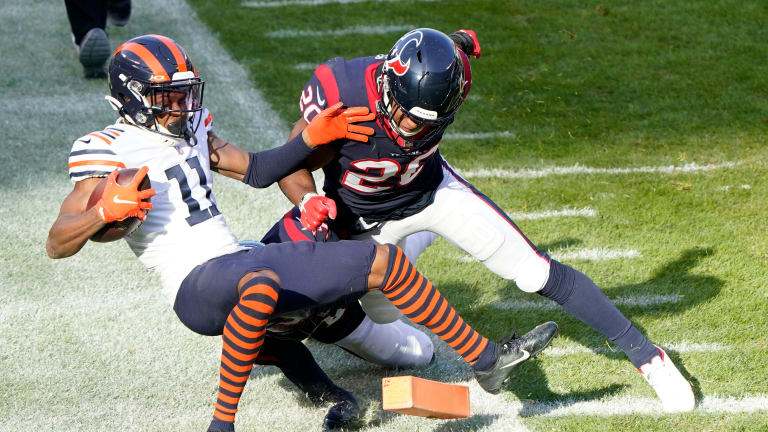 Bears vs. Texans Week 3 Preview
Take a dive into the stats, betting lines, and matchup analysis before the Bears vs. Texans Week 3 showdown at Soldier Field.
Bears vs. Texans will bring old friend Lovie Smith back to Soldier Field on Sunday. So let's reminisce about the Lovie Smith years for a minute. In 2004, Lovie showed up in Chicago with a resounding statement that included three goals for his football team:
1. Beat Green Bay
2. Win the Division
3. Win the Super Bowl
In his second game as an NFL head coach, Lovie achieved his first goal. He went up to Green Bay and beat the reigning NFC North champs convincingly.
The next year, he led a team that started a fourth-round rookie at QB to an 11-5 record and a division title. Check another goal off that list. Those wins were absent of much QB production, as the team totaled 2,002 net passing yards on the season.
To follow up the sorcery of 2005, Lovie led the Bears to a Super Bowl berth in his third season. And that is all I have to say about that.
Lovie deserves the warmest of welcomes to Soldier Field on Sunday. He is the head coach who had the most sustained football success in Chicago since the days of Payton, Singletary, and Dent. He fostered his version of the Monsters of the Midway with Urlacher, Briggs, Peanut, and many more. And he is the exception to the rule that takeaway volatility is high year-over-year. The Lovie Bears were in the top half of the NFL in takeaways EVERY SINGLE SEASON he served as head coach in Chicago. Hats off to you, Lovie.
Bears vs. Texans Betting Lines
In the above table, I have noted the spread and the projected spreads. Projections are according to my four models (DVOA, EPA, Poisson, LinReg), PFF, and 538's models for Bears vs. Texans. Why use so many different models? Because they serve as a crosscheck for each other. The more models that say something is a good bet, the more assurances you get. After all, that is what all of us gamblers want, assurances.
Bears and Texans Cover History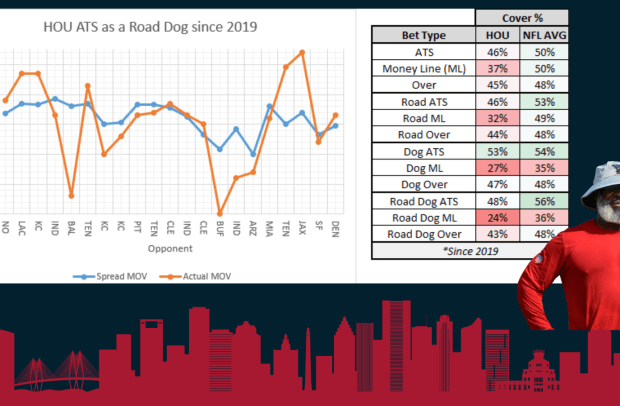 "Good coaches win. Great coaches cover the spread." 
Since 2019, the Bears have been home favorites 11 times, with a record of 5-6 ATS. Additionally, they are 7-4 on the money line (Bears to win straight up) in these situations, and 2-9 on the over. While the Bears' betting stats under Matt Nagy are not exactly relevant to the current circumstances, I do think recent history is still worth considering. So far as a head coach, Matt Eberflus is 1-1 against the spread.
Since 2019, the Texans have been road dogs 21 times, with a record of 10-11 ATS. Additionally, they are 5-16 on the money line (Texans to win straight up) in these situations, while they are 9-12 on the over. However, they have covered three of their last four games as road dogs, including covers against three quality teams (TEN, SF, DEN). In his time in Chicago, Lovie was 71-75 against the spread. And as a road dog, he was 21-25 against the spread.
Bears vs. Texans Team Stats
Advanced stat rankings for the 2022 season are shown for the Bears and Texans here. This includes DVOA, success rates, EPA/Play, and an average ranking of all three for offense and defense.
Texans Positional Breakdown
The "Pos. Rank" uses multiple position-specific stats to generate a relative ranking for each player at their position. The percentile is simply a representation of their rank. For example, from 2020-2022 Brandin Cooks ranked in the 76th percentile among all NFL wide receivers.
The average Texans' offensive starter ranked in the 51st percentile for their position from 2020-2022. Meanwhile, the average Texans defensive starters ranked in the 43rd percentile for their position from 2020-2022. The Bears' positional rankings can be seen in the "Extra Points" section.
Texans Scouting Report – Offense
Play-Caller: Pep Hamilton
The Texans like to run a lot of heavier sets, and they are not afraid to run into loaded boxes with their heavier personnel. However, they do a good job of setting up shots to tight ends within those heavier sets. Pharaoh Brown poses an imposing figure and was able to overpower a linebacker in coverage against the Colts for a big gain. Additionally, OJ Howard is a remarkable athlete still with plus ball skills that make him dangerous.
In the running game, you NEED to wrap up against Dameon Pierce. This cat can rumble right through arm tackles as he gets north-south with urgency. However, it did seem like the Texans had some issues getting hats on linebackers in the run game against the Colts. Both tackles seemed to be susceptible to power against the run and the pass. This is a week where strength on the edge could be difference-making for the Bears. We will see if Trevis Gipson or Dominique Robinson have good enough bull-rush power to make a dent.
The Texans like to use the short passing game and screens to keep their young QB in rhythm. For downfield looks, they prefer to use play-action and might even go into max protect with only two routes and a peel-off check-down. Downfield, you have to watch out for Brandin Cooks, who has speed, is tough at the catch point, and is aggressive to get to the football. He is a QB's best friend with the way he attacks the ball.
At QB, Davis Mills has a quick trigger and seems to process information quickly to get the ball out in a hurry. He sees the field well and is quick to find his outlets for smaller gains. Additionally, it seems like he targets right at the stick on third downs, something the Bears' secondary may want to keep in mind. When he does target downfield, his ball tends to float and sail on him. I also noticed this when he is navigating a muddy pocket or throwing on the move.
In the first half of the game against the Colts, I counted five passes from Mills that floated above the intended target. Some were caught, but all of them were off target. Forcing Mills to throw downfield could open the door for some Chicago interception opportunities. But he does not go downfield often, with a career ADOT of 7.9 (vs. 10.2 from Fields). In his career, 69% of Mills' pass attempts have been within 10 yards of the LOS (vs 58% from Fields).
Texans Scouting Report – Defense
The Texans' defense plays mostly out of cover 3 and cover 1 looks. While they were near the bottom of the league in blitz rate in 2021, they have shown a tendency to bring pressure so far in 2022.
Upon watching film from the Texans' Week 1 matchup with the Colts, I noticed a few things from the defensive play-calling. When the Texans see an empty backfield, they are a coin flip to bring an extra rusher at the QB. Albeit, that was at immobile Matt Ryan. While they might not show blitz pre-snap, they brought a linebacker through the middle more than once in these spots. Additionally, this front 7 is very well coached for the screen pass. They blew up multiple screens in this game and even got an interception on one. And while speaking of turnovers, it is clear that these defenders hustle to the football with urgency.
In the front seven, I noticed that the defensive line tends to get washed out of running plays due to misdirection from the offensive linemen. This is something that we have seen Luke Getsy employ in the Bears' offense through two games. Additionally, the linebackers bite hard on play-action, opening holes in the middle-intermediate zones. This was especially beneficial for the Colts on a PA Boot that gave Matt Ryan and Michael Pittman a ton of green grass up the sideline.
Along the defensive line, Maliek Collins is a problem against the run. He constantly broke through into the backfield on run plays. He and Roy Lopez pose a strong interior for the Texans, but Lopez does tend to overshoot his gap. On the EDGE, Ogbonnia Okoronkwo has a good get-off but was attacked on outside runs to a degree of success. For the most part, the linebackers looked stiff on tape to me. Although, Kamu Grugeir-Hill did have a nice recovery in coverage.
On the back end, the Texans employed multiple two-high looks pre-snap that rotated to one-high post-snap. The corners tend to have deep responsibilities that allow for a lot of cushion underneath their coverages. But Steven Nelson and Derek Stingley are quick to make up ground. 
Bears vs. Texans Summary and Prediction
Whether you want it to be or not, Bears vs. Texans is about Lovie Smith's homecoming. Lovie was the Bears' head coach for nine seasons, with three playoff appearances, two NFC Championship appearances, and one Super Bowl appearance. In his time as the Bears' head coach, he had a record of 81-63, leading them to a winning record five times.
Oh, what could have been had it not been for a broken thumb to Cutler's throwing hand in 2011? For those who don't remember, the Bears started the season 7-3 before Cutler broke his thumb making a tackle. They ended the season with an 8-8 record. But that's football. Love it. Hate it. We cannot get enough of it. Let's go out there and show Lovie how to beat the Texans, something he never achieved in Chicago.
Texans: 19
Bears: 22
Extra Points
Chicago Bears Positional Breakdown
Injury Report
Best Bears Content This Week