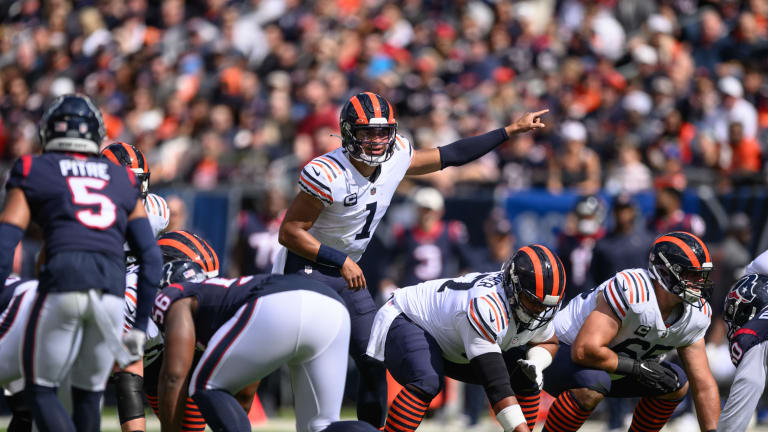 Chicago Bears Week 3 Takeaways: It's Fine, Everything is Fine
The Bears are now 2-1, but Justin Fields' struggles are the talk of the town.
The Chicago Bears picked up their second win of the season on Sunday. They defeated the Houston Texans by a score of 23-20 at Soldier Field. Now, the Bears sit atop the NFC North at 2-1 with the Minnesota Vikings and Green Bay Packers.
However, their current record may be a little misleading. The Bears did not perform well against the Texans, which has been a reoccurring theme since the start of the season. In fact, this game presented more concerns and questions than answers.
Here are the main takeaways from a victorious Sunday afternoon.
Justin Fields
It was another uninspiring performance from the second-year quarterback. Justin Fields even acknowledged his poor play against the Texans, calling it "trash." He has struggled out of the gate, so much so that one could say Fields has regressed from 2021.
Fields is missing open players downfield on his looks and looks hesitant to throw. His first instinct is to take off and run. It seems as if he's having difficulty with anticipation and throwing wide receivers open in windows. Inaccuracy is also an issue as he airmailed a couple of throws that turned into interceptions.
Fields finished the game with pedestrian numbers: 8/17, 106 yards, 0 TD, 2 INT, 27.7 QB rating. Yikes. An actual pedestrian may have been able to put up better stats.
His Week 3 showing was just a tick better than his game against the Packers. The signal-caller has to improve significantly or the doubts surrounding him will grow exponentially.
Running Game
The running game is actually the running onslaught. The Bears' 1-2 punch of David Montgomery and Khalil Herbert has carried the offense. Their play through the first three weeks has been the one constant to start the season.
On Sunday, the Bears racked up 281 yards on the ground on 40 rushes. That was good for an average of 7.0 yards per attempt.
Khalil Herbert: 20 carries, 157 yards (7.9 avg), 2 TDs
Justin Fields: 8 rushes, 47 yards (5.9 avg)
Equanimeous St. Brown: 2 carries, 43 yards (21.5 avg)
Trestan Ebner: 7 carries, 23 yards (3.3 avg)
David Montgomery: 3 carries, 11 yards (3.7 avg)
Unfortunately, Montgomery suffered a knee/ankle injury in the first quarter and the Bears had to lean on Herbert.
Clock Management/Timeouts
Clock management was an issue for Matt Eberflus. He pocketed all three timeouts going into halftime. The Bears had a chance for points but after getting to their own 28-yard line they just sat on their hands. It was a truly baffling moment for the rookie head coach.
"Here's where we gotta be better... we were in thirteen-personnel going third and one and then we subbed, once I saw them sub there, I should have called timeout at 35 seconds and we would have been fine. So I got to be better there in that situation right there," Eberflus said of the gaffe.
Roquan Smith
Guess who's back? Back again. Roquan's back. Tell a friend.
Yes, Roquan Smith is back to performing at a high level. After a slow start by his standards, the linebacker made his presence felt Sunday despite dealing with a hip injury.
Smith led the defense in the stat sheet with 16 tackles (six solo, two TFL), one pass deflection, and a crucial interception in the closing moments of the game.
Eddie Jackson
Following Roquan Smith in the stat sheet was Eddie Jackson. The Alabama product is playing like it's 2018 again. He logged eight tackles (five solo) and had an interception in the end zone.
Luke Getsy
It's not a big deal right now, but Getsy's third-down play-calling was questionable at best. Notably, he called run plays on third and long twice.
It's understandable when your running game is firing on all cylinders. But maybe have some faith in your QB to get the job done?
Right Guard?
The rotation at right guard continued for a third straight week. The Bears shuffled Lucas Patrick and Teven Jenkins at the position again.
It's unclear what the actual plan is along the offensive line. Earlier in the week, Patrick was back practicing at center and snapping the ball. However, Sam Mustipher ultimately started at center, which bumped Patrick over to right guard.
In an ideal world, the offensive line of Braxton Jones, Cody Whitehair, Lucas Patrick, Teven Jenkins, and Larry Borom from left to right is the best five.
Overall
It was nice to get a win. They're tough to come by in the NFL. However, it doesn't feel like the Bears truly won all because of Justin Fields' struggles. The bigger concern as of now is Fields' development. It's been ugly through three weeks of the season.
As for the defense, it wasn't always pretty but they did enough and made the stops when it was needed. Two takeaways in critical moments helped Chicago seal the win. The Bears have a long way to go in terms of development over the remaining 14 games. The growing pains are very real right now.
What's On Tap Next?
The Chicago Bears have a date with the New York Giants next Sunday. The Oct. 2 affair will kick off at 12 PM CT and air on FOX.
Justin Fields looks to bounce back from another clunker of a performance and get right.
On the other hand, the Giants will be on short rest after facing the Dallas Cowboys on Monday Night Football. Saquon Barkley, Sterling Shepard, and Daniel Jones lead the way on offense for New York. Barkley is off to a strong start and looks to be back to form following a torn ACL. He will be a force to be reckoned with, which will test the Bears' defense.
Tune into the Bears On Tap podcast for further postgame reactions in addition to updates and analysis throughout the week.