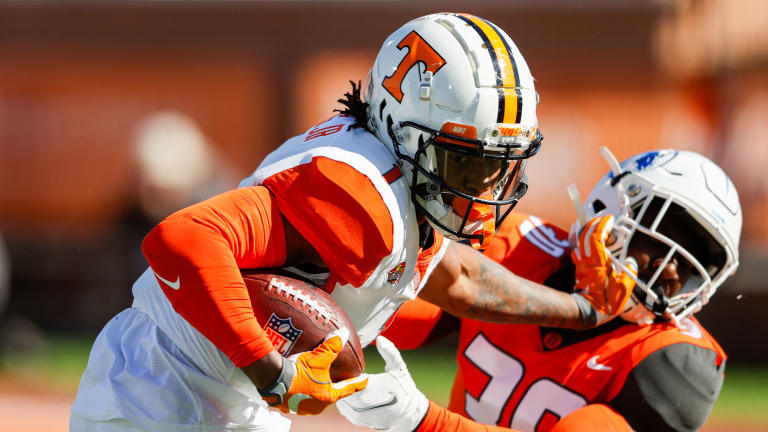 Bears Velus Jones Jr. To Make Debut, Cairo Santos Out Against Giants
The Bears' rookie wide receiver will make his long-awaited debut in New York.
After weeks of dealing with an injury, Velus Jones Jr. will finally make his Chicago Bears debut when they take on the New York Giants on Sunday. Jones Jr. dealt with a hamstring injury that's kept him sidelined for the majority of the start of the NFL season.
Velus Jones Jr.
Until recently, Jones Jr. was not practicing and finally returned to practice in a limited form. The rookie out of Tennessee has unique speed that makes him a special case for the Chicago Bears.
Seeing the Bears' wide receivers go down with injuries left and right was a troublesome sight this early in the season. They badly need help at the position and if they hope to jumpstart the offense against an exploitable New York Giants defense, Jones Jr. should play a crucial role.
Cairo Santos
The Bears added Cairo Santos to the injury report earlier this week for a personal issue. They clearly expected his availability to still be in question come Sunday afternoon as they signed kicker Michael Badgley as a contingency.
Chicago announced that Santos will miss the game against New York and Badgley will start for the Bears in his place. Badgley had a solid 2018 season, his first with the Chargers, but has had a tumultuous NFL career ever since.
Although he split the 2021 season between the Colts and Titans, Michael Badgley brings professional experience the Chicago Bears will sorely miss from Cairo Santos this Sunday.
The Bears will try to start a winning streak in New York and improve their record to 3-1 against a Giants team coming off its first loss of the year.