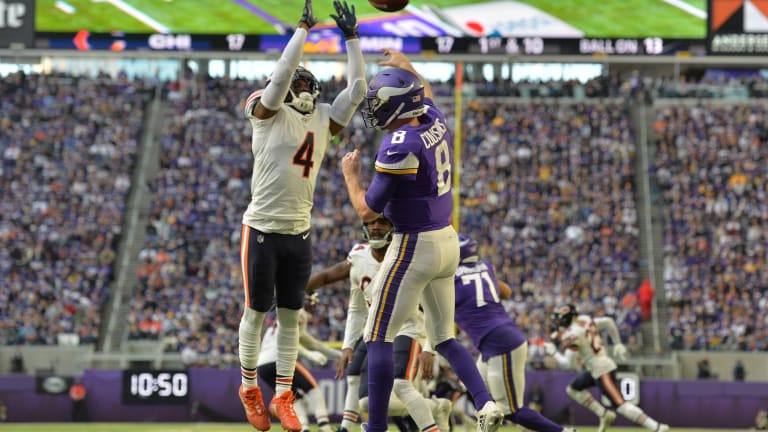 Bears vs. Vikings Week 5 Preview
Take a dive into the stats, all-22, betting lines, and matchup analysis before the Bears vs. Vikings Week 5 showdown.
On Sunday, Bears vs. Vikings will kick off at noon CST in Minnesota. With all the questions surrounding the Bears after their rough game aginst the Giants last week, we all hope to get some answers against an up-and-down Vikings squad.
Bears vs. Vikings Betting Lines
In the above table, I have noted the spread and the projected spreads. Projections are according to my four models (DVOA, EPA, Poisson, LinReg), PFF, and 538's models for Bears vs. Vikings. Why use so many different models? Because they serve as a crosscheck for each other. The more models that say something is a good bet, the more assurances you get. After all, that is what all of us gamblers want, assurances.
Bears and Vikings Cover History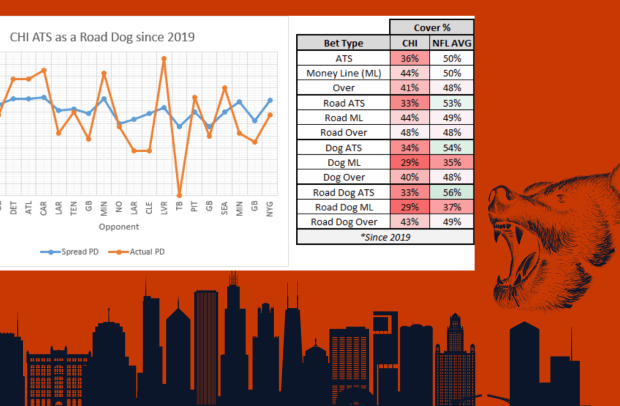 "Good coaches win. Great coaches cover the spread." 
Since 2019, the Bears have been road dogs 21 times, with a record of 7-14 ATS. Additionally, they are 6-15 on the money line (Bears to win straight up) in these situations, and 9-12 on the over. While the Bears' betting stats under Matt Nagy are not exactly relevant to the current circumstances, I do think recent history is still worth considering. This year is the first season for new Bears' head coach Matt Eberflus. In the first four games, Eberflus is 2-2 straight up, 1-2-1 ATS, and 1-3 on the over.
Since 2019, the Vikings have been home favorites 20 times with a record of 8-12 ATS. Additionally, they are 14-6 on the money line (Vikings to win straight up) in these situations, while they are 12-7 on the over. This year is the first season for new Vikings' head coach Kevin O'Connell. In the first four games, O'Connell is 3-1 straight up, 1-3 ATS, and 2-2 on the over.
Bears vs. Vikings Team Stats
Advanced stat rankings for the 2021 season are shown for the Bears and Vikings here. This includes DVOA, success rates, EPA/Play, and an average ranking of all three for offense and defense.
Vikings Positional Breakdown & Key Players
The "Pos. Rank" uses multiple position-specific stats to generate a relative ranking for each player at their position. The percentile is simply a representation of their rank. For example, from 2020-2022 Za'Darius Smith ranks in the 83rd percentile among all qualifying EDGE defenders.
The average Vikings' offensive starter ranks in the 56th percentile for their position from 2020-2022. Meanwhile, the average Vikings' defensive starter ranks in the 58th percentile for their position from 2020-2022. The Bears' positional rankings can be seen in the "Extra Points" section.
Vikings Scouting Report – Offense
Play-Caller: Kevin O'Connell
All-22 Review
To get a better idea of the Vikings' attack on offense, I reviewed the All-22 film from their Week 4 victory against the Saints. I chose the Saints game because the other games (Packers, Lions, Eagles) did not feel very representative of what the Bears will do defensively. While the Saints are not all that similar scheme-wise, I felt it is the closest among available options.
Under this new offensive system, the Vikings are clearly still working on play calls, communication, and timing. There were multiple instances of Minnesota's offense having route miscommunications with throws sailing to no clear target. In the game against the Saints, the offense looked like the Rams' McVay offense when Jared Goff was still in Los Angeles. Meaning that they used heavy personnel when running outside zone, while they used condensed shotgun splits for passing concepts.
Key Notes
To open the game, it was clear that the Vikings wanted to get the passing game in a rhythm early with quick hitters and screens. This appeared to loosen up Theilen, Jefferson, and Cousins. But the offense never really opened it up with explosive plays downfield. Out of those condensed sets, the Vikings threw primarily outside the numbers until well into the second quarter. Once they established that rhythm passing outside the numbers, they started hitting second reads over the middle of the field. Cousins does a good job of using the entire field once he is in rhythm.
Overall, the Vikings' offense played with a fast pace that was difficult to keep up with in the all-22. They consistently snap to football early in the play clock. This makes me think that rotating coverage late in the snap clock when given the opportunity could create confusion for the offense post-snap. The concept is similar to the way defenses took advantage of McVay and Goff when they were late in the play clock.
Other Findings
Kirk Cousins' composure as a passer tends to get shaky after big hits, big conversions, and in crunch time. Basically, any time his adrenaline may be running high might be a good time to take a chance on jumping a route. Cousins will give defenses opportunities to take the ball away in those moments.
"Is there anybody who looks more afraid of being hit before contact comes at QB than Kirk Cousins?"

– Diante Lee of The Athletic
The Vikings use play action on 30% of dropbacks (13th in the NFL). Kirk Cousins ranks 25th in ADOT, 24th in yards per attempt, and fifth in adjusted completion percentage on play action. These figures indicate that the Vikings use a lot of play action for shorter pass attempts, rather than using it to take shots downfield.
In run blocking, it seemed like the Vikings' offensive line was struggling to hit their landmarks on the second level when running outside zone. They had some more success on inside runs, especially those that were blocked up like outside zone. Generally, I came away feeling like this offensive line can be bullied in the run game, but I question whether the Bears iDL has the ability and tenacity to make it happen.
Vikings Scouting Report – Defense
DC: Ed Donatell
Base: 3-4 (Fangio Tree)
To get a better idea of the Vikings' attack on defense, I reviewed the All-22 film from the Vikings' Week 2 loss against the Eagles. I chose the Eagles game because the other games (Packers, Lions, Saints) did not feel very representative of the Bears' mobile QB and run-heavy attack. While the Eagles' offense is much more talented than Chicago's, the aspect of a mobile QB makes it the most similar film.
The defense is called by an old friend, former Bears' secondary coach Ed Donatell. When Vic Fangio was the Bears' DC, Ed Donatell was his right-hand man. So, fittingly, Donatell runs a quarters-heavy scheme. This defense is not interested in letting opponents win deep. Not at all. They play their CBs far off the line of scrimmage and allow offenses to eat all they want in the short game. At safety, Harrison Smith covers up a lot of hiccups, but there are still some coverage busts here and there, especially when the QB scrambles.
In order to beat the Vikings' pass defense, you have to kill them with 1,000 paper cuts, for the most part. That means using screen passes, quick hitters, and option plays. Also, target No. 58 (Hicks) often, at least based on his film against the Eagles.
Against the run, the Vikings are stout enough but lack depth. Danielle Hunter and Za'Darius Smith both play the run well from the EDGE position. Additionally, Dalvin Tomlinson is a handful of a nose tackle who can fill two-gaps easily. Expect for him to be a problem for Sam Mustipher and Lucas Patrick, who are both undersized.
Bears vs. Vikings Summary and Prediction
Justin Fields needs a game. And in 2021, he had a strong showing against the Vikings in Week 15. But this is a new Vikings team with new schemes and personnel on both sides of the football.
While I want to be optimistic here, the realist in me is taking over. I hope to see Justin Fields put up numbers on Sunday and take what the Vikings give him for good YAC and efficient production. But I worry that it is not in his nature. I think he will make some plays on the ground and on broken plays. But ultimately, I am not sure that it will be enough while Kirk Cousins builds a lead taking everything that the Bears' defense gives him.
Bears: 17
Vikings: 27
Extra Points
Chicago Bears Positional Breakdown & Key Players
Injury Report
Other