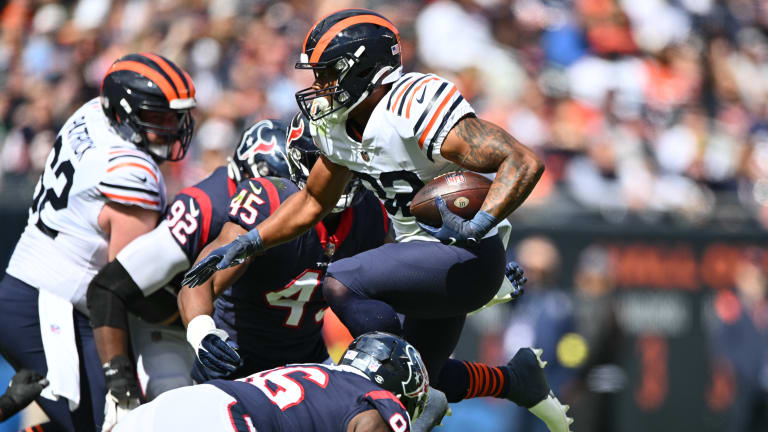 Bears Week 4 Inactives Against Giants
The Bears will be without several key players against the Giants.
All week long the Chicago Bears have been preparing to take on the New York Giants without several key players. Prior to the noon kickoff, the Bears made it official that David Montgomery and Jaylon Johnson will miss the week four matchup.
Chicago Bears Key Inactive Players
Running back David Montgomery left last week's game against Houston in the first quarter and Jaylon Johnson missed it entirely. That trend continues as they both will not play against the Giants on Sunday.
Rounding out the Bears' inactive list is as follows:
K Cairo Santos
DB Dane Cruikshank
LB Matt Adams
OL Ja'Tyre Carter
TE Ryan Griffin
In place of Cairo Santos, the Chicago Bears signed Michael Badgley. He's already on the field taking practice kicks and attempting to shake off the rust.
The Bears are no stranger to playing in the rain this season, so if it picks up to more than a drizzle they should already be prepared. But if Badgley is less efficient than his practice reps, they may be in trouble on special teams.
During warm-ups, Badgley roughly hit from 53 yards to the south endzone. But he also missed from that distance and hit the upright from 48 yards out.
Notably missing from the Chicago Bears' inactive list is rookie wide receiver, Velus Jones Jr. The speedy wideout from Tennessee makes his NFL debut on Sunday against an exploitable New York defense and should be heavily relied upon in the Bears' passing game.