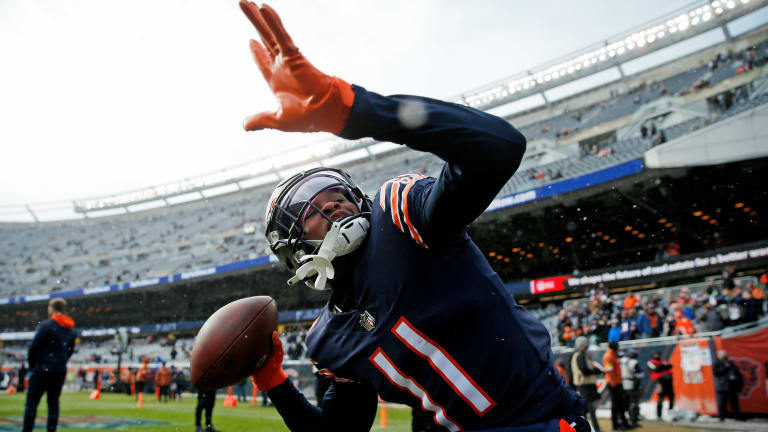 Bears WR Darnell Mooney: Slow Start or Bust?
The Chicago Bears have a problem at the wide receiver position and Darnell Mooney was supposed to blossom this year.
Regardless of the outcome on Sunday Night Football, the Chicago Bears have one task in 2022: evaluation. Their wide receivers, as a group, sincerely let down Justin Fields, Luke Getsy, and the entire offense. But Darnell Mooney isn't supposed to be a problem. Yet, here we are.
Darnell Mooney: Chicago Bears WR1?
Remember in June, when Darnell Mooney predicted his big breakout third year in the NFL? He said that his mentality in college was to avoid stepping on toes in year one, then make some plays in year two. But in year three, explode. He expected to carry that mentality over into the NFL.
But we're two games into the 2022 NFL season, Mooney's third year, and the 24-year-old wide receiver out of Tulane has yet to produce.
In the two games the Chicago Bears have played, Mooney recorded two catches on only five targets. He's only amassed four receiving yards so far this year. That's single digits! Eight of those yards came in week one, so you can do the math on that to find out how poor his performance was against the Packers.
How atrocious is that when Mooney is supposed to be the Bears' WR1? Sure, Mooney has developed over his first two seasons in the NFL and he's continued that process as the Bears changed the coaching staff. But where is he now and is Luke Getsy even comfortable using him?
Is Luke Getsy Afraid To Use Darnell Mooney?
We know Justin Fields and Darnell Mooney have a rapport. We've seen it in action. So what is the cause of the awkward and slow start to the 2022 season? Did Luke Getsy see something in the offseason he didn't like? Did the eight receiving yards in week one make Getsy and possibly Justin Fields lose confidence in Mooney as a pass catcher?
That would be incredibly poor coaching on Getsy's part considering the giant puddle inside Soldier Field just over a week ago. But Mooney's performance still brings up questions that most fans didn't expect to have. 
Going into the offseason, most Chicago Bears fans thought this was Mooney's wide receiver room now. With Allen Robinson departing for the Los Angeles Rams and Mooney's clear ability and connection with Justin Fields, it was only natural to expect that relationship to grow, strengthen, and produce.
We, unfortunately, haven't seen any of that so far and people are starting to whisper. 
We can't be ready to cast him off just yet though, we are only two games into the season after all so let's not overreact too much. But if Darnell Mooney can't get more than a few targets turned into catches for double-digit yardage at home against Houston this week, then it might be time hit Hulk-smash the panic button.