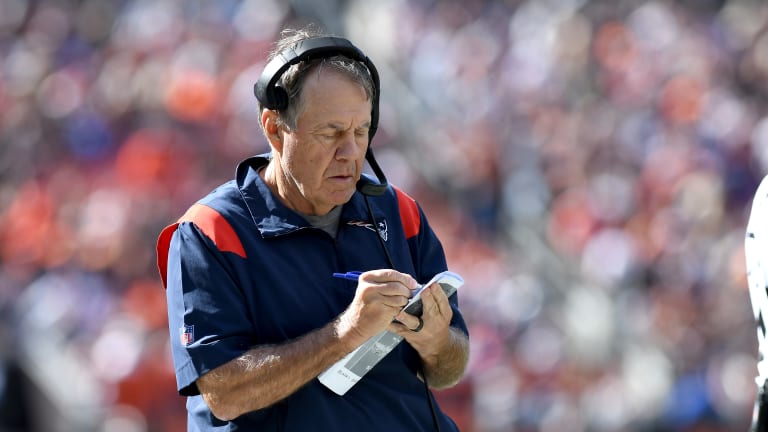 Bill Belichick Praises Justin Fields and Bears Run Offense
High praise from one of the best coaches in the game is always welcome.
Prior to the Monday Night Football matchup between the Chicago Bears and New England Patriots, Bill Belichick had some positive words to say about his team's opponent. When it comes to Justin Fields, Chicago fans know what he can do as we watch him week after week.
Many football fans have seen how dangerous Fields can be dating back to his days playing at Ohio State. But recently, the Patriots' head coach had some high praise for the Bears' young quarterback.
Belichick said that Justin Fields is a major threat whenever he touches the football. This could be a nod to Fields' recent stretch of games where he took matters into his own hands and ran for a first down or a long touchdown that was negated due to penalties.
But it's refreshing to hear a coach like Belichick give credit where it's due.
Chicago Bears Run Offense
Belichick also states the Bears have a great run game that rivals the Cleveland Browns, who the Patriots just recently beat.
The Bears are second in the NFL in rushing yards with 1,025 only behind the Browns at 1,032. They average over 170 rushing yards per game and even though a large portion of that is Justin Fields, both David Montgomery and Khalil Herbert are not to be taken lightly.
The Chicago Bears have a solid rushing attack and Bill Belichick has a unique ability to remove what his opponents are best at doing.
If Belichick is praising the Bears' rushing offense, then we can expect the Patriots to do whatever it takes to shut it down. This Monday Night Football game might just come down to Fields making a big play or two to squeak out a narrow victory and halt Bill Belichick from making history.