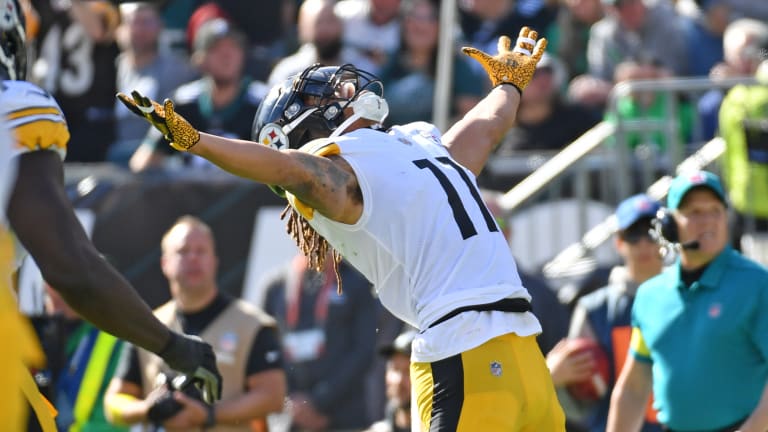 Setting Realistic Expectations for Chase Claypool's Bears Debut
There's a considerable amount of buzz surrounding Claypool's Bears debut, but it's important to temper expectations for the newly acquired receiver.
Following one of the more active NFL trade deadlines in recent memory, the Chicago Bears are gearing up to play the Miami Dolphins with a very different-looking roster. Departures of Robert Quinn and Roquan Smith, and the arrival of Chase Claypool drastically change the Bears' makeup entering Week 9.
There's a considerable amount of buzz surrounding Claypool's debut in navy and orange.
Although there were mixed feelings about the trade at the time, fans want to see what the former Notre Dame receiver is all about. Amidst the excitement, it's important to tamper expectations for Claypool in his first game with the Bears.
Taking Shots
Without a doubt, the Bears will use Chase Claypool for one of his best attributes, the deep ball. With a quarterback attempting deep throws on 11% of his attempts since 2021, having Claypool go deep and beat his man makes tons of sense.
The Bears' offense has been hot lately. However, there have been very few completed deep passes. For example, the Dallas game saw Equanimous St. Brown not contest a deep ball, resulting in an incompletion. In such situations, Claypool needs to be the man downfield contesting those deep passes from Justin Fields.
Less Than 50% of the Snaps
This shouldn't come as a surprise, but it is really hard to learn an entire playbook in about five days. Keeping that in mind, don't be surprised to see Claypool play less than 50% of the Chicago Bears' total offensive snaps on Sunday. In fact, there is a really good chance that number is closer to 25%. Hell, it appears it might be even less.
Sure, the offense is still going to feature Claypool. They'll find ways to get the ball in his hands and let him do his thing athletically. However, without having full knowledge of the offense, it'll be hard for him to operate at 100% effectiveness.
One outlying factor that might allow Claypool to see the field more on Sunday is his willingness to run block. The Bears are the best running team in the NFL, meaning a healthy dose of Claypool's snaps will be in the run game.
A Gadget Play or Two?
Who doesn't love a good gadget play? In his last game with the Steelers, Chase Claypool was the focal point of one of this season's coolest trick plays. Who wouldn't want to see the Bears pull something off like this?
Now, I don't expect Claypool to throw another touchdown pass, but there is the possibility that the Bears use him on an end-around, jet sweep, or something of that nature against the Dolphins. Luke Getsy has been getting more creative with Justin Fields and the offense recently, so why not throw in a little wrinkle for his new "toy" in Claypool?
Bears Eat Fish
If you know, you know.
The Chicago Bears welcome the Miami Dolphins to Soldier Field on Sunday for a noon CT kickoff. The Bears are looking to bounce back and and pick up their fourth win of the season after a Week 8 letdown. As for the Dolphins, they look to continue being one of the best passing attacks in the NFL. A win on Sunday would be their sixth of the season, keeping them firmly in the AFC playoff picture.