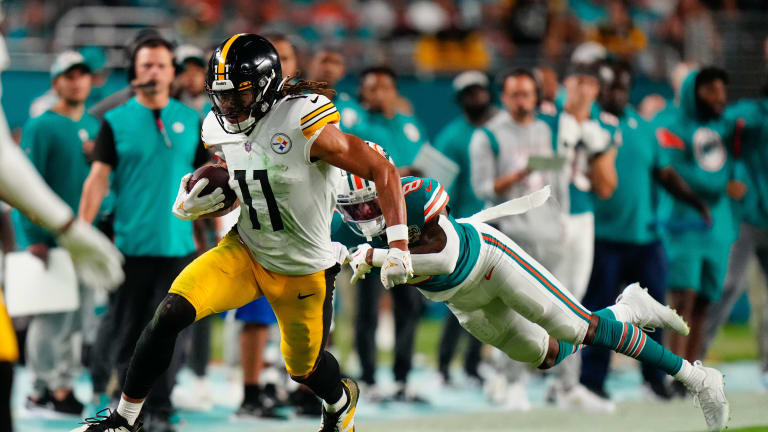 Chase Claypool Will Wear No. 10 for Chicago Bears
The Bears' two latest acquisitions received their jersey numbers on Wednesday.
After an incredibly busy trade deadline that saw Roquan Smith depart to Baltimore and Chase Claypool arrive from Pittsburgh, the newest additions to the Chicago Bears have received their jersey numbers. Claypool will wear no. 10 for the Bears and recently acquired LB A.J. Klein will wear No. 47 for Chicago. 
Naturally after the addition of a big wide receiver, most Bears fans are focusing on Claypool. Although their have been some mixed emotions regarding the acquisition of the former Notre Dame receiver, it's hard arguing that the Bears didn't try to add more talent around Justin Fields. The acquisition of the new No. 10 in Chicago is huge for Fields' development over the remainder of the season. 
In addition, A.J. Klein has become the forgotten acquisition at the deadline. Although the Robert Quinn, Smith, and Claypool trades dominated the headlines, Klein was the "throw-in" piece of sorts in the Roquan Smith deal. Aside from the second- and fifth-round picks, Klein brings a savvy veteran to the linebacking corps with plenty of experience. Over the course of his career, Klein has played in almost every game each season with a handful of starts every year. Although a lot of talent has left in the form of Roquan Smith, Klein is no slouch as a linebacker. 
What's On Tap Next?
With the Miami Dolphins coming to Soldier Field on Sunday, the Bears would likely want to have Klein and Claypool up to speed. Although Claypool likely won't know the offense enough to play every snap, factoring him into the gameplan will be important for Justin Fields. In addition, there is a good chance we'll see Klein rotate in on defense with Jack Sanborn as the off ball linebacker.