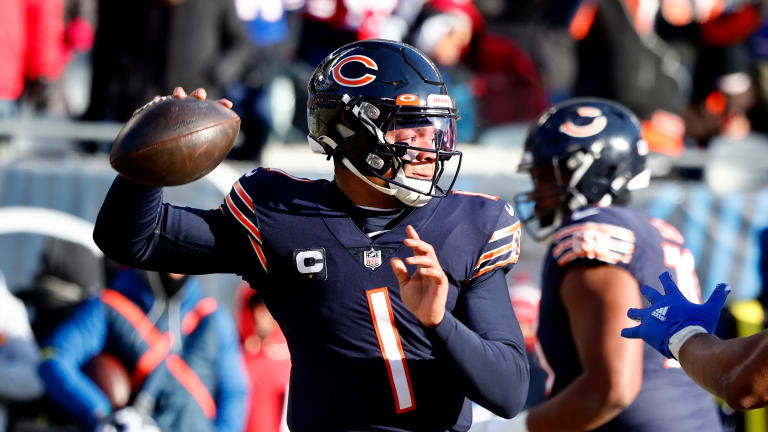 Will Justin Fields Go Down as the Greatest Bears Quarterback Ever?
Darius Butler believes so, and it's not a far-fetched claim considering Fields' potential and the Bears' history at the position.
Talk about a major headline during the holiday season. Former NFL defensive back Darius Butler, a recurring analyst on the Pat McAfee Show, claimed that Chicago Bears quarterback Justin Fields will go down as the best at the position in franchise history when it's all said and done.
As our friends over at Sports Illustrated proposed, do you agree with Butler's statement? It is bold to make such a statement for any franchise when a player is only in the second year of his career. However, in the case of the league's oldest franchise, the Bears, there isn't much to write home about in terms of quarterbacks.
When thinking about the history of the Bears, two positions come to the forefront of thought: running back and linebacker. Greats like Walter Payton, Gale Sayers, Willie Gilmore, and others headline the offensive greatness in the franchise's history. On the other side of the ball, Dick Butkus, Brian Urlacher, Mike Singletary, Otis Wilson, Lance Briggs, and others demonstrate excellence for the Bears. Rarely is a quarterback mentioned unless it's for reasons that aren't exactly glorious.
The Quarterback Position
There is plenty of debate that arises when ranking the best quarterbacks in franchise history for the Bears. From Sid Luckman to Jim McMahon to Jay Cutler, the top names are easy to agree upon. However, after that, the list is underwhelming and, truthfully, quite shocking.
For example, the Bears are the only franchise in the NFL without a 4,000-yard passer in a single season. The top five passing seasons ever are as follows:
Erik Kramer, 1995 – 3,838
Jay Cutler, 2014 – 3,812
Jay Cutler, 2009 – 3,666
Jay Cutler, 2015 – 3,659
Jay Cutler, 2010 – 3,274
Mitchell Trubisky's 2018 season is No. 6 on the list. That said, it's easy to see why the Bears' QB position isn't heralded amongst NFL franchises. Luckman was one of the best of his era, but there Bears have struggled since to find a consistent passer. Jay Cutler is arguably the greatest QB in team history from a numbers standpoint.
But from a QB rushing standpoint, Justin Fields stands alone. He is the only quarterback in franchise history to rush for 1,000 yards and only the third in NFL history joining Michael Vick and Lamar Jackson. When looking at all-time rushing numbers, including running backs, Fields has done impressive things on minimal attempts. Typically, the 1,000-yard milestone requires 200-300 or more carries in a season. Fields' 1,011 yards as of Week 16 of the 2022 season were accumulated on just 150 carries.
What's the Outlook?
Although Fields might never throw for 4,000 yards, he certainly has a chance of becoming a 4,000 all-purpose yards player in the future. It's easy to see a scenario in which Fields throws for roughly 3,500 yards while adding another 700-plus yards on the ground. In that event, Fields would easily be in consideration for an MVP award, especially if his personal stat line helps produce plenty of wins for the Bears.
There is always a chance that Fields throws for 4,000 yards. He already has the most rushing yards by a QB in franchise history. Looking at the past, it's easy to say with confidence that we agree with Darius Butler.
When his career is over, Justin Fields can easily be the greatest quarterback in Chicago Bears' history.