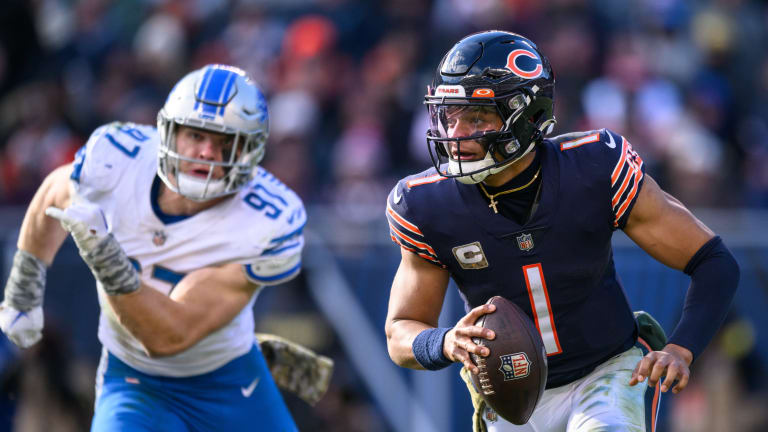 Bears vs. Lions: Week 17 Preview, Predictions, Odds, Matchups
Take a dive into the film, stats, betting lines, and matchup analysis before the Bears vs. Lions Week 17 matchup.
On Sunday, Bears vs. Lions will kick off at noon CT at Ford Field in Detroit. Our Chicago Bears have lost eight straight games as most of us are nervously watching draft slots more closely than we are game action. Despite the poor showing this season, we are all optimistic for the future and salivating over the thought of what Justin Fields could become as he continues to grow into the NFL. And with that, we move on to the 7-8 Detroit Lions who are fighting for the playoff livelihood.
Bears vs. Lions Betting Lines
In the above table, I have noted the spread and the projected spreads. Projections are according to my four models (DVOA, EPA, Poisson, LinReg), PFF, and 538's models for Bears vs. Lions. Why use so many different models? Because they serve as a crosscheck for each other. The more models that say something is a good bet, the more assurances you get. After all, that is what all of us gamblers want, assurances.
Bears and Lions Cover History
 "Good coaches win. Great coaches cover the spread." 
Since 2020, the Bears have been road dogs 23 times, with a record of 9-14 ATS. Additionally, they are 7-16 on the money line (Bears to win straight up) in these situations, and 14-9 on the over. This year is the first season for new Bears head coach Matt Eberflus. In his first 15 games, Eberflus is 3-12 straight up, 5-9-1 ATS, and 10-5 on the over.
Since 2020, the Lions have been home favorites only five times with a record of 3-2 ATS. Additionally, they are 3-2 on the money line (Lions to win straight up) in these situations, while they are 5-0 on the over. Under second-year head coach Dan Campbell, the Lions are 10-21-1 straight up, 21-11 ATS, and 17-15 on the over.
Bears vs. Lions Team Stats
Advanced stat rankings for the 2022 season are shown for the Chicago Bears and Detroit Lions here. This includes DVOA, success rates, EPA/Play, and an average ranking of all three for offense and defense.
Lions Positional Breakdown & Key Players
The "Pos. Rank" uses multiple position-specific stats to generate a relative ranking for each player at their position. The percentile is simply a representation of their rank. For example, from 2020-2022 Amon-Ra St. Brown ranks in the 92nd percentile among all qualifying WRs.
The average Lions offensive starter ranks in the 54th percentile for their position from 2020-2022. Meanwhile, the average Lions defensive starter ranks in the 50th percentile for their position from 2020-2022. The Bears' positional rankings can be seen in the "Extra Points" section.
· Jared Goff – QB
· Amon-Ra St. Brown – WR
· Frank Ragnow – C
· Taylor Decker - LT
· Penei Sewell – RT
· Aidan Hutchinson – EDGE (thanks Jacksonville)
· Alim McNeill – iDL
Lions Scouting Report – Offense
Play-Caller: Ben Johnson
When running the football, the Lions lean heavily on outside zone and gap run concepts. They like to bring an extra offensive lineman onto the field to force the issue but seem to be more successful running out of lighter formations. The run game is very up and down on a play-to-play basis, but they do possess solid home-run ability.
In the passing game, the Lions like to dial up shot plays to utilize Jared Goff's big arm. Early in the season, they often kept seven men in to block and only had three players running routes. They aim to do everything they can to keep the pocket clean for Goff and trust their wide receivers to separate downfield despite the lack of traffic.
The Lions use play-action on 26.3% of Goff's dropbacks. That ranks 11th among 26 qualifying quarterbacks. Goff shows a marginal uptick in downfield aggression while using play-action, as his ADOT increases from 7.7 to 7.9. But his yards per attempt increases from 7.1 to 9.0, and his PFF grade improves from 60.8 to 82.9. The Lions clearly rely on play action to throw the football efficiently, as roughly half of Goff's big-time throws and touchdowns have come on play fakes. But it has worked, as the offense ranks eighth in the NFL in explosive pass rate.
The Lions' run game ranks 18th in yards per carry and 13th in total rushing yards. I cannot help but think this is an underperforming aspect of their offense, mainly because of how much talent there is across their offensive line. To this point in the season, the Lions have generated 1,810 rush yards (121 YPG) for 4.4 yards per carry on a rush success rate of 39.6% (21st). So, while their yardage ranks middle of the pack, their efficiency and consistency are lacking. Additionally, they rank 22nd in the NFL in explosive run rate.
Lions Scouting Report – Defense
DC: Aaron Glenn
The Detroit Lions run a Cover 1 and Cover 3 heavy defense. They do not have many tells pre-snap whether their CBs are playing in man or zone. Regardless of the coverage concept, CB Jeff Okudah prefers to press up on the WR, while the other CBs prefer to give some space.
That press technique was costly for Okudah against the Seahawks, as he covered DK Metcalf for much of the day and allowed him to catch three of four targets for 101 yards. On the tape, it seemed like Okudah really struggled to handle Metcalf's size/speed combo (many CBs do). The main reason that I mention this is because Chase Claypool is one of the few WRs in the NFL currently who could be compared to Metcalf athletically. If Claypool plays, creating that matchup and taking advantage of it could pay dividends for the Chicago Bears.
The Lions' run defense is a mixed bag. They play an aggressive and downhill brand of football against the run. It almost feels like they aim to take away the run game to force opponents to pass. The only problem with that theory is that they struggle to stop the pass. Their DL is big, strong, and good at filling up gaps. However, they have a penchant for giving up explosive runs. While they do well to plug gaps and attack downhill, the athletes in the front seven are not great when forced to move laterally. This means that they can be chewed up on cutback lanes and second efforts after missed tackles.
The linebackers lead the downhill charge against the run while the DL gives them clean shots at the RBs. But when asked to stack and shed, the Lions' lead LB, Alex Anzalone, prefers to slip the block and hope for the best. Anzalone is good at reading runs and fitting gaps quickly but struggles when he needs to take on blockers directly. In coverage, the Lions' linebackers tend to play run first, which means they bite hard on the play-action and struggle to recover in their coverages. The Bears can make them pay for this in both man and zone coverages.
The pass rush has been nothing to write home about so far in 2022. Despite adding young talent along the DL in the form of Aidan Hutchinson and Josh Paschal and ranking fifth in the NFL in blitz rate, the Lions currently rank 27th in the NFL in sacks and 19th in pressure rate. Although, the pressure rate has seen a significant improvement since these two teams last played each other in Week 10.
Bears vs. Lions Summary and Prediction
After living the hard-knock life (pun intended) for the first nine weeks of the season, the Lions put together a winning streak that started at Soldier Field in Week 10. That 31-30 victory over the beloved started a stretch of five wins in six games, during which Detroit averaged 30 points per game while allowing 22 points per game. But that came to a screeching halt in Week 16 when the Panthers bit off some kneecaps of their own. Carolina pounded the Lions into submission with a franchise-record 240 rushing yards in just the first half.
Despite the porous defensive effort from the Lions in Week 16, I expect them to bounce back this week and challenge the Bears' rushing attack. While they may not be a dominant front, I think they will do enough to force the Bears into throwing the football. With multiple starting WRs on the injury report, the outlook for the Bears' passing game is bleak, aside from some splash throws from Justin Fields. While Fields might keep them in the game, I am not sure it will be enough to come out on top.
Lions: 31
Bears: 24
Extra Points
Chicago Bears Positional Breakdown & Key Players
Injury Report
NFL Draft Prep / Other Bears News