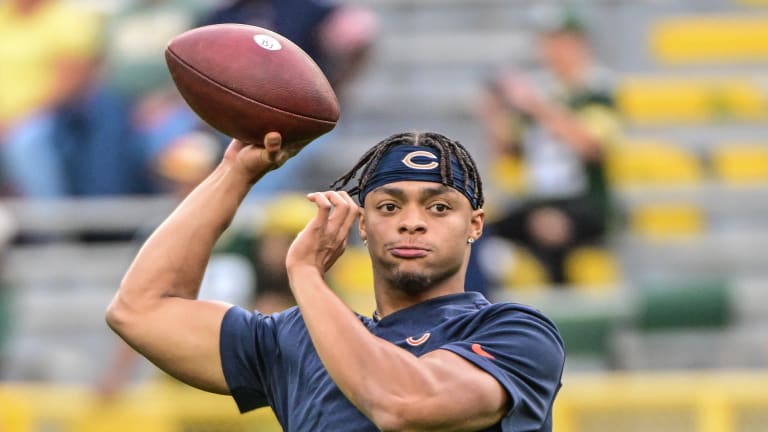 Eberflus Senses No Frustration From Justin Fields Over Bears' Limited Pass Attempts
Fields ranks 33rd in the NFL in pass attempts, but Matt Eberflus doesn't sense any ire coming from his quarterback.
Maybe Justin Fields has it all figured out and knows how to remain calm. Perhaps that's was separates him from the fans that aren't out there putting the work in.
Chicago Bears' head coach Matt Eberflus spoke Wednesday on Fields and possible frustration about not throwing the ball more. "I don't see any frustration," Eberflus said.
The first-year head coach instead highlighted his quarterback's persistence and commitment to growth. Fields is just trying to go to work, mesh with his teammates, and improve his game. Hey, that isn't a bad mindset to have, right?
Through two games of the 2022 season, Justin Fields has thrown the ball a combined 28 times. That ranks him 33rd in the NFL in pass attempts. Yes, you read that right. The Bears' franchise quarterback ranks 33rd in pass attempts in 2022. There are only 32 NFL teams.
Fields has two touchdown passes, one rushing touchdown, and two interceptions entering Week 3. It's hard to decipher who's at fault for this. When the Bears played the San Francisco 49ers, it was pouring rain. Still, 49ers' quarterback Trey Lance threw the ball 28 times in that contest. Yes, that's as many throws as Fields has on the season.
Do the Chicago Bears and their coaching staff lack confidence in Fields? Is this just a product of Luke Getsy's offensive plan of attack still coming together? Whatever it is, the Bears aren't going to be winning many football games or developing their young quarterback if this trend continues.