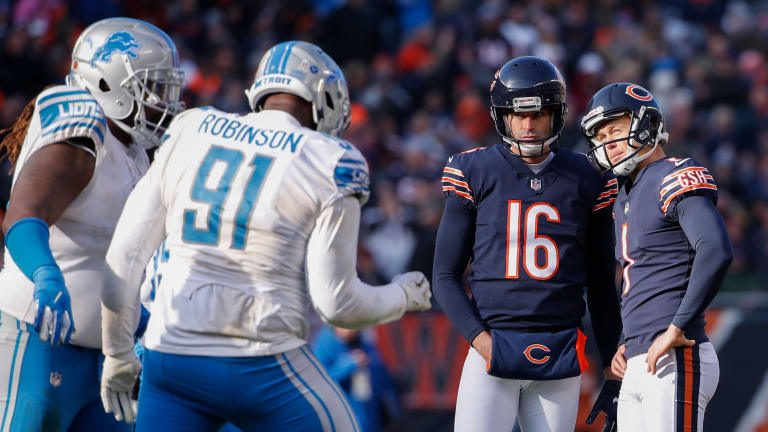 OTD in Bears History: Cody Parkey Foreshadows Tragedy With 4 Missed Kicks
The red flags surrounding the 2018 Bears kicking game were there all along.
November 11, 2019, was a day of unfortunate foreshadowing in Chicago Bears' history. In a game against the Detroit Lions, Cody Parkey missed four kicks with all of them hitting the uprights. Two of the misses were missed field goal attempts and the other two came on extra points.
While the Bears went on to win 34-22, Parkey's four doinks set off the alarm bells in Chicago. Of course, he would become even more infamous two months later for a pair of doinks on an even bigger stage.
Prior to his debacle against the Lions, Parkey had already raised concerns by missing three field goals through nine weeks of the Bears season. With Mitch Trubisky running Matt Nagy's offense, the Bears often drove down the field but came up just short of the end zone. As a result, having a dependable kicker was of the utmost importance. Parkey simply did not fit the bill.
After Cody Parkey's four misses in Week 10 against Detroit, many Bears fans were calling for Parkey's job. And they were justified in doing so considering what happened in the NFC Wild Card Game.
If Matt Nagy would have made a proactive move to rectify his team's kicking situation, perhaps the Chicago Bears 2018 campaign could have ended with some magic. Instead, it was tragic.