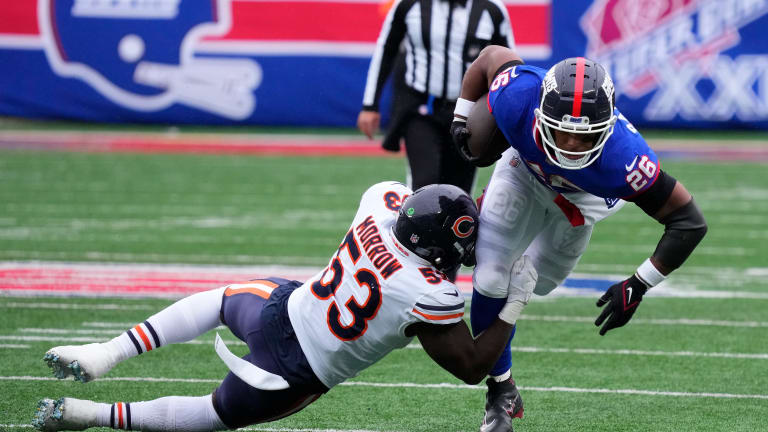 How Will Nicholas Morrow Replace Roquan Smith?
Morrow will have big shoes to fill as he takes over the inside linebacker position.
Roquan Smith is no longer a member of the Chicago Bears. After dealing him to Baltimore prior to the NFL trade deadline, the Bears still need production at the inside linebacker position. Nicholas Morrow is going to slide into that spot, but can he provide the same value?
Nicholas Morrow vs. Roquan Smith's Absence
It's not so much a question of 'can Morrow replace the production' with Roquan gone. But can he lead the team in tackles on a regular basis and give them enough?
Smith was averaging over 10 tackles per game in 2022 and more often than not, led the Chicago Bears' defense. 
While Nicholas Morrow has 56 tackles through the first half of the season, which is quite the dip from Smith's total, his experience and production are still noticeable.
It's not likely that anyone is expecting the 27-year-old to fill the void and drastically improve the position after Smith's departure. But he's a formidable replacement and at least has the proper credentials to play the inside linebacker position.
On the opposite side, Jack Sanborn could have a larger role with the thinning roster, and the Bears' defense will need production there. Sanborn doesn't need to be an All-Pro linebacker, but he can't make the defense work harder. The bottom line is: he can't be a liability.
As Morrow slides laterally and Sanborn sees an increased snap count, the Bears have to find ways to make more stops without increasing pressure on the linebackers.
This means the defensive line and secondary cannot falter. If the defensive line is putting pressure on opposing quarterbacks, then it will make the rest of the unit's jobs easier.
The Chicago Bears have a tough test immediately following the trade deadline and reshuffling of the defense with the Miami Dolphins in town. Miami has a potent offense that can score effectively, so the Bears will learn very quickly if they have a chance in this game.
As for the rest of the 2022 season, it could be a rough road. Only time will tell if the Bears win any more games, but at least they have a wealth of draft picks and salary cap space for 2023.