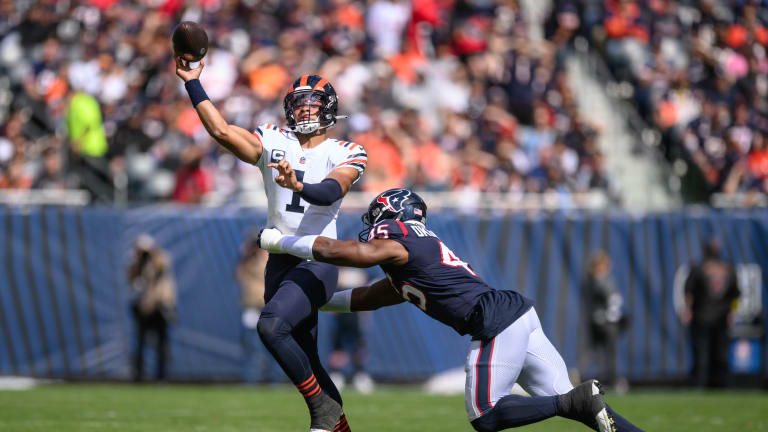 Justin Fields Owns 'Trash' Week 3 Showing, Knows He Must Improve
Fields didn't mince words after going 8/17 with no touchdowns and two interceptions in Week 3.
Chicago Bears' quarterback Justin Fields had a miserable game Sunday against the Houston Texans. The second-year quarterback needs to figure things out, and he acknowledged it after the game. It's the second week in a row that Fields has looked lost at times.
Fields completed just eight of his 17 passing attempts in Week 3. Well, he technically completed 10 if you include the two interceptions. It was so bad that he said he "played like trash."
Fields has not thrown a touchdown since Week 1. The Bears' offensive line wasn't stellar against Houston, but it was adequate enough to allow Fields to be more effective than he was. Sure, Fields doesn't have the best receiving targets, but his performances have not inspired confidence even when accounting for subpar external factors.
At the end of the day, the Chicago Bears still won Sunday's game. But if they aspire to be truly competitive and win consistently, Justin Fields' play must improve.