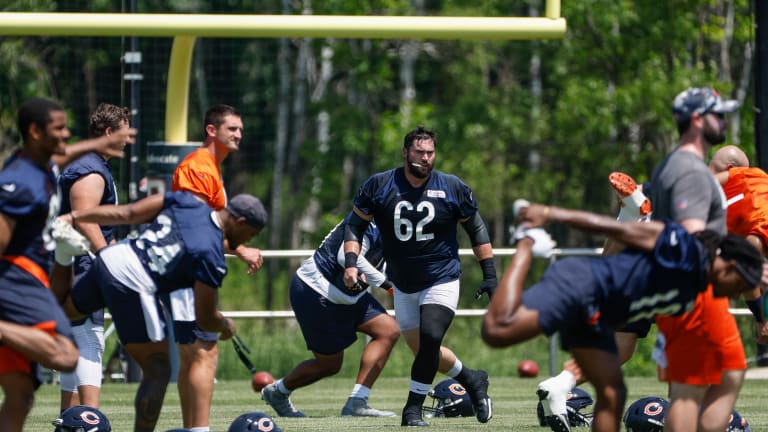 Bears to Place OL Lucas Patrick on IR
Can the Bears catch a break on the offensive line?
During Monday night's win over the Patriots, Chicago Bears' offensive lineman Lucas Patrick left early. The trainers carted him off with an apparent toe injury.
Now it appears the Bears will be without the services of the 29-year-old lineman for a significant period of time. Bears head coach Matt Eberflus stated the team expects to place Lucas Patrick on injured reserve.
The Lucas Patrick Injury Hurts
Just when the Bears put together a good gameplan and execute it en route to a shocking upset victory, they get hit with an injury at a critical spot.
Lucas Patrick was starting at center. Now Sam Mustipher will likely slide into that spot, much to the chagrin of most Chicago Bears fans.
Mustipher's play of late has been questionable and he's never been a player to have a ton of faith in. With the upcoming trip to Dallas and the looming threat of Micah Parsons, this is a big problem.
Parsons has 20 sacks already in his two seasons and the 2022 campaign isn't even halfway through yet. He has seven sacks alone this year and could be the single greatest defensive threat in the entire NFL this season.
The Bears will likely sport another makeshift offensive line heading into this week and will be forced to adapt yet again.
Losing Lucas Patrick hurts this team right after they were able to congeal and find success. Could they make a move for an offensive lineman before the trade deadline next Tuesday?
Would that even help in this case or would the Chicago Bears be wasting capital for a throwaway season? They are elevating Dieter EIselen to the active roster in place of Patrick, but he's a relatively inexperienced and raw player. This Week 8 matchup could be an unfortunate step backward after such a promising showing on the national stage.