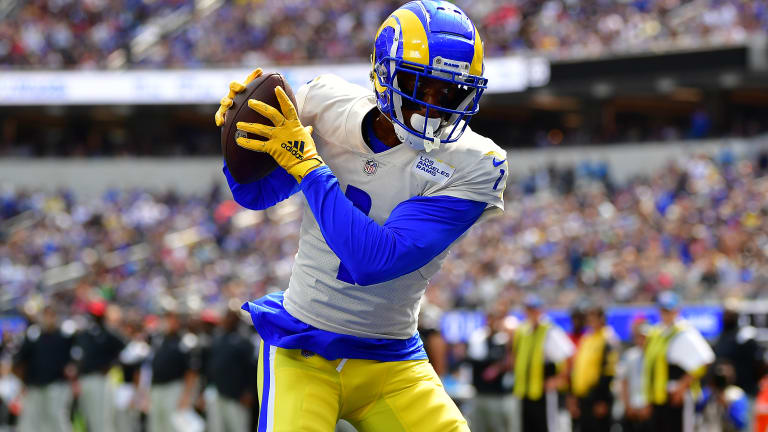 Bears Made The Right Decision Parting With Allen Robinson
Allen Robinson was a decent Bear, but a mediocre Ram.
When the Chicago Bears parted ways with wide receiver Allen Robinson, many fans thought it was a big problem. But as the 2022 NFL season continues, Robinson has been little more than another body on the field for the Los Angeles Rams.
Allen Robinson With The Chicago Bears
Over four years with the Bears, Allen Robinson caught 293 passes for over 3,500 yards and 18 touchdowns. He was a wonderful weapon for both Mitchell Trubisky and Justin Fields. But there was an issue with the latter.
Justin Fields never really built the trust and rapport with Robinson that he did with Darnell Mooney. The 2021 numbers support this argument. 
In 2021, Allen Robinson caught 38 passes for just over 400 yards and one score, albeit only in 12 games. The shaky quarterback play was definitely an issue leading to less production, but he still didn't do enough with what was given to him. 
The 2022 Season So Far
Allen Robinson signed a three-year deal with the Los Angeles Rams worth over $45 million. In the first four games, Rams quarterback Matthew Stafford has only targeted Robinson 18 times.
The 29-year-old receiver only hauled in half of those targets and has yet to cross 100 receiving yards. He's also only scored once this year.
Part of his low numbers are due to Cooper Kupp on the opposite side of Robinson being an automatic target in the Rams' offense. Kupp typically gets the majority of the attention and for a good reason. But this should help Robinson exploit a defense.
Perhaps Matthew Stafford doesn't have the same trust with Robinson as some thought he might. It's also entirely possible that Allen Robinson figures things out and finishes the 2022 season on a high note.
Whatever the case is, the Chicago Bears are in a better position by not having to deal with a receiver who wants to be paid despite a lack of production. 
Do the Bears need wide receiver help? Yes, badly. But the silver lining is the low expectations for this Chicago team. They can rebuild while developing Justin Fields and do so without having a large chunk of their salary tied up in an unproductive weapon.
With plenty of salary cap space next offseason, the only direction to to is up.