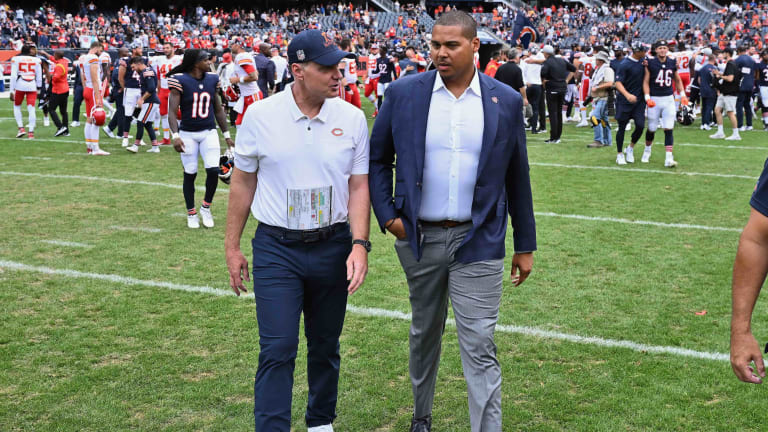 Bears GM Ryan Poles Speaks on Roquan Smith, Trade Deadline
The first-year general manager explained his thought process behind the Bears' active trade deadline.
The NFL trade deadline came and went in a flash. But it was the most active deadline in recent memory and the Chicago Bears were at the center of the conversation. When Ryan Poles traded Roquan Smith to the Baltimore Ravens, a lot of people panicked. But he wasn't done before the deadline passed.
Poles then acquired Chase Claypool from Pittsburgh, giving Justin Fields another weapon on offense. After Tuesday's deadline, the Bears GM spoke to the media and addressed the moves he made.
Ryan Poles on Roquan Smith
Poles began his press conference by thanking Roquan Smith for his time in Chicago and wishing him luck, knowing he'll have a great career. He mentioned that not being able to come to an agreement with the star linebacker stung and losing a player like him is difficult.
The Chicago Bears came up short and couldn't find common ground, according to Poles. But he alluded to the possibility of Smith walking away from the team at the end of 2022.
Poles said it was beneficial for the Bears to get something out of a deal for Roquan Smith rather than the very real likelihood of his time in Chicago coming to an end without the team being able to capitalize on his value.
Chase Claypool Joining The Bears
Ryan Poles then discussed the decision to trade for Chase Claypool. He said he thought it was crucial to add another player to Chicago's offense.
"I really like the way that our offense is starting to come together and move. I thought it was important to add another impact player to our offense... I like the way Justin is trending and I think adding another big body who's physical, explosive, great leaping ability, can stretch the field, but also is violent with the ball in his hand as well as a blocker, I think that enhances everyone around him."

- Ryan Poles
It's clear that the first-time general manager is making moves to build the Chicago Bears the way that he wants to. He's got the courage to execute certain decisions that may not have been completed in the past, and that's exciting.
While the team is struggling in 2022, the long-term goals are bright on the horizon. But they're also plausible and within reach.