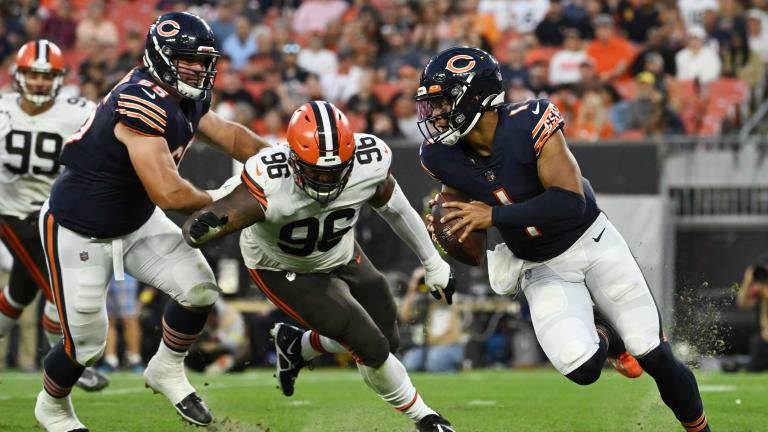 Bears' Offense To Prove Everyone Wrong?
What's a realistic bar to set for the Chicago Bears' offense in 2022?
The Chicago Bears don't have high expectations going into the 2022 season. But why do some people feel they have to shut the naysayers up? Using words as motivation for an NFL season is great, but that can only take a team so far.
Bears' center Sam Mustipher recently told Mark Potash of the Chicago Sun-Times that they "know what's being said about us". That's fantastic, but it still doesn't change the low expectations for this organization.
Realistic Expectations For The Chicago Bears' Offense
The Bears' offense can't get much worse than it was under Matt Nagy, right? Maybe, but also maybe not. This is a new team with a new coaching staff and an entirely new scheme. That hasn't always worked immediately throughout the history of the NFL.
However, offensive coordinator Luke Getsy should inspire more confidence than Nagy ever did, and with Justin Fields solidifying the starting quarterback role, this team at least has a direction. Getsy brings a different set of skills than Nagy had and this team is finally putting pieces around their franchise quarterback, albeit not quite pieces to write home about.
What qualifies as proving everybody around the NFL wrong? Do the Chicago Bears expect a top-15 offense in 2022? That may be outside the realm of possibility.
Can they just stay out of the bottom 10 offenses? It's a bit of a lukewarm take, but we're walking down the rational path here.
The Bears have low expectations for a reason and trying to claim they will prove everybody wrong by overachieving feels foolish. "Don't get worse" is a mantra they should proudly adopt and likely keep in-house because the fans would absolutely lose their marbles if they proclaimed that publicly.
But with this new regime should come a relatively low bar to set. Where do we go from here? It's Week 1 and the Chicago Bears actually play a game this weekend that counts. Can they go 1-0 to avoid the problematic scenario awaiting them on Sunday Night Football in Week 2?
The Bears need to score more than 21 points, beat the 49ers, and look like a competent modern NFL offense before talking about proving people wrong. It's a low bar, but that's the reality awaiting the 2022 Chicago Bears.