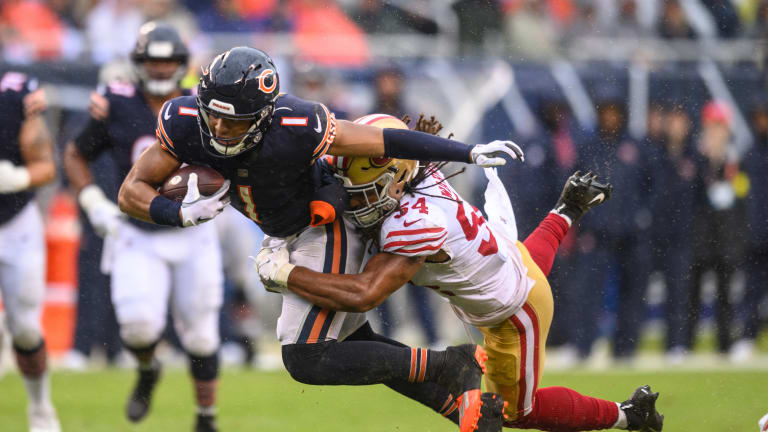 Bears Only Penalized Three Times in Week 1
The Bears were the more disciplined team on the field on Sunday. That played a big role in their win.
The Chicago Bears beat the San Francisco 49ers 19-10 on Sunday. They now sit atop the NFC North with the Minnesota Vikings at 1-0.
Coaching and discipline certainly played a major factor in Sunday's win. Matt Eberflus and the rest of the staff have established a culture and new standard, and it seems like the players are bought in. The Bears were only penalized three times in Week 1. That number has come a long way from the Matt Nagy era.
The team looked much more disciplined and clean in their operation.
As Larry Mayer points out, the Bears' offense did not commit a single penalty. On the other hand, the defense was flagged only once for five yards. The other two infractions came on special teams.
One of the calls against the specialists was a bizarre unsportsmanlike conduct on punter Trenton Gill for using a towel to dry the field.
But can you really blame him? The field was soaked from the mini hurricane that was occurring in Chicago. He was only looking out for Cairo Santos and the team. Even so, Santos took some credit for the blunder.
A silly mistake...sure. You live and you learn. Ultimately, it didn't cost the Bears the game. No harm, no foul.
Nevertheless, the Chicago Bears logged only three penalties for 24 yards compared to the 49ers' 12 penalties for 99 yards. That is a massive difference in a game of inches. And more often than not, the more disciplined team will come out on top.