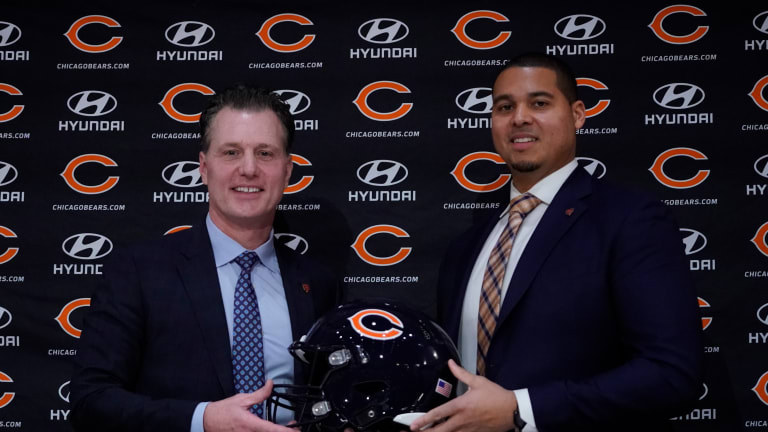 Bears: 5 Reasons for Optimism Heading Into 2023 and Beyond
The Bears had a lousy 2022 season, but the future is bright. Here's why.
The 2022 NFL regular season is nearing its conclusion. With three weeks to go, only 14 of the 32 teams will advance to the playoffs. Unfortunately, the Chicago Bears aren't one of them.
They currently sport a 3-11 record and are in the midst of a seven-game losing streak. The first season under general manager Ryan Poles and head coach Matt Eberflus was rough from a results standpoint.
However, this is all part of the plan. Poles knew exactly what he was doing when he took over and constructed this roster. Meanwhile, Eberflus came into the job fully aware of Poles' vision.
Poles was determined to strip down the Bears roster and rebuild it his way. First, he gutted the roster and shed all of the weight dead-weight contracts. Under the new regime, the Bears have traded Khalil Mack, Roquan Smith, and Robert Quinn. They also let Allen Robinson, Akiem Hicks, and James Daniels walk in free agency.
Now comes the part where they reconstruct the roster according to their vision and scheme. Poles pieced together a serviceable roster with several one-year deals to get through the 2022 season.
Despite lacking talent at several positions, the team has played its tail off this year. The Bears have lost seven games by just one score, which is pretty impressive when looking at the depth chart. Players have bought into the coaching staff and their philosophy. There have been several signs of positive development in the first year of the rebuild, which offers hope that this ship is headed in the right direction.
Once this season comes to an end, it'll be time to look forward to 2023 and beyond. It's going to be a long eight long months until the Bears take the field once again, but this offseason figures to bring plenty of optimism. A strong, aggressive approach to fortify the roster through the draft and free agency will only increase the excitement surrounding the Bears.
But even before further transactions take place, there's already plenty to be hopeful about going to next year.
1. Justin Fields
It goes without saying that the quarterback is the most important position in football, and perhaps in all sports. And guess what? The Bears finally have their franchise QB, and his name is Justin Fields.
Fields has shown drastic improvement from his rookie to his sophomore year. His numerous flashes of brilliance have carried this team on his back despite the lack of talent around him. It didn't help matters that his offensive line and wide receivers were subpar all year long. But given the circumstances, Fields rose to the occasion.
His development in Year 2 — hell, even since Week 1 — has been a night-and-day scenario. He's growing into the QB everyone expected him to be when he was drafted, and the league has taken notice.
Don't listen to the few naysayers that are still out there — the Bears have their guy.
2. Salary Cap Space
Ryan Poles inherited a mess of a salary cap situation when he took over as Chicago Bears' GM. His predecessor, Ryan Pace, doled out multiple hefty contracts and was forced to restructure them, leaving the Bears with extremely limited cap space.
Give credit where credit is due. Poles somehow worked around it and has put the team in a significantly better place for 2023 and beyond. However, doing so required the team to swallow a bitter pill and absorb the brunt of it this year, which shows in the Bears' record.
The first-year GM had to make tough decisions and part ways with a handful of fan favorites, much to their dismay. In doing so, the Bears took on a huge dead cap hit in 2022.
According to Spotrac, here are the largest dead cap numbers the Bears took on:
Khalil Mack: $24,000,000
Robert Quinn: $16,453,000
Roquan Smith: $9,160,000
Nick Foles: $7,666,667
Eddie Goldman: $5,150,000
Andy Dalton: $5,000,000
Jimmy Graham: $4,660,000
Tarik Cohen: $4,250,000
Charles Leno: $2,800,000
Danny Trevathan: $2,431,250
Mario Edwards: $1,714,019
Germain Ifedi: $1,500,000
In total, these 12 players accounted for $84,784,936 million. But the good news is that by taking on the cap hits up front in 2022, Poles cleared a lot of space off the books going forward. The Bears are left with only $19.9 million in dead cap next season.
In 2023, the NFL salary cap is projected to rise to over $220 million, though the exact number is still to be determined. For our purposes, Spotrac projects the salary cap at $231 million, meaning the Bears would have $122 million in cap space with 32 players under contract.
As a result, the Bears have a $47.5 million advantage over the team with the second-most cap space, which happens to be Atlanta Falcons at $74.5 million.
Poles will have the spending flexibility to address a lot of the issues on the roster. He's going to have his work cut out for him as there are 21 roster spots to plug between free agency and the draft.
3. Draft Picks
Speaking of the draft, the Bears have eight picks in 2023.
First Round
Second Round (via Ravens)
Third Round
Fourth Round
Fourth Round (via Eagles)
Fifth Round
Fifth Round (via Ravens)
Seventh Round
They even had their natural second-round pick at one point but used it to acquire WR Chase Claypool. Regardless, the Bears are still in the driver's seat.
Entering Week 16, they're slated to pick second overall. That position opens the door for a trade back to acquire a haul of additional picks and/or future picks. Ryan Poles may be tempted to do just that if a team desperate enough to land a QB gives him an offer he can't refuse.
4. Offensive Building Blocks
The Chicago Bears' roster clearly isn't up to par yet with some of the better teams in the league. But they're still a competitive group and have some building blocks in place for the next great Bears team — one that will hopefully "take the [NFC] North and never give it back," to quote Ryan Poles.
Let's start with the offense. Obviously, QB Justin Fields. It goes without saying that he's the biggest piece of the puzzle.
David Montgomery and Khalil Herbert
Then, we look at the RB position. David Montgomery is a free agent this offseason, but it would be nice to have him back. Sure, he's not elite, but he does everything well. He's a complete back. It's hard to tell if Poles will attempt to re-sign him or not.
Right now, it looks like Khalil Herbert will be part of the next core by default. He's got a little bit more juice in the running game, though he isn't as effective as Montgomery in the passing game and at pass blocking.
Darnell Mooney and Chase Claypool
At WR, Mooney and Claypool will be around for the next chapter of Bears football. Mooney is approaching his contract season but has made it clear he'd like to stay in Chicago, and Poles openly praised him last offseason. Those factors lead one to believe the two sides should be able to strike a deal when the time comes.
As for Claypool, you don't give up a high second-round pick just for 1.5 years of a still-developing player. The ex-Steelers' wideout has one year left on his contract, and letting him walk after 2023 would be a huge blunder. He's still trying to get up to speed with the Bears' offense, but it's hard to blame him considering he came over mid-season. An entire offseason with the team should help in that department.