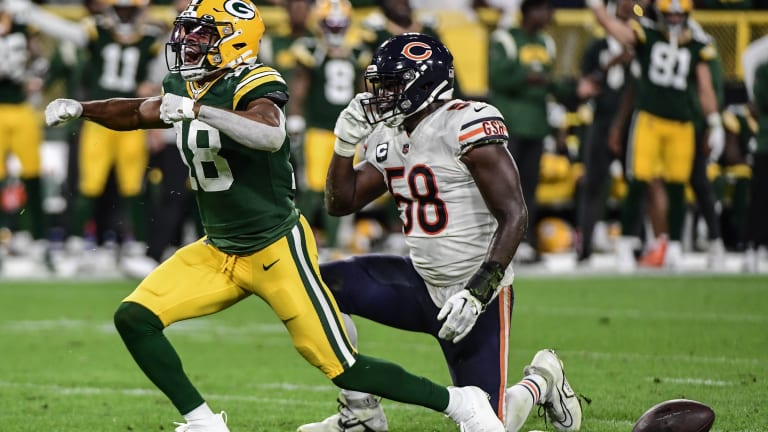 Bears' Roquan Smith and Cole Kmet Hurting More Than Helping
It's clear, Roquan Smith should have been involved in the Bears' offseason camp.
What is going on with the Chicago Bears? The expected stars aren't shining as bright as fans expected. Roquan Smith's holdout in the offseason created a dramatic distraction and Cole Kmet is walking a thin line of drifting toward irrelevance.
Roquan Smith Isn't Right
So far in 2022, the Bears have relied on Roquan Smith as they did in years past. But after the fiasco at Soldier Field in the rain, a clear outlier, and the unavoidable whooping by Green Bay, where exactly is Smith's head at these days?
Smith is playing in a new defensive scheme and has taken on a new position. He's still a linebacker, but learning what his role is in the Matt Eberflus defense has definitely taken some adjusting.
In two games this year, Roquan Smith has 0.5 sacks and 12 solo tackles. This is his "slowest" start to an NFL season since his rookie campaign in 2018. Given the benefit of the doubt, Smith will improve as the defense comes together as a unit.
But it seems incredibly obvious that Smith's start is a direct result of his holdout from learning the new regime's plans for the Chicago Bears' defense.
Cole Kmet
In the first two games of the 2022 NFL season, Cole Kmet has played in over 83% of the Bears' offensive snaps. Justin Fields targeted Kmet once in each game, but the 23-year-old tight end out of Notre Dame has yet to record a single catch.
Is Kmet a bust? With the rising and surprising additions of Equanimeous St. Brown and Dante Pettis clicking early on for the Bears, there are some concerns at the tight end position.
Darnell Mooney is having a rough start to the season, which only puts more of a spotlight on Kmet. Has he taken a step backward?
If he can't get a catch or improve his poor blocking skills at home against the Houston Texans in Week 3, it might be time to start shopping the young tight end before the Chicago Bears get nothing for his already waining value.