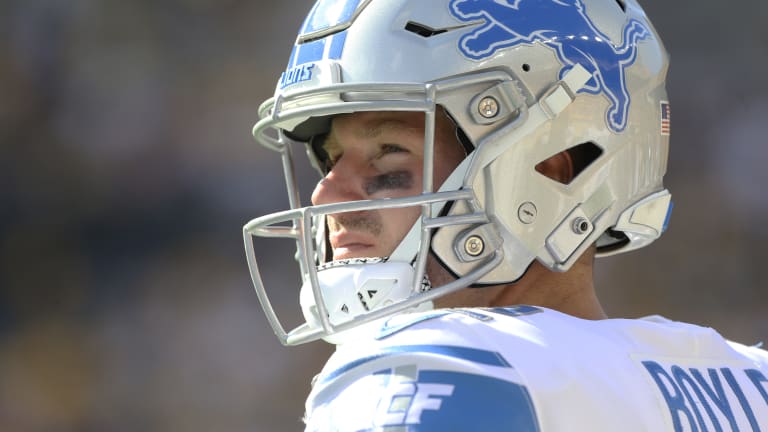 Bears Roster Moves: Another Quarterback?
The Bears signed several players ahead of the Week 13 matchup with Green Bay.
It's no secret, the Chicago Bears are riddled with injuries. Justin Fields, Jaquan Brisker, Kyler Gordon, Eddie Jackson, Darnell Mooney, and more are dealing with injuries. In spite of the adversity, the Bears still have five games left and they need players to fill the roster.
So, they signed several players including a quarterback from Detroit's practice squad. 
Bears Roster
The Bears signed quarterback Tim Boyle from Detroit's practice squad. Boyle is a three-year NFL veteran who spent his first two seasons with the Packers. 
Boyle played in five games with the Lions in 2021, throwing for over 500 yards and three touchdowns. But he also had six interceptions to go with it.
He provides depth at a position the Bears are crucially wounded in. The Bears will carry three quarterbacks into the Week 13 matchup with the Packers: Trevor Siemian, Nathan Peterman, and now Tim Boyle.
Bears Add To The Defense
The Bears also signed another three-year veteran. Defensive lineman, Andrew Brown, is joining Chicago after bouncing around the NFL on three teams in as many years.
Brown has one sack and 18 total tackles in his career. He'll likely serve as a special teams player or provide depth for the defensive line barring injuries. The latest move comes as a result of Dane Cruikshank joining the IR with the likes of Eddie Jackson, Darnell Mooney, and others. 
The Chicago Bears take on the Green Bay Packers in Week 13 and they need all the help they can get if they hope to end their losing streak.