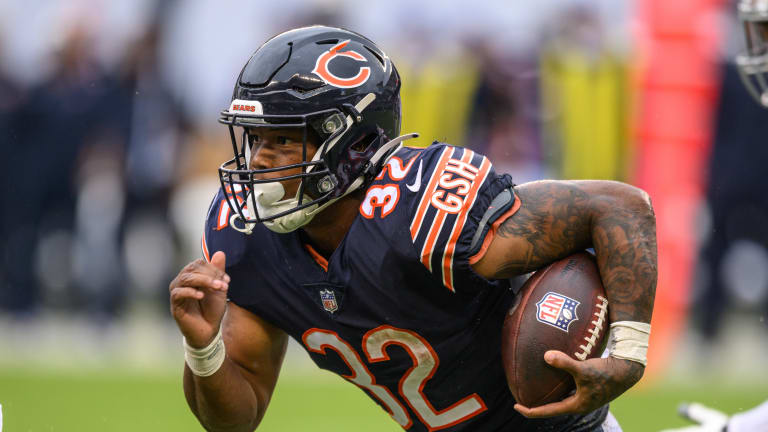 The Debate Begins: David Montgomery vs. Khalil Herbert
Was it just a rough day or is this the beginning of the end for Montgomery? Can Herbert continue to build off his Week 1 performance?
Week 1 of the NFL season is coming to a close and the leading rusher for the Chicago Bears is not David Montgomery. Some may ask why that's the case. Was it play-calling? Perhaps the sloppy weather? Or could it have been the workload?
Upon reviewing the numbers from the Bears' win over the 49ers, it was a rough day for Montgomery. He logged a total of 17 carries for only 26 yards. Conversely, Khalil Herbert tallied 45 yards and a score on just nine carries.
Overall, Montgomery continued to see the ball despite his struggles on the ground. The best part of his Week 1 performance was the passing game, as he made three catches for 24 yards. Herbert caught one pass and lost two yards.
Another factor to consider is Justin Fields' workload. The Bears' quarterback ran the ball 11 times, which takes away running backs' looks. Given the messy field conditions, it was always going to be more of a run-heavy affair. Fields' rushing attempts should decrease a bit in games played in better weather.
Which Back Should The Bears Feature?
But it still begs the question, will the Chicago Bears start to lean more on Khalil Herbert after his effective Week 1 showing?
The short answer is, not yet. In time, he should start to see an increased workload. Luke Getsy's offensive system will call for more sets with both running backs as the season progresses.
But right now, David Montgomery should still be the go-to guy. The 25-year-old is a more talented and well-rounded player at this point. In a contract year, Montgomery will want to prove his worth to the Bears.
It would not come as a surprise if the Bears elect to split rushing attempts between the two backs later in the season, unless one of them really takes off in the next few games. And from that standpoint, Montgomery has more to prove in order to secure the future contract he desires.