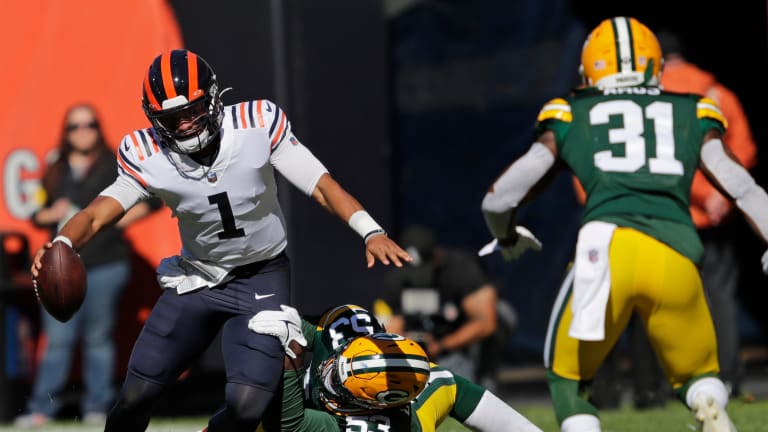 Bears vs. Packers: Week 13 Preview, Predictions, Odds, Matchups
Take a dive into the film, stats, betting lines, and matchup analysis before the Bears vs. Packers Week 13 battle.
On Sunday, Bears vs. Packers will kick off at noon CST at Soldier Field. And this rivalry is older than most of us. The wins. The losses. The bad blood. The stench of cheese. How can you not be romantic about football?
 "I'm from Chicago and I always dreamed of playing at Wrigley Field. Then when I finally did, people screamed things and threw garbage at me. But there's nothing like Packers vs. Bears."

- Former Packers LB Ray Nitschke
Where to begin? I am so sick of the Packers. I challenge you to name a franchise that has had better luck than to go from Brett Favre to Aaron Rodgers. All time, these two teams have faced off 205 times, representing the longest-running rivalry in the NFL. The Packers currently own the all-time series with a record of 104-95-6. But recent history, if the last 30 years is considered recent, has not been kind to Bears fans. Since 1993 (the last 30-years), the Packers hold a record of 46-14. The Bears have lost seven straight games to Green Bay, and 12 of their last 13.
BUT… Enter Justin Fields. This season, Aaron Rodgers has given the Packers fanbase plenty to question. Meanwhile, Justin Fields has given Bears fans immense hope for the future. This season is one of the first I have seen where the Bears legitimately have better offensive production than the Packers. And I have been watching since 2001. Do not fret, Bears fans. The future is VERY bright, and the Packers seem to be on the downswing. FINALLY!
Bears vs. Packers Betting Lines
 "They don't like us, and we don't like them."

– Former Bears Head Coach Mike Ditka 
In the above table, I have noted the spread and the projected spreads. Projections are according to my four models (DVOA, EPA, Poisson, LinReg), PFF, and 538's models for Bears vs. Packers. Why use so many different models? Because they serve as a crosscheck for each other. The more models that say something is a good bet, the more assurances you get. After all, that is what all of us gamblers want, assurances.
Bears and Packers Cover History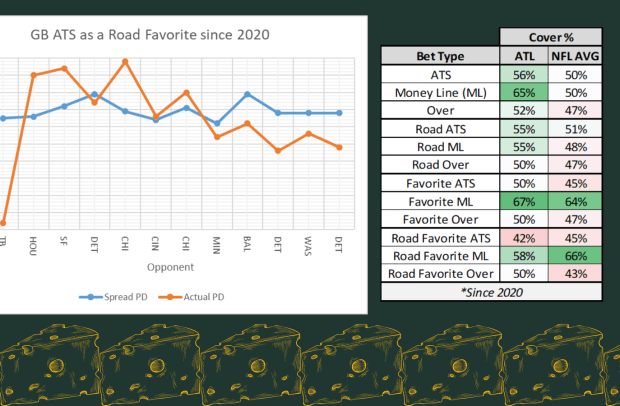 Since 2020, the Bears have been home dogs 14 times, with a record of 5-9 ATS. Additionally, they are 3-11 on the money line (Bears to win straight up) in these situations, and 5-9 on the over. This year is the first season for new Bears head coach Matt Eberflus. In his first twelve games, Eberflus is 3-9 straight up, 4-7-1 ATS, and 8-4 on the over.
Since 2020, the Green Bay Packers have been road favorites 12 times with a record of 5-7 ATS. Additionally, they are 7-5 on the money line (Packers to win straight up) in these situations, while they are 6-6 on the over.
Bears vs. Packers Team Stats
 "We call them the Green Bay Quackers. Crybabies about every little thing that doesn't go their way."

– Former Bears WR Dennis McKinnon 
Advanced stat rankings for the 2022 season are shown for the Bears and Packers here. This includes DVOA, success rates, EPA/Play, and an average ranking of all three for offense and defense.
Packers Positional Breakdown & Key Players
The "Pos. Rank" uses multiple position-specific stats to generate a relative ranking for each player at their position. The percentile is simply a representation of their rank. For example, from 2020-2022 David Bakhtiari ranks in the 92nd percentile among all qualifying Tackles.
The average Packers offensive starter ranks in the 63rd percentile for their position from 2020-2022. Meanwhile, the average Packers defensive starter ranks in the 59th percentile for their position from 2020-2022. The Bears positional rankings can be seen in the "Extra Points" section.
· Aaron Rodgers – QB
· Aaron Jones – RB
· A.J. Dillon – RB
· Christian Watson – WR
· Kenny Clark – iDL
· Preston Smith – EDGE
· Jaire Alexander - CB
Packers Scouting Report – Offense
Play-Caller: Matt LaFleur
 "I've owned you all my f**king life. I own you. I still own you. I still own you,"

- Packers QB Aaron Rodgers 
All-22 Review
To get a better idea of the Packers offensive attack, I reviewed the All-22 film from their week 12 contest against the Eagles. This offense heavily revolves around screen passes and play action.
In the pass game, the Packers rely heavily on screens, run-screen options, and play-action. "True Pass Sets" is a stat that counts dropbacks excluding play-action, rollouts, screens, short dropbacks, and throws that are out in less than two seconds. The Packers have only used a "True Pass Set" on 36% of their dropbacks in 2022. That is the 6th lowest rate among all NFL teams.
Green Bay has used play action on 26% of Aaron Rodgers dropbacks, which ranks 14th among 29 qualifying QBs. Additionally, they have used screens on 19% of Aaron Rodgers dropbacks, which ranks 1st among 29 qualifying QBs. When combined, screen passes and play-action attempts have accounted for 45% of Rodgers dropbacks, 47% of his passing yards, and 57% of his touchdown passes.
On the flip side, when Rodgers has been asked to perform straight dropbacks, the blemishes have been more apparent. This seems to be due to a combination of declining arm talent and a lack of pass catching talent. And do not get me wrong here, Rodgers still has arm talent that will flash a few times per game. But I am not sure it is still good enough to overcome a lack of pass catching talent. While straight dropbacks have accounted for 55% of Rodgers total dropbacks, 54% of his passing yards, 43% of his touchdowns, and 78% of his interceptions.
In the run game, the Packers primarily run inside and outside zone looks, but do like to feature gap concepts here and there. And they execute each look well while producing explosive runs at an above-average rate out of both concepts. The RB room is a two-headed monster, with A.J. Dillon (Thunder) and Aaron Jones (Lightning). Both RBs can play on any down and run out of any formation or concept. Additionally, the Packers rank 9th in the NFL in yards per carry.
Key Notes
LaFleur is a former Sean McVay assistant. As a result, he loves to establish the run out of 11 personnel and then use misdirection off that. Additionally, the Packers are lightning quick with their personnel changes, forcing the defense onto their heels. They aim to make the defense play catch-up with subs and strike when they find a mismatch.
There are three players on the Packers that you need to always account for. The first two are the RBs, Aaron Jones and A.J. Dillon. Both backs are active in the passing game. And the Packers are not afraid to use 21 personnel to get both players on the field at the same time. Additionally, you need to watch out for WR Christian Watson. The Rookie WR has really come on over the last three weeks, with 12 catches on 20 targets for 265 yards and 6 touchdowns. Watson runs a 4.36 forty-yard dash and has elite long speed once he opens up downfield.
Packers Scouting Report – Defense
DC: Joe Barry
 "I always say, 'Things could be a lot worse. I could be a Bears fan. '"

- Packers CB Jaire Alexander 
All-22 Review
The Packers lean heavily on Cover 1 and Cover 3 concepts. On first down, you can count on a Cover 3 concept at a clip of 50%. But on 3rd down, they will mix it up with more Cover 1, Cover 2, and Quarters concepts. In the game reviewed (vs Eagles), they showed a clear preference for Cover 1 concepts and blitzes on late downs. At least until Jalen Hurts started torching them with his legs. The Packers adjusted to more Cover 3 concepts later in the game and stopped blitzing as often on late downs.
On clear passing downs, the Packers showed a variety of blitz fronts, simulated pressures, and stunts that should keep the pass protection on their toes. I also noticed a handful of interesting disguises on the back-end on clear passing downs. A few times where safeties were rotating late completely changed the expected coverage.
Against the run, this unit has their share of struggles. While they do have some talent along the defensive line to stuff the run, it has never been a priority for this coaching staff. Additionally, their linebackers seem to have issues fitting their run lanes effectively and playing through blocks. The Eagles put up 363 rush yards on the Packers last week. Quarterback Jalen Hurts accounted for 163 of those yards, while RB Miles Sanders added 143 yards of his own. Containing the run has been a serious issue for the Packers defense, especially against mobile quarterbacks.
Key Notes
The Packers had a talented defense before the 2022 NFL Draft. Then, they added iDL Devonte Wyatt and LB Quay Walker out of Georgia. Adding those two players to Kenny Clark, Jaire Alexander, Rashan Gary, Eric Stokes, and Adrian Amos makes for one of the most talented defenses in the league. However, the loads of talent have not fully translated to onfield success for Green Bay. Part of that is likely due to the injured status of LB De'Vondre Campbell, EDGE Rashan Gary, and CB Eric Stokes.
In 2021, Joe Barry showed a good variety of Cover 3 (37%), Cover 4 (22%), Cover 1 (19%), and Cover 6 (17%) concepts. However, through 12-weeks of 2022, Joe Barry has returned to more predictable trends. The Packers run Cover 3 concepts on 50% of coverage snaps and Cover 1 concepts on 22% of coverage snaps. Most notably, Cover 4 and Cover 6 concepts have declined to only 14% and 9% of their coverage snaps. 
Bears vs Packers Summary and Prediction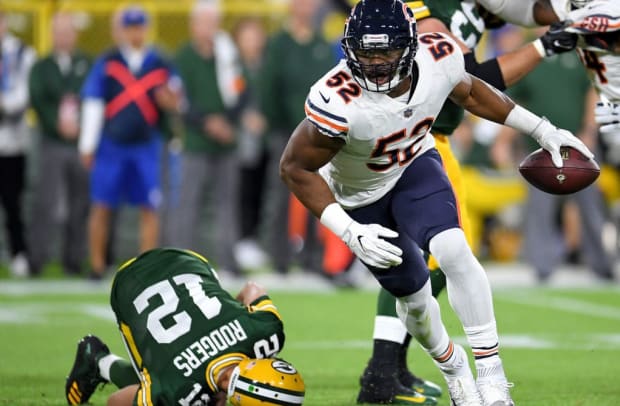 How can a Bears fan pick the Packers? I am realistic most of the time. And the realist in me says that the Bears need to lose games to secure the best draft pick possible. Here is a fun fact, because the CBA with the players union, the Bears will NEED to spend about $130MM in cash this off-season. When you combine that with a top 3 draft pick, you start talking about a very fast turnaround at Halas Hall. But the meatball heart of mine is constantly screaming "Screw Green Bay!"