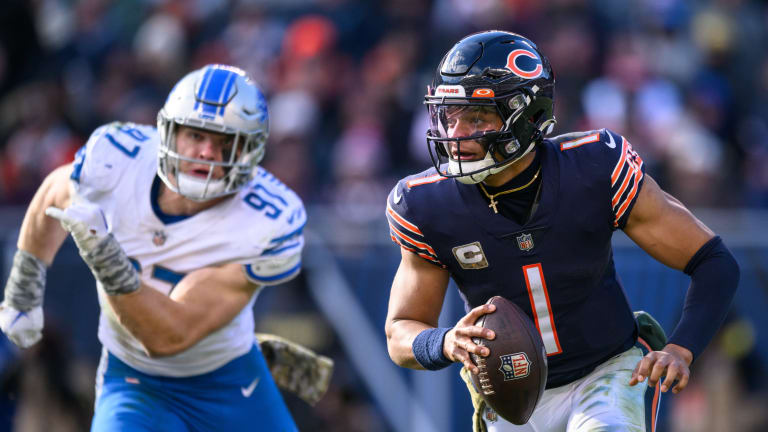 Chicago Bears Week 10 Takeaways: Lions Not Interested in the Justin Fields Show
The Bears fell short in a close contest once again. This time, it was a divisional loss to the Lions in an offensive battle.
The Chicago Bears were defeated in yet another heartbreaker on Sunday. The 31-30 loss to the Detroit Lions at Soldier Field dropped their record to 3-7.
Once again, Bears fans had to watch their team lose a close contest. Of their seven losses this year, five have been within one score.
Week 4 at Giants: Lose by 8
Week 5 at Vikings: Lose by 7
Week 6 vs. Commanders: Lose by 5
Week 9 vs. Dolphins: Lose by 3
Week 10 vs. Lions: Lose by 1
But they're trending in the right direction. They're losing one-score games by smaller and smaller margins.
This doesn't even include their 17-point loss to the Packers in Week 2, which could have been one score if Justin Fields' scramble was ruled a touchdown, despite replay showing otherwise.
Nevertheless, here are the takeaways from another tight loss in Week 10.
Playoffs Picture/Draft Pick Positioning
Let's call it for what it is: the Bears are not making the playoffs this year. At 3-7, they're 5.5 games behind the 8-1 Minnesota Vikings in the NFC North. 
Additionally, they're now 0-3 against the rest of the division. They've lost to all three teams already
Week 2: at Packers
Week 5: at Vikings
Week 10: vs. Lions
As for their Wild Card hopes? Those aren't looking good either. The Bears currently sit at the very bottom of the NFC standings. The San Francisco 49ers hold the seventh and final playoff seed right now.
In fact, the Bears are closer to securing a top-five pick in the 2023 NFL Draft. According to Tankathon.com, the Bears are slated to pick sixth overall.
Justin Fields vs. Lions
Justin Fields stole the show yet again. Wash, rinse, repeat. He's been stacking stellar performance after stellar performance as of late.
Fields accounted for 314 total yards and four touchdowns. To put that in perspective, the Bears had 408 total yards on offense. The second-year QB racked up 76.9% of the team's total yards.
Passing: 12/20 (60.0%), 167 yards (8.4 avg), 2 TDs, 1 INT, 99.4 QB Rating
Rushing: 13 attempts, 147 yards (11.3 avg) 2 TD
Of course, the one concern is that he completed only one pass for six yards in the fourth quarter. The Bears' passing game isn't coming along fast enough and the offense is too reliant on Fields using his legs.
Speaking of which, for the second straight week, QB1 had a touchdown run of 60-plus yards. Last week it was a 61-yard run.
Against the Lions, Fields took it 67 yards to the house.
Here is his other rushing touchdown from earlier in the game. It was truly special stuff.
Justin Fields: Last Four Games
Justin Fields has been one of the most dynamic players in the NFL over the last few weeks.
Since a Week 6 Thursday Night game against the Washington Commanders, Fields has put up the following numbers:
Total Yards: 1,087
Touchdowns: 13
Turnovers: 2
In the last four games as a passer, he's posted the following stats: 59/92 (64.1.%), 620 yards (6.7 avg), 8 TDs, 2 INT. Additionally, he's rushed the ball 50 times for 467 yards (9.3 avg) and five touchdowns. 
Justin Fields: Historic Run
What Fields is doing right now is historic. Just check out the following notes:
Justin Fields: More Numbers
Development is the name of the game for Fields at this point in his career. He's how his 2022 campaign stacks up against his first 10 games during his rookie season.
StatMuse really puts into context what Fields has done this year. Look at this first stat, he's outrushing three teams by himself.
In the same vein, he has more rushing touchdowns than the following teams.
Cole Kmet
The Cole Kmet doubters are awfully quiet these days. The third-year tight end is finally starting to live up to his draft billing.
On Sunday, he was the Bears' leading pass catcher. The Notre Dame product hauled in four catches on seven targets for 74 yards and two touchdowns.
It was his second multi-touchdown game in a row. So far, Kmet's 2022 season has been spectacular. His five scores are a career-high, and he still has games left on the docket to add to it.
Here's a look at his career stats.
2020: 16 games, 44 targets, 28 catches, 243 yards (8.7 Yds/Rec), 2 TD
2021: 17 games, 93 targets, 60 catches, 612 yards (10.2 Yds/Rec), 0 TD
2022: 10 games, 33 targets, 23 catches, 274 yards (11.9 Yds/Rec), 5 TD
Offense: Scoring Has Picked Up
The Bears' offense has produced more points on a regular basis since the mini-bye after Week 6.
They averaged 15.5 points per game from Weeks 1-6.
Week 1: 19 points
Week 2: 10 points
Week 3: 23 points
Week 4: 12 points
Week 5: 22 points
Week 6: 7 points
Since Week 7, they've averaged 31.0 PPG.
Week 7: 33 points
Week 8: 29 points
Week 9: 32 points
Week 10: 30 points
That's an uptick of 15.5 PPG from the first six weeks. Overall, Chicago is scoring 21.7 PPG.
The offense seems functional and a lot of that credit goes to Luke Getsy and Justin Fields. Despite an obvious lack of talent on that side of the ball, they're making things happen.
Running Game
The Chicago Bears rushed for 258 on 35 attempts against the Detroit Lions, which averages to 7.4 yards per rush. Those figures obviously include Fields' huge day with his legs.
Now, the Bears join the 1976 Pittsburgh Steelers on an exclusive list as the only teams to rush for 200-plus yards in five straight games.
Defense
The defense is regressing before our eyes. Yes, they've played some high-powered offenses, and they've had to do so without Robert Quinn and Roquan Smith.
However, the defense has been getting gashed. The Bears have let up 49, 35, and now 31 points over the past three games. They've struggled to make crucial stops and get off the field on third downs.
This team doesn't have a pass rush, which gives opposing QBs far too much time. As a result, the secondary gets exposed. Not much the defensive backs can do about that.
Jack Sanborn
What a game for the undrafted free agent out of Wisconsin. The Lake Zurich native logged 12 tackles (nine solo), two sacks, two TFL, and two QB hits.
He led by example on defense, a role that Roquan Smith has filled over the last four years. Sanborn should have had an interception on his stat line as well, but the pick was called back on a very questionable "hands to the face" penalty.
Cairo Santos
It was a rough day for Cairo Santos. He missed a crucial extra point, which ultimately was the difference-maker. Furthermore, Santos booted a kickoff that went out of bounds and gave the Lions great field position.
It didn't cost the Bears as Detroit was forced to punt on that drive, but you never 
Overall
The Bears lost another game by one score. They've had a handful of close encounters but always seem to fall short.