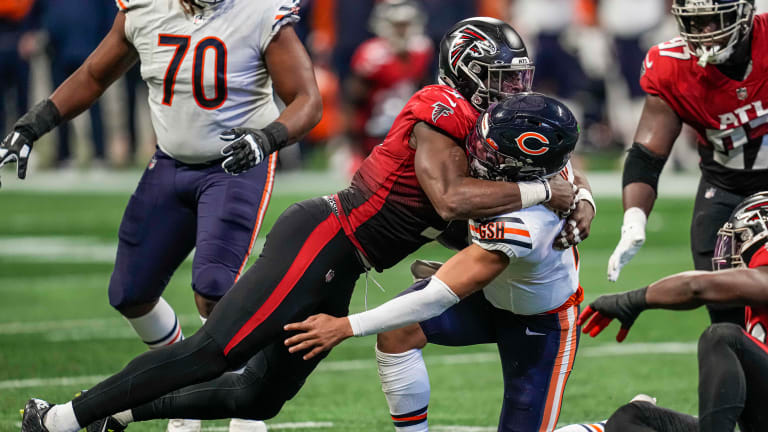 Chicago Bears Week 11 Takeaways: Bruised, Battered, and Beaten by Falcons
The Bears were roughed up by the Falcons in more ways than one on Sunday. A grueling, physical game has taken its toll.
The Chicago Bears lost their fourth straight game on Sunday, a 27-24 defeat at the hands of the Atlanta Falcons. As a result, Chicago's record fell to 3-8 on the season.
The loss in Atlanta only adds to the Bears' trend of dropping close contests. Interestingly, six of their eight losses have been by one score.
Week 4 at Giants: Lost by 8
Week 5 at Vikings: Lost by 7
Week 6 vs. Commanders: Lost by 5
Week 9 vs. Dolphins: Lost by 3
Week 10 vs. Lions: Lost by 1
Week 11 at Falcons: Lost by 3
Yes, the Bears clearly lack in the talent department, and the coaching hasn't been exceptional. Despite those factors, they've had a chance to win or tie in six games.
Hypothetically speaking, let's say they flip the result of three of those games. Instead of being 3-8, they could very well be 6-5 right now. Good teams find ways to win such games, but the Bears aren't a very talented or good team right now.
Here are the main takeaways from yet another tough loss in Week 11.
Tankathon: Draft Position Improves
After last week, the Bears were slated to pick sixth overall in the 2023 NFL Draft. However, following their loss to the Falcons and a few other teams winning their respective games, the Bears shot up the board.
As it stands, Tankathon has the Bears picking third overall now.
This puts the Bears in line to draft EDGE Will Anderson Jr. or DL Jalen Carter. They could also trade back with a QB-desperate team and accrue a few additional picks.
Justin Fields
Speaking of quarterbacks, Justin Fields had a tough go of it Sunday. Statistically, he had an okay day. He finished the game 14/21 for 153 yards (7.3 Yds/Att) with one touchdown, one interception, and a QB Rating of 84.0. Additionally, he once again led the team in rushing. Fields carried the ball 18 times for 85 yards (4.7 avg) and had one touchdown.
The concerning part of this contest was how many times the Falcons' defense boxed Fields in and sacked him. Atlanta's pass defense entered the contest ranking dead last in the NFL. Still, the Falcons sacked Fields four times.
Given how bad the Falcons are, Fields' level of production was a bit surprising. However, it wasn't the best day for the offense as a whole and the second-year quarterback was the lone bright spot yet again. But he took a beating on the field in the process and it's finally catching up.
Fields is banged up at this point in the season. He was dealing with cramps late in Sunday's game and was shown multiple times getting stretched out. Ultimately, he suffered a left (non-throwing) shoulder injury on the final drive. The injury was significant enough that he had to be carted off the field after the game.
The cracks are finally showing in the armor. Protect QB1 at all costs!
Luke Getsy
What an awful performance from the play-caller. This one was a stinker for Luke Getsy. Yes, I'm probably nitpicking since the Bears still scored 24 points.
The Falcons adjusted to what the Bears were trying to do in the second half and Getsy never countered. His play-calling late in the game was bizarre, as the plan included QB run plays (the first one looked designed) when Fields was ailing with cramps and a shoulder.
But it wasn't only an issue in the final minutes. The Bears left plenty of points off the board and Getsy's scheming didn't help. Again, he wasn't "terrible" all game, but he wasn't great either.
Credit where it's due: the play design on Darnell Mooney's first-quarter touchdown was a thing of beauty.
Chase Claypool... Where Art Thou?
It's time to address the elephant in the room. Chase Claypool has been basically non-existent in his three weeks as a Bear. Sure, the first week is understandable. Showing up in the middle of the week and then playing on Sunday isn't easy.
But last week and this week? The Bears have some 'splainin to do.
Week 9: 6 targets, 2 catches, 13 yards (6.5 Yds/Rec)
Week 10: 2 targets, 1 catch, 8 yards (8.0 Yds/Rec)
Week 11: 3 targets, 2 catches, 11 yards (5.5 Yds/Rec)
This is definitely not the level of production the Bears want to see after giving up a second-round draft pick to acquire Claypool. The worst part is that it wasn't even the Ravens' second-round pick that Chicago acquired in the Roquan Smith trade.
Instead, it was the Bears' organic second-round pick, which is currently slated at 35th overall right now — essentially a late first-rounder.
Defense
Let's not even talk about it. It was dreadful. Ok, I guess we'll talk about it a little bit.
The Bears did not sack Marcus Mariota in this contest. Chicago frequently missed tackles, took poor pursuit angles, and committed penalties. Good grief, the penalties. It extended drives and gave the Falcons first downs the Bears could ill afford.
The front four are no good. Therefore, defensive coordinator Alan Williams does something uncharacteristic in a Matt Eberflus defense. He sent the blitz...often. And on a few occasions, he sent the house.
Unfortunately, the Falcons picked up those blitzes and made the Bears' secondary vulnerable. It was painful to watch.
Jack Sanborn
The one bright spot on defense was Jack Sanborn. The undrafted rookie has filled in nicely since the departure of Roquan Smith. Sanborn has made his presence known over the last few games, and Sunday continued that trend.
The former Wisconsin Badger was flying around and making huge tackles in critical spots. He was second in tackles behind Jaquan Brisker. Overall, he logged nine tackles (eight solo) and one QB hit.
How and why he went undrafted was a mystery. Ryan Poles acting quickly to bring the Lake Zurich native back home was a savvy move that's deserving of praise.
Special Teams
Old friend Cordarrelle Patterson returned a kickoff 103 yards for a touchdown. No Bears fan should be surprised after seeing his return prowess firsthand in Chicago for a few years.
Elsewhere on special teams, Cairo Santos attempted a 56-yard field goal that came up a yard short. It's been a rough past two weeks for him.
Overall, this phase of the game isn't looking pretty for the Bears right now. Hopefully better days are ahead.
Overall
It's hard to fully dissect this Chicago Bears team at the moment. The offense looks okay, but the defense is a mess. Discipline has also been an issue with frequent bad penalties since Week 2.
The Bears have been in almost every game, often having the ball in their hands with a chance to win. Yet, they keep falling short. Yes, a lot of fans believe tanking to improve draft position is the proper route to take. However, winning some of these games would also be beneficial for such a young team. You can't just teach it; you have to live it and learn from it. So far, they haven't.
Now, Justin Fields is banged up and an easier portion of the schedule has come to a close. Down the stretch, several tough tests await. You'd be hard-pressed to find wins even with Fields being the lead signal-caller.
If Fields misses time and Trevor Siemian takes the reins of the offense? The Bears could very well lose out and finish 3-14.
What's On Tap Next?
The Chicago Bears will head to East Rutherford, New Jersey for the second time this season. This time around, they'll take on the New York Jets at MetLife Stadium. The Week 12 contest takes place on Sunday, Nov. 27 at 12 PM CT on FOX. 
The Bears will look to rebound from their fourth straight loss and snap their month-long losing streak. They will hopefully be led by Justin Fields against a very tough Jets defense. Likewise, Luke Getsy and the rest of the offense look to get back on track. Chicago's defense may be a lost cause at this point. Perhaps the unit can benefit from the Jets' current uncertainty at the quarterback position.
As for the Jets, they suffered a heartbreaking loss against the New England Patriots in Week 11. As they try to rebound from it, the Bears may be the perfect opponent. New York's offense has some playmakers. Zach Wilson, if he plays, is surrounded by James Robinson, Michael Carter, Garrett Wilson, and Elijah Moore. 
The Jets' defense isn't too shabby either. C.J. Mosley, Quinnen Williams, D.J. Reed, and Quincy Williams anchor the unit. It will be tough sledding for the Bears next week.
Tune into the Bears On Tap podcast for further postgame reaction in addition to updates and analysis throughout the week.