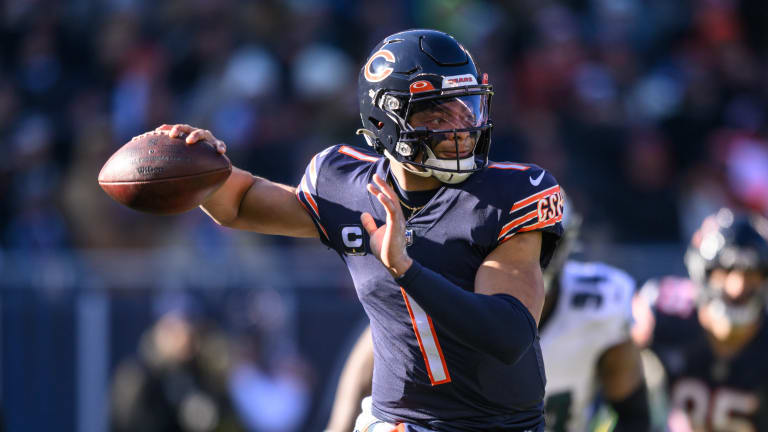 Chicago Bears Week 15 Takeaways: Kept It Close Against The High-Flying Eagles
The Bears took on the NFC's best team and surprisingly didn't get blown out.
The Chicago Bears' losing skid reached seven games with a 25-20 loss to the Philadelphia Eagles on Sunday. As a result, the Bears are now 3-11.
This loss marks the Bears' seventh by one score.
Week 4 at Giants: Lost by 8
Week 5 at Vikings: Lost by 7
Week 6 vs. Commanders: Lost by 5
Week 9 vs. Dolphins: Lost by 3
Week 10 vs. Lions: Lost by 1
Week 11 at Falcons: Lost by 3
Week 15 vs. Eagles: Lost by 5 
The Bears' lack of talent is evident and yet they're making chicken salad out of chicken shit. The coaching staff has been inconsistent, but somehow this team had tons of heart and keeps fighting. 
You are what your record says you are. The Bears are 3-11. However, they could have easily flipped some of those one-score games to have a 6-8 or 7-7 mark. It doesn't help that general manager Ryan Pace sold big at the trade deadline by flipping Roquan Smith and Robert Quinn for draft picks. But that's a different story for another time.
Here are the main takeaways from another close loss in Week 15.
Tankathon: Draft Position
As things currently stand, the Bears are in line to pick second overall in the 2023 NFL Draft.
Securing No. 2 pick would provide the Bears some flexibility come draft day. They could either select EDGE Will Anderson Jr. out of Alabama or DT Jalen Carter out of Georgia.
They could even flip the pick for a massive haul to a team desperate for a QB.
Justin Fields
Justin Fields' development keeps trending in the right direction. He's been stacking good game after good game after good game. The second-year QB has progressed nicely ever since the Bears' Week 7 contest against the New England Patriots.
Luke Getsy has finally unlocked Fields and is utilizing and maximizing his talent. Despite not having an elite supporting cast on offense, Fields has been balling out and carrying the team.
On Sunday, Fields went toe-to-toe with MVP candidate Jalen Hurts and played well against a stout Eagles defense.
He posted the following stat line: 14/21 (66.7%), 152 yards (7.2 Yds/Att), 2 TD, 0 INT, 119.5 QB Rating. Unfortunately, Fields was sacked six times for 61 yards.
Additionally, Fields racked up 95 yards on 15 rushes (6.3 avg) with a long of 39 yards. As a result, he made history with his legs in two ways. Fields set the Bears QB rushing record for a single season. The previous leader in that category was Bobby Douglas with 968 yards.
Furthermore, he eclipsed 1,000 yards for the season, which makes him the third QB to accomplish the feat. Fields joins a list that consists of Michael Vick (2006 and Lamar Jackson (2019, 2020).
Defense
All things considered, the Bears' defense played well in Week 15. Chicago faced a high-powered, high-octane Eagles offense that is capable of running up the score quickly. But the Bears held Jalen Hurts and co. to 25 points and kept the game competitive throughout.
Additionally, the Bears were +2 in the turnover battle. They snatched two interceptions from Hurts and recovered one fumble. The pass rush generated pressure and even sacked the Eagles' QB once.
Here's how Philadelphia's top playmakers fared against the Bears:
Jalen Hurts

22/37 (59.5%), 315 yards (8.5 Yds/Att), 0 TD, 2 INT, 64.6 QB Rating
17 rushes, 61 yards (3.6 avg), 3 TD

Miles Sanders

11 carries, 42 yards (3.8 avg)

A.J. Brown

16 targets, 9 catches, 181 yards (20.1 avg)

DeVonta Smith

8 targets, 5 catches, 126 yards (25.2 avg)
However, the box score makes it look worse than it actually was. Hurts' three rushing touchdowns were scampers of 22 yards, one yard, and one yard, respectively.
Defensive Studs
The Bears had a handful of noticeable defensive players against the Eagles. Jaylon Johnson, Kyler Gordon, DeAndre Houston-Carson, Jack Sanborn 
These four gentleman stood out more than everyone else. Jaylon Johnson went up against A.J Brown and had a handful of big plays and pass breakups. Even though, Brown did go off for 181 yards. 
Meanwhile, Kyler Gordon was flying around from the first snap to the last. He had an amazing interception early in the game and recovered a fumble. 
Likewise, DeAndre Houston-Carson had the other INT and had a couple of pass defenses himself. 
Of course, Jack Sanborn had another nice game. He's filled the role perfectly after the trade of Roquan Smith. He's been flying around and been around the ball non-stop. He continues to make huge stops and tackles at key moments. 
Here is how each one did statistically:
Jaylon Johnson: 6 tackles (6 solo), 3 passes defended
DeAndre Houston-Carson: 5 tackles (5 solo), 1 INT, 1 pass defended
Kyler Gordon: 4 tackles (3 solo), 1 INT, 1 FR, 1 pass defended
Jack Sanborn: 5 tackles (5 solo)
Cairo Santos
Cairo Santos has been a bit of a concern in 2022. After a rock-solid performance throughout 2020 and 2021, he's struggled this year.
Santos missed his fifth extra point on the season.
Now, pair that with his two missed field goals. That's seven total missed kicks in 2022.
It was bad enough to where the Bears passed up a 48-yard field goal attempt and instead took a delay of game to punt from the Eagles' 36-yard line. But, to be fair, it was quite windy at Soldier Field. Even Philadelphia's Jake Elliot doinked a field goal try.
Could it be time for the Bears to seek out a replacement — or at least some competition — heading into 2023? Time will tell.
Injury Bug
This was an absolutely brutal day for the Chicago Bears on the injury front as players went down early and often.
The Bears lost WR Equanimeous St. Brown on the very first drive of the game. He suffered the injury on his only reception. Then on the next play, RG Teven Jenkins suffered a scary neck injury.
Later on, LBs Jack Sanborn and Matt Adams suffered injuries of their own. Additionally, Justin Fields exited briefly due to an injury or cramps but returned to finish the game. The final blow was Jaylon Johnson, who was unable to return.
Equanimeous St. Brown (concussion)- Out
Teven Jenkins (neck)- Out
Jack Sanborn (ankle)- Out
Matt Adams (undisclosed)- Questionable
Jaylon Johnson (ribs)- Questionable
Velus Jones Jr.
The 25-year-old third-round pick continues to fumble his opportunities...quite literally. He hauled in one pass for three yards but fumbled the ball away.
Jones Jr. continues to disappoint. After fumbling a couple of punts earlier this season and struggling to grasp the offense, his opportunities are limited. He's been relegated to kickoff return duties. When he gets a chance to shine on offense, he's unable to grab the bull by the horns.
Jones Jr. may not have the luxury of time to develop as he's already 25 years old. If not now, then when?
Coaching
Say what you will, but the Bears looked prepared for this game and hung tough with the Eagles for all four quarters. Sure, there were still a few head-scratching coaching decisions and miscues. However, the team came to play in a game where the expectation was for the Eagles to thrash a very bad defense and potentially score 40-plus points.
The Bears held Philadelphia's passing offense out of the end zone and were able to put 20 points on the board offensively despite having an incredibly depleted wide receiver room.
That level of preparation coming off a bye week reminds Bears fans of the Lovie Smith era — a total 180 from the four years under Matt Nagy. That being said, there are plenty of areas in which the coaching staff can improve.
All in all, they've done pretty well for a team that lacks top-end talent.
Overall
What more can one ask for in a lost season? GM Ryan Poles gutted the roster coming into the campaign and cleared the deck in terms of cap space. The Bears will have plenty of money to spend in the offseason.
Nevertheless, they've accomplished a couple of things in 2022. First, they've gotten confirmation that Justin Fields is not only their franchise QB, but he's special. Second, they've established their culture. This is a hard-fighting, scrappy bunch. They've lost seven games by one score. Perhaps with a little harder coaching and an upgrade of talent, they can ascend from "close" to finishing the job.
Sunday's game was the perfect tank win and moral victory, which has been the story of the season. Fields makes the offense look good while the Bears continue to lose close games, which is almost the perfect balance of development and tanking.
If the Bears can lock down a top-three draft pick, there is potential for them to trade it for a massive package of additional picks in this upcoming and future drafts. The possibilities are endless.
What's On Tap Next?
The 3-11 Chicago Bears will stay at home to host the 11-3 Buffalo Bills next week at Soldier Field. The Week 16 contest takes place on Saturday, Dec. 24 at 12 PM CT on CBS.
The Monsters of the Midway look to end their losing streak and pick up a fourth win of the season. However, their long-term goals may conflict with that. Nevertheless, the primary focus will be Justin Fields and Luke Getsy as they continue their growth individually and collectively on offense. These two will be the key to the Bears' success in 2023 and beyond. Meanwhile, Chicago's defense is hopeful to stack another strong performance after an impressive game against the Philadelphia Eagles.
As for the Buffalo Bills, they enter this game coming off an impressive win against the Miami Dolphins at home. They clinched their playoff spot with the win and now seek a division title, the No. 1 seed, and home-field advantage in the AFC. The Bills are led by star QB Josh Allen and stud WR Stefon Diggs but have a plethora of other weapons on offense.
Additionally, their defense is nothing to sneeze at. They have a strong unit as all three levels are stacked with playmakers. Ed Oliver, Shaq Lawson, Matt Milano, Tremaine Edmunds, Tre'Davious Davis, Jordan Poyer, and Xavier Rhodes lead the way on that side of the ball. They're a high-flying, hard-hitting bunch.
Tune into the Bears On Tap podcast for further postgame reaction in addition to updates and analysis throughout the week.