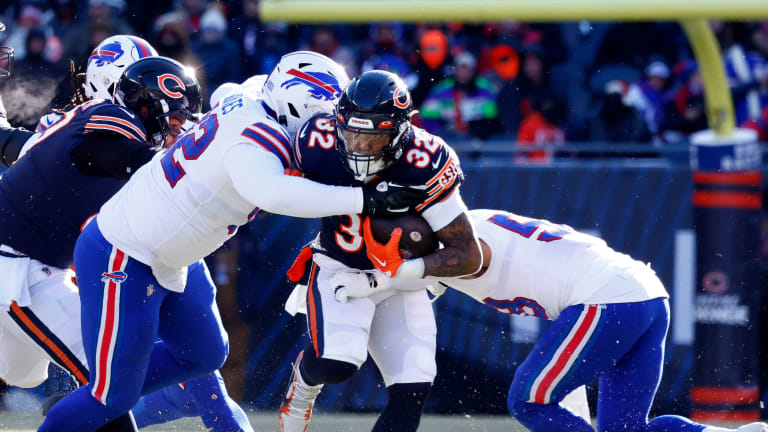 Chicago Bears Week 16 Takeaways: No. 1 Draft Pick in Play, Merry Christmas
The Bears lost a tough one to the now-AFC East champions on a windy, frigid Christmas Eve at Soldier Field.
The Chicago Bears' slide continued Sunday with a 35-13 loss to the Buffalo Bills. Their losing streak has now reached eight games and they sport a 3-12 overall record.
Chicago kept things close until halfway through the third quarter and then the game quickly slipped away. The Bears are a scrappy, gritty team but there's only so much they can do with a roster like this. Additionally, they've been plagued with injuries recently. It looks like GM Ryan Poles will have a lot of work to do this offseason to make the Bears a true contender.
Nevertheless, here are the main takeaways from the Week 16 home loss.
Tankathon: Draft Position
Christmas weekend brought good news for the Bears' draft positioning. The Houston Texans defeated the Tennessee Titans, which puts the No. 1 overall pick in play for the Bears.
For the Bears to secure the first selection in the 2023 NFL Draft, they'll need to continue their losing ways and get some help.
Texans win one of their remaining two games (vs. Jaguars, at Colts)
Bears lose out (at Lions, vs. Vikings)
If the Bears were to land the top spot in the draft, the possibilities would be endless. There will more than likely be a team willing to mortgage their future to acquire the pick from Chicago. Whether or not the Bears act on it is up to Ryan Poles, but the hope is that the rookie GM would do just that.
Justin Fields
Unfortunately, QB1 couldn't play Superman against the Bills. Can you blame him? He had essentially nothing around him.
Fields finished the game with the following stat line: 15/23 (65.2%), 119 yards (5.2 Yds/Att), 1 TD, 0 INT, 92.5 QB Rating.
However, the most surprising thing was how well the Bills' defense contained him in the running game. Fields rushed it seven times for only 11 yards. Buffalo effectively took away a major aspect of his game.
So he wasn't superhuman this week...big deal. It happens.
Luke Getsy
This was a bizarre game for the first-year offensive coordinator. Getsy had a rough day at the office, especially in the second half when he got way too conservative with his play-calling.
After Velus Jones Jr. hauled in a 44-yard catch from Justin Fields with 0:20 left in the third quarter, Getsy got in his own way.
1st and 10 (BUF 23): Herbert 3-yard run
2nd and 7 (BUF 20): Montgomery 5-yard run
3rd and 2 (BUF 15): Montgomery -1-yard run
4th and 3 (BUF 16): Fields pass to Griffin for 2 yards
From that point on, the play-calling was beyond dreadful. 
Sure, the conditions were less than ideal and the Bears were down a handful of playmakers on offense. But that doesn't excuse Getsy from coaching scared.
Velus Jones Jr.
What a game for the rookie. After a rough start to his career that came with heavy scrutiny, he finally had himself a game.
Jones Jr. led the Bears in receiving, albeit by necessity. He was targeted four times and hauled in two catches for 54 yards, which included the aforementioned 44-yarder. 
But he made his biggest impact in the return game. Jones Jr. had four returns for 113 yards, which was good for an average of 28.0 yards per return. His longest return of the game stretched 40 yards.
Special Teams
On top of Jones Jr.'s great day in the return game, the two kickers had a solid day.
First of all, punter Trenton Gill flipped the field with a couple of huge punts. All in all, he logged four punts for 197 yards (49.3 avg). The highlight of his day was a 68-yard punt that pinned the Bills at the two-yard line.
Additionally, it was nice to see Cairo Santos return to his old ways. Much like Velus Jones Jr., he's been having a rough go of things lately and it's resulted in plenty of criticism. But he connected on both of his field-goal attempts and made his lone extra-point try. Given the conditions at Soldier Field, that's quite impressive. Meanwhile, his counterpart, Tyler Bass, missed a field goal and an extra point.
David Montgomery
David Montgomery was the lifeline of the Chicago Bears' offense. The unit functions better when he's in the game as opposed to Khalil Herbert. Montgomery logged 84 all-purpose yards, which included 62 yards on 16 carries (3.9 avg). He added two catches for 22 yards in the passing game.
The stats don't show it, but Montgomery was an active presence all game long. The fourth-year running back is in the last year of his rookie deal, and he has proven his worth to this offense. It would be nice to see Poles reward him with a new deal this offseason, though it would be understandable if they part ways. Running backs are a dime a dozen and usually have short shelf lives in today's NFL.
Kyler Gordon
The rookie cornerback had another huge day. He snagged another interception, which marks his second in as many weeks. Gordon also logged five tackles and a pass breakup. He is coming along nicely after a slow start to the season.
The future of this secondary looks bright if everyone remains healthy. Gordon, Jaylon Johnson, Jaquan Brisker, and Eddie Jackson have the potential to be a shutdown group.
Overall
The Bears stayed close for two and a half quarters before the Bills pulled away. However, the scoreboard doesn't reflect how competitive the Bears were. In the second half, it almost seemed like they had no interest in winning in this game. The offensive play-calling clammed up and the execution got sloppy.
Unlike previous weeks, there aren't many positives to take away from this game. Yes, their draft positioning improved, but it was not an ideal "tank" win for the Bears. They were outclassed and outmatched in the second half. 
Nevertheless, we trudge on. The end of the season is near and fans should be excited about what the offseason will bring.
RELATED: 5 Reasons for Bears Optimism Heading Into 2023 and Beyond
What's On Tap Next?
The Chicago Bears make a trip East to visit the 7-8 Detroit Lions next week at Ford Field. That Week 17 contest takes place on Sunday, Jan. 1 at 12 PM CT on FOX. 
The Bears will try to snap an eight-game losing streak and pick up their fourth win of the year. However, they might not be all that interested in doing so since the first-overall pick is still in play.
Chicago will face a solid Lions offense led by QB Jared Goff. He has plenty of weapons to work with in D'Andre Swift, Jamaal Williams, Amon-Ra St. Brown, and DJ Chark. 
On the flip side, Detroit's defense is a bit porous. Aiden Hutchinson, Jeff Okudah, and Romeo Okwara are the headlines of the unit, which has mostly struggled to contain opponents this season. The Bears' offense will have their chances as they look to avenge a heartbreaking Week 10 loss at Soldier Field.
The Lions enter this contest following a tough loss to the Carolina Panthers, but their playoff hopes are still somewhat alive. Expect a motivated Lions team to show up against an ailing Bears squad that has long-term plans in mind (tanking). This game will be a grueling battle and should be a great way to kick off 2023.
Tune into the Bears On Tap podcast for further postgame reaction in addition to updates and analysis throughout the week.