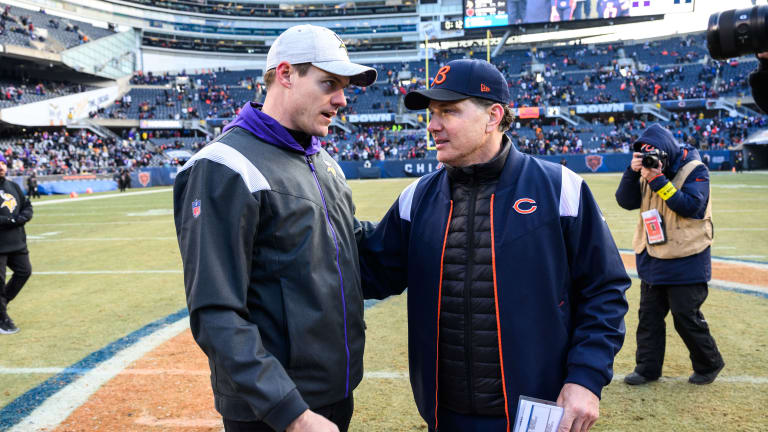 Chicago Bears Week 18 Takeaways: That's All Folks
The Bears wrap up their 2022 season with a loss to the Minnesota Vikings. However, they received a huge gift from the Houston Texans.
The Chicago Bears wrapped up their 2022 campaign on Sunday with a 29-13 loss to the Minnesota Vikings at home. They finish the season on a 10-game losing stream and with a 3-14 record. Their record is the worst in franchise history. 
Even though the Bears lost, they actually won the day, despite never actually having a chance in the loss. 
Nevertheless, for the last time this season, here are the main takeaways from the Week 18 loss. 
Tankathon: It Worked!
This entire season was a rollercoaster ride. From the Week 1 stunning win over the San Francisco 49ers, to the embarrassment of Bill Belichick on Monday Night Football, to the emergence of Justin Fields' dynamic playmaking abilities, to the 10-game losing streak, this whole season was full of ups and downs. 
It all worked out at the end. The Chicago Bears did their part in Week 18 by losing to the Minnesota Vikings. However, they needed a little bit of help. The Houston Texans had to win over the Indianapolis Colts in order for the Bears to secure the first pick in the upcoming NFL Draft. Much like their season, that was a rollercoaster ride as well. 
Houston grabbed an early 10-point lead. Then, they blew it and were down seven points late in the game only for Davis Mills to convert a 4th and 12 on the last drive. Then, they converted a 4th and 20, hail mary pass for a touchdown to find themselves down only one. It was former Bears head coach Lovie Smith's decision to go for a two-point try and the win. That decision proved to be successful. Finally, the Texans defense held the Colts offense off long enough to secure the win.
As a result, the Texans finished 3-13-1, a half game better than the Bears. As a result, the Bears secured the #1 overall pick in the NFL Draft. The path to the "golden ticket" was true.
Now, the onus is on GM Ryan Poles to make it work and maximize the value of this pick. Whether that's selecting a franchise-altering player or trading it back to collect more picks and/or a star player, the decision weighs on his shoulders.
Justin Fields
Did not play. Nothing to see here. But, given the resources the team has this offseason, things are looking up for him. That is, if Ryan Poles does actually address the issues on offense.
Nathan Peterman and Tim Boyle?
In the final week of the season, the Bears sat Justin Fields. They ultimately went with a two-quarterback rotation against the Vikings. 
There isn't much there to discuss. It was mostly "meh". Here's how each performed:
Nathan Peterman: 11/19 (57.9%), 114 yards (6.0 Yds/Att), 1 TD, 0 INT and a QB Rating of 92.9
Tim Boyle: 2/8 (25.0%), 33 yards (4.1 Yds/Att), 0 TD, 2 INT and a QB Rating of 4.7
Running Game
The running game had a resurgence and hardly any of it was contributed by the QB. It was nice to see that it still existed on it's own.
Khalil Herbert logged 50 yards on 10 rushes (5.0 avg). Meanwhile, Velus Jones Jr. took advantaged of his limited touches on offense. He rushed once for 42 yards and took it to the house. All while tiptoeing down the sideline. 
However, this could have been David Montgomery's last game in a Bears uniform. Unfortunately, he had seven rushes for 21 yards and no targets in the passing game. 
All in all, the team rushed 22 times for 118 yards (5.4 avg) and one TD.
Pass Catchers
On a day when Justin Fields was not available, the offense had 147 yards through the air. Despite having two QBs play, some of the key contributors didn't really lose a step.
Cole Kmet led the group with four catches on five targets and 57 yards (14.3 avg) and one TD. Meanwhile, Chase Claypool added two catches on six targets and 29 yards. 
The rest of the group rounded out the day as such: 
Dante Pettis: 6 targets, 2 catches, 19 yards (9.5 avg)
N'Keal Harry: 2 targets, 1 catch, 7 yards (7.0 avg)
Byron Pringle: 1 target, 1 catch, 5 yards (5.0 avg)
Equanimeous St. Brown: 1 target, 1 catch, 3 yards (3.0 avg)
Khalil Herbert: 2 targets, 1 catch, -1 yard (-1.0 avg)
Trestan Ebner: 2 targets, 0 catches, 0 yards (0.0 avg)
Velus Jones Jr.
Likewise, Velus Jones Jr. added a catch for 28 yards on two targets in the passing game. In addition to his 42 yards on the ground, he logged 70 all-purpose yards. That figure is the most he's had in a single game all season. 
Additionally, the 2022 third-rounder had four kickoff returns for 82 yards (20.5 avg). Velus Jones Jr. has really stepped up lately. That momentum will be instrumental in his development going forward.
It will be real interesting what his role is and how it expands in 2023. 
Defense
The defense allowed 29 points to the Vikings...again. That's 58 points in two games against Minnesota. 
But, it was the 482 total yards on 71 plays, an average of 6.8 yards per play. Of those 482 yards, 341 came through the air and 141 were on the ground. 
Like the Bears, the Vikings used two QBs, but didn't rotate them in and out. Kirk Cousins was benched at halftime for Nick Mullens. 
Kirk Cousins: 17/20 (85.0%), 225 yards (11.3 Yds/Att), 1 TD, 0 INT and a QB Rating of 130.2
Nick Mullens: 11/13 (84.6%), 116 yards (8.9 Yds/Att), 0 TD, 1 INT and a QB Rating of 71.8.
Unfortunately, the Bears defense did not record a single sack of either quarterback. 
In the running game, it was Alexander Mattison leading the way after Dalvin Cook suffered an injury early. Mattison recorded 54 yards on 10 carries (5.4 avg) and two TDs. As for Cook, he logged 11 carries and 37 yards (3.4 avg). 
The Vikings pass catchers had themselves a day. They were led by KJ Osborne, who logged five catches on six targets for 117 yards (23.4 avg). 
Justin Jefferson was held quiet for the entire first half before he was benched. He recorded four catches on five targets for 38 yards (9.5 avg). The rest of the pass catchers rounded out as such:
Jalen Nailor: 5 targets, 4 catches, 62 yards (15.5 avg)
C.J Ham: 4 targets, 4 catches, 47 yards (11.8 avg)
Jalen Reagor: 2 targets, 2 catches, 17 yards (8.5 avg)
Kene Nwangwu: 1 target, 1 catch, 16 yards (16.0 avg)
T.J Hockenson: 1 target, 1 catch, 16 yards (16.0 avg)
Irv Smith Jr.: 3 targets, 3 catches, 14 yards (4.7 avg)
Adam Thielen: 3 targets, 2 catches, 8 yards (4.0 avg), 1 TD
Alexander Mattison: 1 target, 1 catch, 6 yards (6.0 avg)
Dalvin Cook: 1 target, 1 catch, 0 yards (0.0 avg)
Lastly, the Bears defense logged two takeaways. LB Joe Thomas recovered a Dalvin Cook fumble and Greg Stroman picked off Nick Mullens. 
Cairo Santos
It was a very uneventful day for the Brazilian kicker. He had zero field goal attempts, but connected on his only extra point. 
This is just a little bit of recognition for Cairo Santos. One last time, especially if this is it for his tenure as a Chicago Bear. 
Thank you, Cairo. 
Coaching
It was the last game of the year. They didn't have many of their starters and were probably looking to lose the game anyways to help their draft positioning. 
It's been a long and difficult year for this coaching staff. They'll get a pass for this one. But there will be some introspection needed for all the coaches. Regardless of the talent on the roster, they all have some areas to clean up and work on. It all starts at the top with Matt Eberflus. 
Overall
What more can be said that hasn't already this season. This year sucked. You never want to see your team finish 3-14. But, they did and they got the #1 pick in the draft out if it, which is a great consolation prize. 
However, the goal is to win games, go the playoffs, and contend and win a Super Bowl. The NFC North is there for the taking, although the Detroit Lions might have a strong hold on it soon the way they're coming along. 
This year was all about Justin Fields. He's done enough to prove he can be a star in this league. He's a dynamic player with elite athleticism and playmaking abilities. However, his passing game needs to be refined, but it's hard to judge him this year on that. Of course, that's due to the lack of talent around him at playmaking positions, in addition to his protection along the offensive line. 
He did all he could do and put his body on the line. Fields took hit after hit to give this team a fighting chance. They lost seven games this season by one score, most of which ended with his so-called pass catchers or defense letting him down. But, he isn't without fault either. He's made his share of mistakes and taken unnecessary sacks. 
This team in the midst of a rebuild and are a work in progress, but theres reasons for optimism going forward. It will require Ryan Poles and Matt Eberflus making the right decisions to take this team to where it has to go. That has to start with surrounding QB1 with help.
What's On Tap Next?
Nothing. Enjoy the playoffs and the Super Bowl. Then it's time for the offseason and the team getting back to work for 2023. 
Thank you for following along this season. Bears On Tap will have you covered throughout the offseason for all things Bears. We can't wait to be back talking Bears football for 2023.
Tune into the Bears On Tap podcast for further postgame reactions in addition to updates and analysis throughout the week.
You're still here? It's over. Go home.