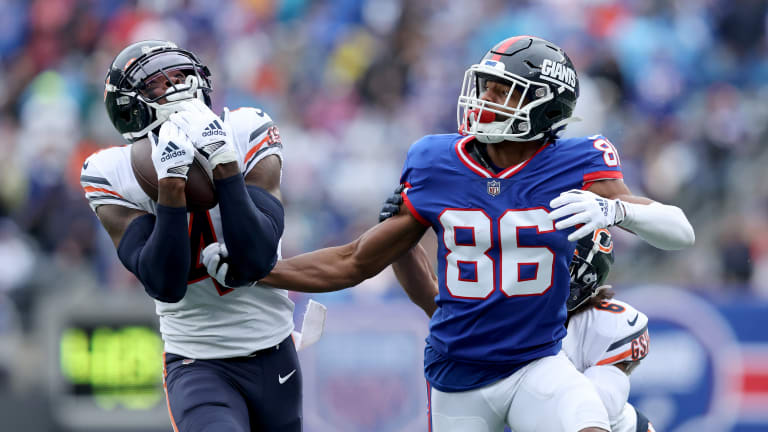 Chicago Bears Week 4 Takeaways: Get Out Of Your Own Way!
The Bears lost a winnable game to the Giants. What went wrong? Here are the main takeaways from that Week 4 contest.
The Chicago Bears lost a tough one in the Meadowlands to the New York Giants on Sunday. The 20-12 loss drops their record to 2-2 and they find themselves in third place in the NFC North now.
It was another sloppy performance by the Bears and it continues a trend of mediocrity. Rather than answering the questions heading into the season, the Bears continue to raise more questions. Its only four games, but there seems to be a legitimate reason for concern, however mild that concern may be. 
Here are the main takeaways from the Week 4 laugher in the Big Apple.
Justin Fields
This entire season will be about Justin Fields and his development. After a rough start to the season, Fields actually looked decent against the Giants. It wasn't a drastic improvement, but it was significant enough. His development will be incremental and the Giants was a small step in the right direction.
The second-year quarterback looked a little more comfortable and confident in the early going. He was making throws with conviction sporadically. He did take too many sacks and held onto the ball longer than he should. But, those types of issues were few and far between. 
The biggest development for him was ball security. He committed only one turnover all game, which came as a fumble in the second quarter. Although, it's tough to put the blame on him. Fields was hit from behind as he was attempting to throw the ball. No thanks to left tackle Braxton Jones. Overall, he did not put the football in harms way. A small win for an overall sluggish offensive performance.
Fields finished the day with a stat line of 11/22, 174 yards, 0 TD, 0 INT and a QB Rating of 76.7.
Offensive Line
It was not a good day for the front five. The Bears offensive line was getting beat early and often. The interior OL in particular had the roughest go of it. Sam Mustipher and Lucas Patrick struggled mightily all afternoon. 
In fact, it got worse when the Bears lost LG Cody Whitehair to injury. 
This forced the team to play the follow group:
LT: Braxton Jones
LG: Lucas Patrick
C: Sam Mustipher
RG: Teven Jenkins
RT: Larry Borom
Give credit where credit is due, Jenkins and Borom were the only ones who didn't stick out like a sore thumb. Sure, they had their struggles, but nothing compared to the other three. 
Once again, the Bears tried to mess around with a rotation at RG between Patrick and Jenkins.
 But, Whitehair's injury quickly changed those plans. 
Darnell Mooney: Resurgence?
Of all the pass catchers Fields had on Sunday, Darnell Mooney was the only one to step up. Mooney nearly topped 100 yards. The third-year wide receiver hauled in 80% of his targets for 94 yards. He and QB1 had a good connection going.
Hopefully this is a sign of Mooney's resurgence because the Bears offense will need it. Since, of course, his first three games were woeful. 
Week 1: 3 targets, 1 catch, 8 yards
Week 2: 2 targets, 1 catch, -4 yards
Week 3: 6 targets, 2 catches, 23 yards
Week 4: 5 targets, 4 catches, 94 yards
Run Defense?
The achilles heel of this defense is the ability to stop the run. Once again, they were gashed on the ground. The Giants ran for over 200 yards. In fact, Saquon Barkley racked up 146 yards and Daniel Jones had 68. 
Week 1: 37 attempts, 176 yards (4.8 avg)
Week 2: 38 attempts, 203 yards (5.3 avg)
Week 3: 24 attempts, 92 yards (3.8 avg)
Week 4: 44 attempts, 262 yards (6.0 avg)
Overall, the Bears have allowed 733 yards on 143 rushing attempts, which comes out to 5.3 yards per rush. This trend will continue until they can prove they can stop it. Unfortunately, the Bears don't have the players on defense to stop the run. 
Eddie Jackson
Eddie Jackson has retuned to his 2017 and 2018 form. It's a nice sight for the Bears defense. So far in 2022, Jackson has forced four turnovers (3 INT, 1 fumble). 
Jackson added another interception against the Giants. However, a streak comes to an end. The Bears were 12-0 when Jackson records a pick. Now, they're 12-1. 
Michael Badgley
What a debut by the 27-year-old kicker. Badgley was signed on Saturday to replace Cairo Santos. Santos missed this week's game due to personal issues. Nevertheless, Badgley stepped up and scored all twelve of the Bears' points.
On the day, Badgley went 4/4 on field goal attempts. 
Coaching
Top to bottom, it was a big disappointment. Matt Eberflus, Luke Getsy, Alan Williams and Richard Hightower all have some soul searching to do. Because this team is not it. Granted, the talent they're working with is subpar, but one would expect better coaching on their end. 
Getsy is struggling with his play-calling and gets ultra conservative on third downs. Not only that, but he's hardly doing Justin Fields any favors. The adjustments come at halftime, but not during the ebbs and flows of the game. 
As far as Williams is concerned, he has to dial up more blitzes and adjust faster and sooner. The Giants used the same bootleg with Daniel Jones in the first half over and over and over again. Likewise, just relying on your front four to generate pressure isn't always going to get it done. 
Now, Hightower actually seems like the only one who's unit didn't really mess up at all on Sunday. So, kudos to him. However, that Velus Jones Jr. fumbled punt sealed the game and that was on his watch. 
Finally, it's Matt Eberflus. Coaching not to lose instead of coaching to win is cowardice. He's coaching scared and taking a conservative approach. It's almost as if the Bears are back in the 1990s and early 2000s. A defensive-first mentality where they keep you in the game and the offensive just manages enough. The keep it close to the vest, limit the mistakes approach won't fly in 2022. The NFL has evolved and adapted and yet here they are. 
It's almost as if Justin Fields is being forced into becoming a game manager. That's not who he is. It certainly was not who he was in college. 
Overall
The Bears lost their second game of the season. All in all, they're 2-0 at home and now 0-2 on the road. 
If last year and the Matt Nagy era was like pulling teeth, I don't know if there is a comparable analogy to use this year. Still, Matt Eberflus seems like breath of fresh air compared to the previous regime. 
But, watching the Bears struggle is still disheartening. They're in the midst of a rebuild so the expectations should be low. However, they're been a scrappy team that's been in the game until the very end, despite not being very good and void of star talent. It's tough to see them get in their own way and lose games that they are capable of and should be winning.
What's On Tap Next?
The Chicago Bears have a trip up north to visit an old foe. They will take on the Minnesota Vikings at U.S Bank Stadium next Sunday. The October 9 affair will kick off at 12:00 p.m. CDT and air on FOX.
The Bears will look to bounce back from their loss to the Giants, while Justin Fields continues to grow and develop into the next star QB under the tutelage of Luke Getsy and Matt Eberflus. 
Meanwhile, the hopefully jet-lagged Vikings come back from across the pond with a victory over the New Orleans Saints in London. They're led by HC Kevin O'Connell, QB Kirk Cousins, RB Dalvin Cook and superstar WR Justin Jefferson. The Bears defense will have their work cut out for them next week. Additionally, the Bears offense "should" not have a problem moving the ball and scoring on the Vikings defense.
Tune into the Bears On Tap podcast for further postgame reactions in addition to updates and analysis throughout the week.