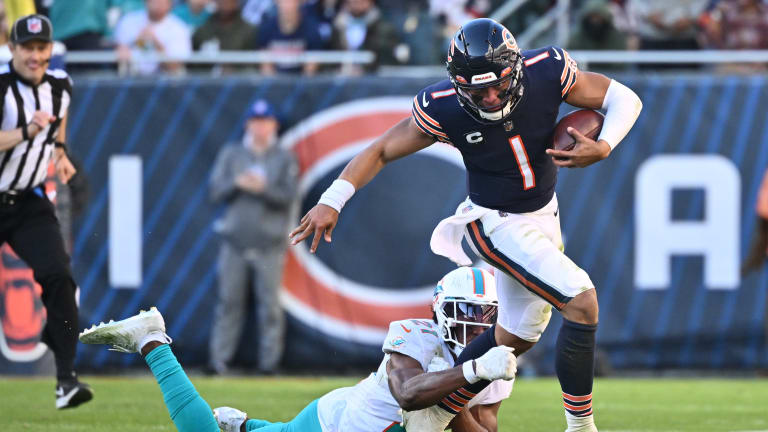 Chicago Bears Week 9 Takeaways: Justin Fields Swims With The Dolphins
The Bears' offense went toe-to-toe with a high-powered Dolphins squad but came up short. Still, Justin Fields stole the show.
The Chicago Bears dropped a heartbreaker to the Miami Dolphins on Sunday. A 35-32 loss dropped the Monsters of the Midway to 3-6 on the season. It was yet another winnable game that slipped through their fingers.
This was Chicago's first loss to an AFC East team in 2022. The Bears were 1-0 against that division after they beat the New England Patriots a few weeks ago.
However, this game provided the fans at home and at Soldier Field with a high-octane, offensive slugfest.
Here are the main takeaways from the Week 9 loss.
The Justin Fields Show
Justin Fields put on a show and it was marvelous. He really cemented himself as the guy and the franchise QB the Bears were looking for.
This game was just another installment in a string of brilliant performances he's put together. On Sunday, Fields posted the following stat line: 17/28, 123 yards (4.4 Yds/Att), 3 TD, 0 INT, 106.7 QB Rating.
But the big story of the game for Fields was his work with his legs. QB1 led the team with 15 rushes for 178 yards and a touchdown.
Fields set a new NFL record for most rushing yards by a QB in a regular-season game. Michael Vick previously held the record with 173 yards.
The passing game is still lacking for Fields and the Bears' offense. There is still plenty of room for growth. However, offensive coordinator Luke Getsy is accentuating Field's athleticism and allowing him to run more, which keeps defenses guessing. Still, it would be nice to see Fields put together a 300-yard passing yard game with a yards-per-attempt higher than 8.0.
Defense
The Chicago Bears' defense has gone missing. Please contact Matt Eberflus if found.
The unit has been non-existent for the last two weeks. Losing Roquan Smith and Robert Quinn surely hasn't helped matters.
Tua Tagovailoa went off for 302 yards and three touchdowns on 21/30 passing. He averaged 10.2 yards per attempt and was not sacked once. Tua finished with a 135.2 QB Rating.
Additionally, Tyreek Hill caught seven passes for 143 yards and a touchdown.
On the bright side, the Bears' defense only allowed 77 rushing yards.
Offense
The Bears' offense in general was rolling. In total, they racked up 368 yards, and 301 came from Fields alone.
Chicago converted 10 of 16 third-down opportunities and cashed in on three of four red zone trips.
Furthermore, the Bears continue to dominate the time of possession. This week, they edged the Dolphins by nearly 10 minutes. The Bears held the ball for 34:46 compared to Miami's 25:14.
Cole Kmet
The third-year tight end is starting to find his role in the offense after previously being used as a blocking tight end. Now, he finds himself as a red zone target. For the second week in a row, Kmet found the end zone.
Against the Dolphins, Kmet scored twice. The big-bodied tight end continues to produce after being written off by many. He logged five catches on six targets for 41 yards and two scores on Sunday.
On the season, Kmet has seen 26 targets and has hauled in 19 of them (73.1%). He's racked up 200 yards, which averages to 10.5 yards per reception. Additionally, Kmet has three touchdowns. This is already his career-high after he had two in 2020 and none in 2021. 
Chase Claypool's Debut
Chase Claypool made his Chicago Bears debut after being acquired via trade on Tuesday.
His first game in navy and orange was rather uneventful as they caught two passes for 13 yards. But this was expected as he's being worked into the game plan and still learning the offense.
However, the biggest play of the game involving Claypool was the non-call on the blatant defensive pass interference with 1:35 left in the game.
Officiating
It was a rough day at the office for the zebras. Here are a few obvious missed calls:
A missed intentional grounding on Tua Tagovailoa
Phantom defensive pass interference on Eddie Jackson
Missed defensive pass interference on a pass to Chase Claypool
The first two had zero impact on the game as they came on back-to-back plays that resulted in a drive with no points for the Dolphins.
However, the last one would have made more of an impact on the game. The officiating didn't cost the Bears the game as they should have made more plays, but the lack of a late DPI call is still infuriating.
Special Teams? Khalil Herbert?
The difference in the game came down to a special teams blunder. In the second quarter, the Dolphins blocked a Trenton Gill punt and returned it for a 25-yard touchdown.
After a replay, it was obvious that Khalil Herbert whiffed on a block and allowed a rusher to come through clean. It goes to show that just one play like this one can make a monumental difference in a game.
Good teams don't allow this to happen. Herbert lacks in the blocking department, as he's not very good in pass protection.
Overall
Sure, the Bears lost the game. They were very close to pulling off an upset, as has been the case most of the season. Of their six losses, four have been within one possession.
They're still making unforced mistakes that ultimately cost them the game. But on a positive note, the offense is coming along very well, especially after a mini bye week that came following their Week 6 Thursday Night Football game.
Since then, they've scored 33, 29, and 32 points, respectively. It's been a very promising showing and Justin Fields has taken off all thanks to Luke Getsy's game plans and play-calling. The Bears continue to click on offense behind Fields' play, though there is still room for improvement in the passing game.
This was another "moral victory" for the Bears. They dropped another game and improved their draft position while the offense looked good and Fields' development continued to trend upward.
What's On Tap Next?
The Chicago Bears stay at home as the Detroit Lions visit Soldier Field for a Week 10 contest. Kickoff is at 12 PM CT on Sunday, Nov. 13 and FOX will carry the broadcast.
The 3-6 Bears look to continue improving on offense against one of the worst-ranked defenses in the league. Likewise, the Bears seek their first win of the year against an NFC North rival. Justin Fields and Luke Getsy will need to keep the momentum going if the defense continues to slip.
Meanwhile, the 2-6 Lions are coming off a 15-9 home win over the Green Bay Packers. They'll venture to Soldier Field looking to collect their second win in a row.
It would be foolish for the Bears to take the Lions lightly. Detroit is stacked on offense despite trading away tight end T.J Hockenson. The Lions are led by Jared Goff, De'Andre Swift, Jamaal Williams, and Amon-Ra St. Brown, who happens to be the brother of Bears' wideout Equanimeous St. Brown.
On defense, Lions' rookie pass rusher Aiden Hutchinson figures to be a problem for the Bears. Julian Okwara, Jeff Okudah, and Kerby Joseph are other defensive standouts for Detroit.
Finally, the Bears will face an old friend in kicker Michael Badgley, who played in one game for Chicago earlier this year and connected on all four of his field goal attempts.
Tune into the Bears On Tap podcast for further postgame reaction in addition to updates and analysis throughout the week.