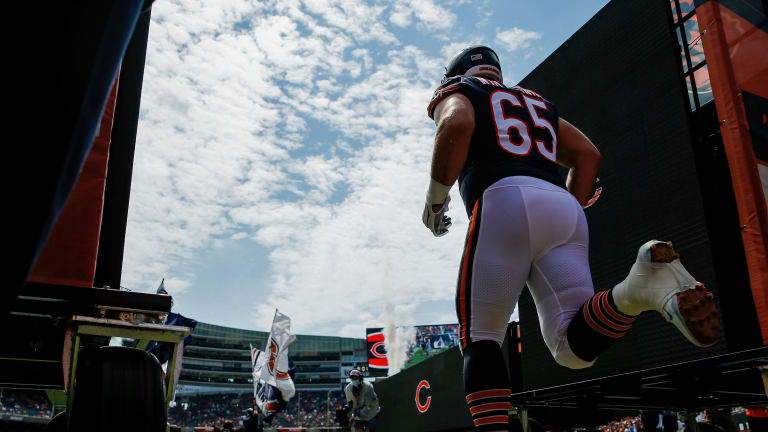 Cody Whitehair 'Will Miss Some Time', Timetable for Return Unknown
Bears' guard Cody Whitehair's injury suffered on Sunday is serious enough that he'll miss meaningful time, but how long that is remains to be seen.
After a frustrating loss on Sunday at the hands of the New York Giants, the Chicago Bears return to Chicago licking their wounds at 2-2. Among those metaphorical "wounds" is the injury to guard Cody Whitehair. The team captain left Sunday's game early with a knee injury. On Monday, head coach Matt Eberflus told the media that he will miss meaningful time, but the extent of that time is still uncertain. 
Knowing Whitehair will return this season is a good sign. However, the fact that IR is even in question still displays the significance of the knee injury. Ideally, Whitehair returns in a few weeks to help anchor the offensive line. 
Unfortunately, Whitehair's departure left the offensive line in worse condition than it already was. One of the major takeaways from Sunday was the team's inability to block. In addition, the statistics show that Justin Fields was running for his life behind a piecemeal offensive line. 
If Wednesday is indeed the magical day to learn more about Whitehair's injury, then Bears fans will have to hold their breath. Any time greater than a few weeks for a return will likely result in a search for an able body. The current unit featuring Braxton Jones, Lucas Patrick, Sam Mustipher, Teven Jenkins, and Larry Borom is hardly good enough to allow Fields to develop over the course of the 2022 campaign.