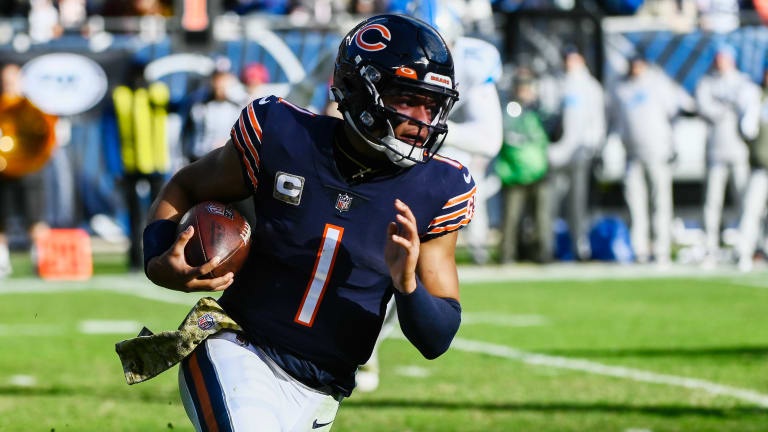 Connections to Sweetness: Justin Fields Continuing His Brilliance
After Sunday's performance against the Detroit Lions, Justin Fields did something that hasn't been done by a Bears player since the days of Sweetness.
Although the Chicago Bears failed to get out of their own way against the Detroit Lions, there were still incredible milestones in their 31-30 loss at home. Obviously Justin Fields stole the show, but he did something that hasn't happened since 1984, or more specifically, since Walter Payton. 
Justin Fields is the first player to rush for 147 yards or more in consecutive games since the GOAT, Walter Payton. Talk about running your way into some star-studded company. Fields' back-to-back rushing performances of 178 and 147 rushing yards are truly special. Think about all the great runners the Bears have had. Thomas Jones, Matt Forte, Jordan Howard, and more have not been able to accomplish what Fields has. 
Fields' game-breaking speed has allowed him to rattle off 61- and 67-yard runs in the last two games. The designed run for the Ohio State product is changing the Bears' offense. The Bears have put up at least 29 points in four consecutive games now. Justin Fields is leading this offense into the promise land. 
Sure, the Bears are 1-3 in that span of scoring nearly 30 point per game, but that isn't on Justin Fields. Unfortunately, the defense is giving up too many points in their own right to give the Bears wins. Nonetheless, Fields is putting up performances this franchise hasn't seen since the 1980s. 
RELATED: Justin Fields Proving He's The Franchise Quarterback The Chicago Bears Need