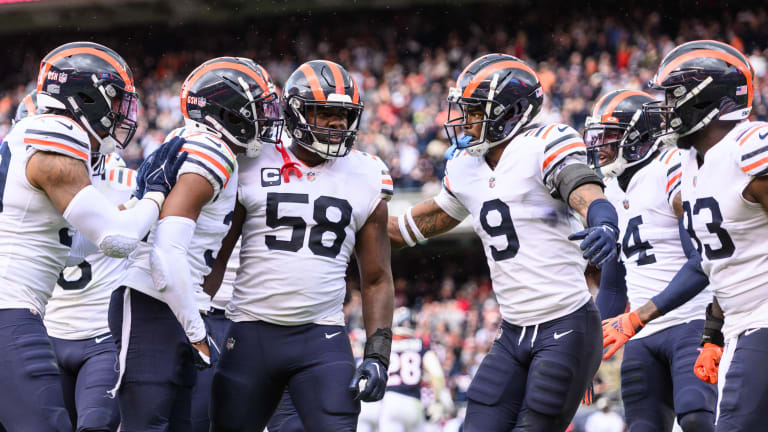 Could Roquan Smith Once Again Be On the Trade Block?
Evaluating the star linebacker's situation as the NFL Trade Deadline quickly approaches.
With the November 1 NFL trade deadline approaching, reports list Chicago Bears' defender Robert Quinn as a potential name that could be on the move.
Moving Robert Quinn has been a decision many have seen coming since Ryan Poles took over as Bears' general manager. With Quinn's contract size and age, he just never truly aligned with this team's new vision and ethos.
What This Means for Other Star Players
With the Bears seemingly in full rebuild in the midst of this difficult season, many are wondering what other players could be on the move. The most obvious name that comes to mind is the leader of their defense, Roquan Smith. Since joining the team in 2018, he has been the lifeblood and center of the unit and has long been a stable, familiar face. But as with all things, there is always a time to call it quits.
Smith has put together a statistically great year and is currently tied for first in the NFL with 66 tackles. He has 1.5 sacks and a game-winning interception to tie it all up. On paper, he's looked like a superstar, but diving into the tape tells a whole different story.
Smith has struggled with his gaps in his new outside linebacker position. He has been caught out of position time and time again, leading to an abysmal 48% PFF grade. That ranks 65th out of 77 total linebackers.
His complex combination of statistical impact and inconsistency isn't doing much to help convince the new Bears regime he deserves the $100 million contract he desires. The Bears will enter next offseason with the most cap space in the NFL, and Poles has already shown a willingness to be patient in shelling out big contracts. Smith is no exception.
Roquan Smith's trade value is rumored to be in the second- to third-round draft pick range. Such a return would help arm the Bears suitably for the next step in their rebuild. Plenty of win-now teams could use a speedy linebacker in his prime to help boost their chances at a title, and Smith is just that guy.
A team that seems like a perfect trade match, according to Kristopher Knox of Bleacher Report, is the Los Angeles Chargers. Ryan Poles has already shown the ability to deal with Los Angeles, as evidenced by the Khalil Mack trade. Additionally, the Chargers are in desperate need of help on their struggling defense that ranks last in the NFL in yards per rush allowed.
Only time will tell if the Chicago Bears hold on to their homegrown defensive leader or start fresh for the future under the new regime.