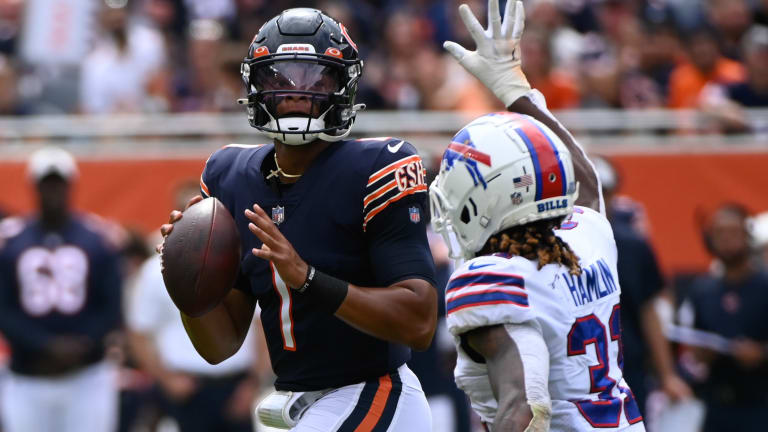 Bears Make Meaningful Donation to Damar Hamlin's Fundraiser
And most importantly, Damar Hamlin is progressing "remarkably" in his recovery.
The NFL community has emphatically rallied around Damar Hamlin after the Buffalo Bills' safety went into cardiac arrest during a Week 17 game against the Cincinnati Bengals. The Chicago Bears chipped in with a $19,203 donation to Hamlin's "Chasing M's Foundation Community Toy Drive" fundraiser.
As ESPN's Adam Schefter noted, the significance behind Chicago's donation was two-fold — 1920 was the year the Bears were founded and No. 3 is Hamlin's jersey number.
"This fundraiser was initially established to support a toy drive for Damar's community, sponsored by the Chasing M's Foundation," the GoFundMe page reads. "However, it has received renewed support in light of Damar's current battle and we can't thank all of you enough. Your generosity and compassion mean the world to us."
"We're simply awestruck by the level of support and generosity we've seen over the past two days," Damar Hamlin's Team posted to the page on Jan. 4. "With over $6 million raised, this fundraiser has become an overnight reminder of the incredible nature of humankind. Your actions directly reflect the type of human Damar is himself."
As of this writing, the fundraiser has reached $7,837,360, shattering its initial $2,500 goal.
And most importantly, Damar Hamlin is progressing "remarkably" in his recovery.
"Per the physicians at UCMC, Damar's breathing tube was removed overnight...His neurologic function remains intact and he has been able to talk to his family and care team," the Buffalo Bills shared in a statement on Friday morning.
The 24-year-old even FaceTimed his teammates Friday morning, saying, "Love you boys."