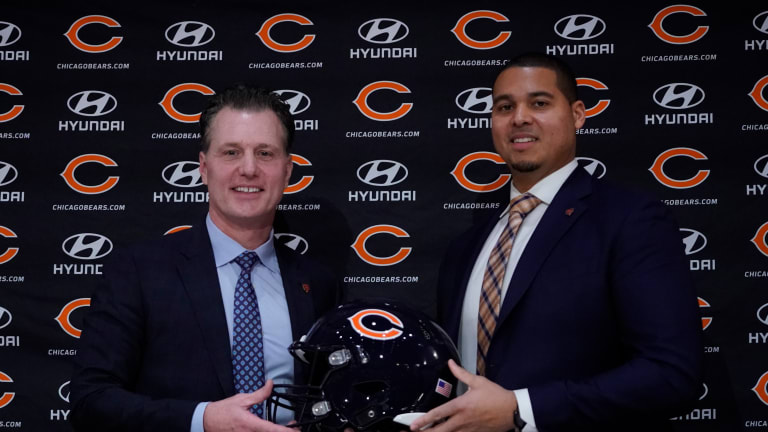 Debates Are Heated Already: What To Do With the #1 Pick And Justin Fields?
Not even one week with the #1 overall pick and everyone has their thoughts and opinions on what the Bears should do come April 27th. But, it's simple. Be patient.
The Chicago Bears have had the #1 overall pick in the 2023 NFL Draft less than a week and the discourse is full force.
The playoffs haven't even started yet and we're still two months away from the new league year starting. Nonetheless, here we are. The debate of what the Bears should do at number one is already maddening. 
The question of whether they should trade the pick or Justin Fields instead is the hot topic. It's not split 50/50 per se, but there are a handful of members of the media out there justifying trading Fields. 
Former Jets GM/Dolphins Excutive VP of Football Ops Mike Tannenbaum
Former Eagles President Joe Banner
Part of the Process
First of all...everyone relax. It'll be fine. This is all part of the process. It's going to be a long four months if we get all worked up every time we hear about Fields getting traded and the Bears drafting Bryce Young. 
It's ok to let this kind of dialogue take place. The more these other teams believe the Bears could actually consider it the better. If other GMs start believing that Ryan Poles may actually take a QB, it makes their pick that much more valuable. 
Poles himself said he would have to be "absolutely blown away" to take a QB and that they're open for business. He chose those words wisely. 
Bryce Young and C.J Stroud are the two best prospects at QB in the draft right now with Will Levis at a distant third. However, we'll know more after the NFL Draft Combine and the pro days. It just takes one GM to fall in love with one of the QBs. That is entirely possible given how many QB needy teams there are in the top 10.
Houston Texans (2nd)
Indianapolis Colts (4th)
Seattle Seahawks (5th)
Las Vegas Raiders (7th)
Atlanta Falcons (8th)?
Carolina Panthers (9th)
This list doesn't include teams outside the top 10 such as the New York Jets (13th) and Washington Commanders (16th).
As of now, the Bears are in position to wage a bidding war between two divisional rivals in Houston and Indianapolis. 
Thus, getting any of these teams to believe that they may take a QB drives up the price of their pick. Because it's almost a certainty that the Texans select a QB. Both of the top 2 QBs coming off the board right away would be a disastrous scenario for the rest of the the teams desperate for a QB. 
However, there is caveat. Derek Carr is in play to get traded or signed if the Raiders release him. He's a wild card in this scenario. But don't rule out something going down with Aaron Rodgers either. There's a very slim chance, but a chance indeed, that he could be traded. Just something to monitor. 
Then theres Tom Brady, who will be a free agent this offseason. As well as Jimmy Garoppolo, Baker Mayfield and Daniel Jones. So, there are options in FA. 
What If?
There is a non-zero percentage chance that Ryan Poles takes a QB at #1. While he did give his support for Justin Fields, we still can't rule out a possibility that he just bites the bullet and drafts Bryce Young. Again, it's important to note Poles and Matt Eberflus weren't the ones who drafted Fields. Ryan Pace and Matt Nagy did. Fields at the end of the day isn't their guy. A rookie QB resets the clock and they get a full four years of a rookie contract. 
Regardless, Poles has to do his due diligence and examine what's best for the Bears. Perhaps after his evaluations he finds that Young is the best option for them. It's feasible. But that will make Fields expendable, likely resulting in a trade. 
It'll be interesting what value Fields could bring back if this scenario unfolds. Would the Bears get a first rounder or more back? Who knows. 
What Should Be Done: Be Patient
What realistically the Bears should do is be patient. Be patient with the scouting and draft process and be patient with Justin Fields. The second-year QB showed you enough to prove he can be the guy to lead your franchise.
Sure, the passing game is still a work in progress, but look what he was working with? A lackluster group of WRs outside of Darnell Mooney. Then he had TE Cole Kmet and RBs David Montgomery and Khalil Herbert, and that was about it. Not to mention the offensive line was a disaster outside of LT Braxton Jones and RG Teven Jenkins. The latter missed time due to injuries. 
Ryan Poles put him in this position and he still made magic happen. Fields rushed 1,143 yards and 8 TDs. He's not known for that. Actually, at Ohio State he was more known for this passing attack. The circumstances forced him to run more. Nevertheless, he broke franchise records, set NFL records and surpassed Michael Vick. That takes a special kind of athlete and player. 
Be patient with Fields. Trade the #1 overall pick and acquire a haul and build around him. There are plenty of examples of teams staying the course and not giving up on their QB despite some struggles. Look what the Bills did with Josh Allen. The Bengals surrounded Joe Burrow with playmakers. But, the closest comparison would be Jalen Hurts of the Eagles. 
Numerous members of the media and fans alike were ready to write off Hurts. His numbers through the first two seasons were uninspiring. However, the Eagles invested in him and around him. They built an offense tailored to his skillset and supplemented him with the talent he needs.
Do the same with Justin Fields. He at least deserves a fair shot because 2022 was inexcusable. Yes, they tore it all down to rebuild and have tons of cap space and a high draft pick in 2023. It worked. But Fields suffered the most because of it. Give him a year or two to prove it. 
Yet another example: Trevor Lawrence. He improved vastly from 2021 to 2022. All because the Jaguars got rid of Urban Meyer (thank goodness) and hired Doug Peterson. Most important, they brought in talent to help him out. Sure, they overpaid in FA, but they're in the playoffs slated to take on the Chargers. Jacksonville went from 3-14 to 9-8, albeit in a very weak division. 
Justin Fields vs. Jalen Hurts: By The Numbers
Now, back the point being made. Fields and Hurts are taking a somewhat similar path. Both QBs had HCs fired after their first year and had to learn a new offense all together in Year 2. Likewise, both struggled in their first season and made some progress the following one.
 Now, here's a look at their respective careers so far. 
All of these stats were provided by Pro-Football-Reference.com. Anyways, it's not crazy to think that Fields can have a breakout season like Hurts did in 2022 next year and keep pace. But for that to happen, he's going to need a lot of help and it'll be on Poles to do so. 
Overall
Whether they draft a rookie QB at #1 overall or stick with Fields, the situation is the same. Either QB is going to need a plethora of play makers and a reliable offensive line to do much of anything next year. Fields is already an established and known commodity. One that has elite playmaking ability with his athleticism. 
A rookie QB, on the other hand, is unknown and you don't know how they will pan out. Is it worth the gamble, or should they be patient and reap the rewards of what they already have? That's for the Bears to find out. 
But for now and the next four months...it'll be up to debate and will be overwhelming. Brace yourselves.