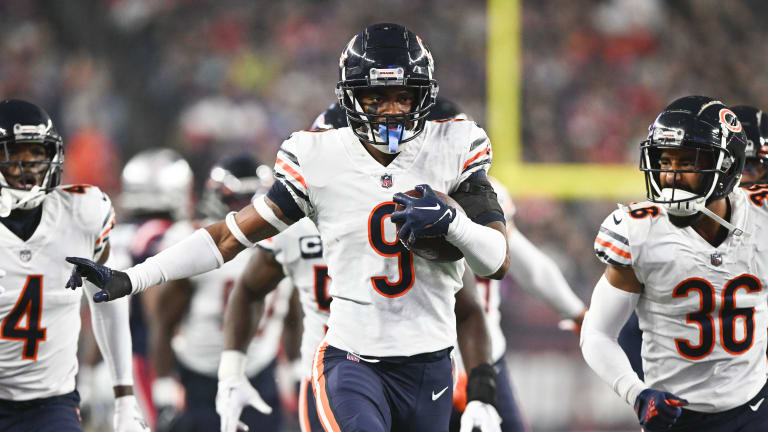 Does Bears Rookie Jaquan Brisker Deserve A Pro Bowl Discussion?
The rookie is making a serious impression and should be in the conversation for the Pro Bowl.
When the Chicago Bears drafted Jaquan Brisker out of Penn State, it got a lot of fans excited. They were getting a hard-hitting and fast safety to cover a lot of ground on an already good defensive unit. After eleven NFL weeks, Brisker leads all rookies in solo tackles with 53 and has made some incredible plays.
Is Jaquan Brisker In The Pro Bowl Conversation?
Through the first eleven games of his career, Jaquan Brisker has made his name known. He has 73 total tackles, including a season-high of 11 during Sunday's loss in Atlanta.
He also had an incredible interception against the New England Patriots. The stunning move came shortly after Brisker took Mac Jones' cleat to the groin and was forced out of the game.
The Bears got a real talent at the safety position and it wouldn't hurt to see more athletic plays like this interception.
But he's been making waves all season. Brisker started out his NFL career with a great fumble recovery from Jaylon Johnson's "Peanut Punch". In Week 1 against the 49ers, the Bears got this early takeaway:
Brisker has been consistent all year with hitting hard, finishing plays, and being a solid piece of the Chicago Bears secondary. Brisker's rookie season is almost at a close but the young talent out of Penn State is only getting started.
Could the NFL select Jaquan Brisker for the Pro Bowl? If he keeps playing like this for the remainder of 2022, it wouldn't be shocking. Plus, if he's able to turn more opportunities into takeaways, the possibility of being a Chicago Bear playing in February is even more likely.
At the very least, Brisker should be in the conversation to get a Pro Bowl nod. Even if it is a bit of a stretch, he's playing at a high level early in his career and that is unquestionable.