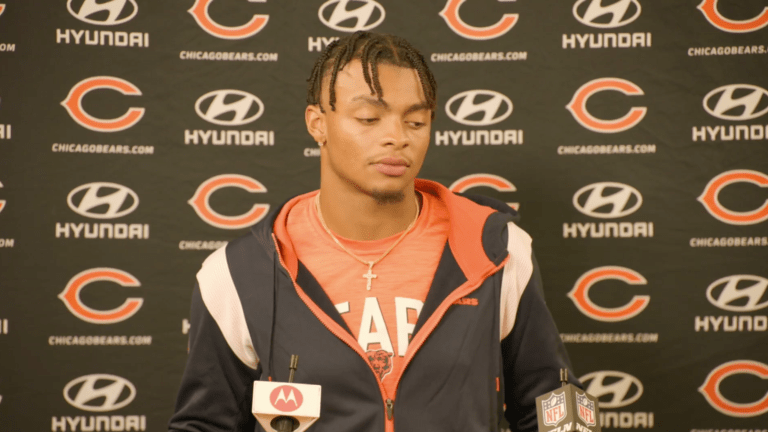 Fields is Right: Loss Hurts More in the Locker Room than Throughout Fanbase
Sure, Bears fans are pained by the loss to Green Bay, but this game pains the locker room much more.
Chicago Bears fans are passionate. However, with some of that passion comes outrage, anger, and more emotional manipulation by a Bears' loss than things in fans' own personal lives. Another example of that is the outrage surrounding some of Justin Fields' comments following the loss on Sunday Night Football. Here's the clip in reference:
Ah yes, something to stir the proverbial pot on a Monday morning. However, here's something every Bears fan is going to hate to here... 
He's right. 
Understanding the Context
Let me propose a question to the fanbase... did you game plan for the Packers this week, bash your body against your own teammates, and execute said plan on Sunday night? Answer: no. Not a single fan had any impact on the game. Yes, Bears fans live and die with the team, however, they don't put in any of the grind that shows on Sunday.
Yes, everyone has tough lives and hard jobs. There is no doubt that Chicago is one of the hardest working cities in the country. However, getting angry over a comment that is simply factual is... well... kinda dumb.
Moving Forward
It's time for Bears fans to move forward. Turning on the players that play for your team is a waste of time and effort. His words are being taken out of context. Anytime you are directly involved in an outcome, it hurts more. He's not wrong. However, you'll have people twisting his words all day long in an event to stir up Bears fans even more. 
Ah yes, nothing like manipulating words for your own clicks. The Bears are a young team, building for something special in the future. Players will struggle, as will coaches. On Sunday night, the young team fell at the hands of a more experienced and talented team. In the near future, the narrative may very well be different. For now, the group is learning how to win together. 
And at the end of the day, the Bears faithful who support this team have nothing to do with the direct result. The fans are appreciated, as Head Coach Matt Eberflus has noted, but when it comes to the X's and O's on Sundays, leave that to the players on the field.