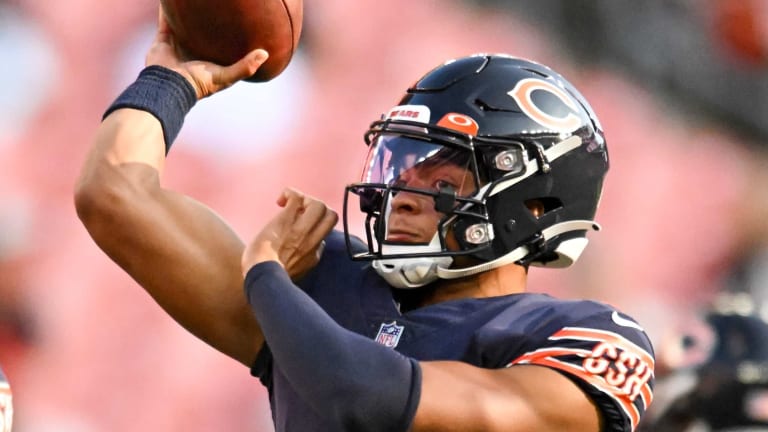 Hall of Fame WR Keyshawn Johnson Sees Some Mahomes in Justin Fields
Keyshawn Johnson sees a lot of Patrick Mahomes in the way Justin Fields moves around at the quarterback position for the Bears.
On ESPN2's KJM (Keyshawn, JWill & Max) radio show, NFL Hall of Fame receiver Keyshawn Johnson brought an intriguing comparison to the table for Chicago Bears' quarterback Justin Fields. When watching highlights of Fields from Saturday's preseason victory, Johnson had the following to say:
"You know what he has that I just picked up on? And I'm kind of just looking at it a little bit… [does] he have a little Patrick Mahomes in him?"

- Keyshawn Johnson on Bears' QB Justin Fields
Johnson elaborated on Fields' moves and playmaking ability. One play in particular, when Fields avoided pressure and found his receiver on the sideline, Johnson said that his movement and execution screams comparisons to Mahomes. Don't believe me? Check it out for yourself:
Truthfully, there is a resemblance between the two quarterbacks. I'm not saying Fields will be the next Mahomes or as great as the Chiefs' star, but the two move in similar ways around the field. In fact, it appears on the rollout play that Fields hits his receiver while looking up the field. The play gives off "no-look pass" vibes that we see so often with the former MVP.
Additionally, this comparison makes sense because now both quarterbacks look comfortable on the field. As a rookie, Fields was running for his life, attempting to execute an offense that just wasn't working under Matt Nagy. Now, with an offense that's perfect for the second-year quarterback's strengths, he looks comfortable and is making massive strides. Hell, the guy threw for three touchdowns in one half on Saturday.
It might be a little early to compare Justin Fields and Patrick Mahomes. However, hearing such praise from a Hall of Famer has to make Chicago Bears' fans just a little excited about this season.