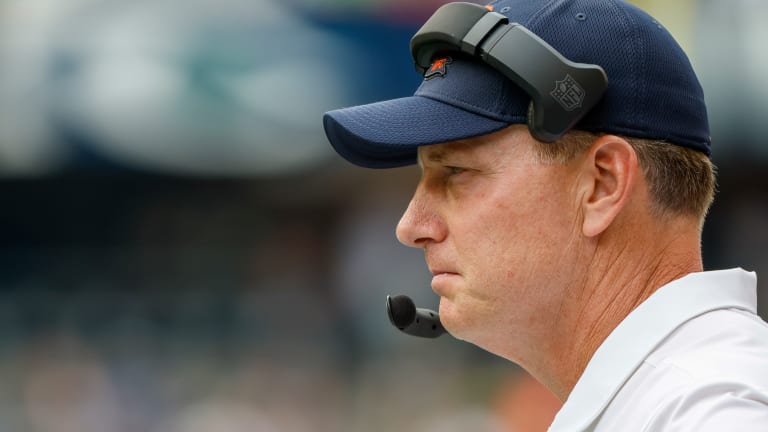 HC Matt Eberflus Requests New Grass at Soldier Field
For the first time ever, the head coach of the Chicago Bears has asked for new grass at Soldier Field after poor conditions during the preseason.
Who would have thought that grass would be a major headline in the Chicago market? However, for the Chicago Bears, it is a big deal. On Tuesday, reports surfaced indicating that Head Coach Matt Eberflus asked for new grass at Soldier Field. The old Kentucky bluegrass will be replaced by Bermuda grass in time for Sunday's season opener. 
As indicated in the above quote, speed is the main reason for a change in the sod. Eberflus preaches his HITS principles to his players, and speed, effort, and relentless pursuit are improved on a better playing surface. Fans may recall the embarrassment that was the playing surface in the first preseason game against the Kansas City Chiefs. Now, it appears those in the organization have also had enough and want something that will benefit the players. 
If there is one thing that is different about this new regime, it's the fact they're not afraid to challenge ownership and the status quo. Never has a Bears head coach asked for a playing surface change. In addition, never has a new GM stepped into the organization and essentially said it's their show and not allow Ted Phillips and George McCaskey to have a lot of say on the head coach. In addition, Ian Cunningham became the first ever Assistant GM in team history. A culture shift is apparent with this new regime. Even something as small to the outside world as grass is a big difference.
In addition, a number of other teams use Bermuda grass. Kansas City, Philadelphia, and Baltimore have it for their game fields and Indianapolis uses it on their practice field. Naturally, it's something that Eberflus is used to coming from Indy, and he clearly sees the difference for his players. In addition, kicker Cairo Santos shared his thoughts on the matter:
Overall, it appears the move should benefit the Bears and allow them to play faster on their home turf. In the end, it appears everyone wins by changing the awful playing surface that used to call Soldier Field home.