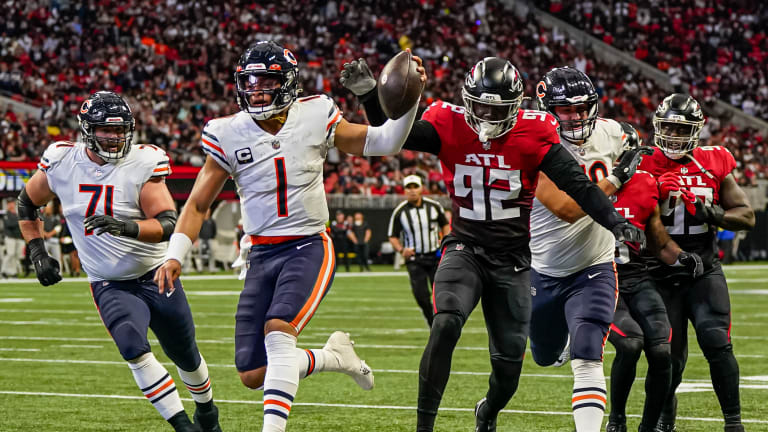 Justin Fields Apologized to Bears Defense After Loss to Falcons
The second-year QB is a leader on offense and in the locker room.
The Chicago Bears lost their fourth consecutive game with a 27-24 defeat to the Atlanta Falcons in Week 11. Mistakes were made in multiple phases, but quarterback Justin Fields is taking responsibility and owning it.
Fields Apologizes to Bears Defense
In the locker room after the loss to Atlanta, Fields addressed the Bears' defense. According to NFL reporter Albert Breer, the second-year quarterback apologized to the defense.
He said the defense gave the Bears a chance to win the game and the offense didn't hold up their end of the bargain.
The offense has been clicking for the last three weeks, albeit in losses. But for a change, the Chicago Bears' defense has been the unit in question as of late.
When they made the necessary stop against the Falcons, the offense couldn't take advantage of the opportunity. Fields did play through a shoulder injury, which head coach Matt Eberflus described as a dislocation. But that isn't the reason the Bears lost this game.
Their eighth loss of the 2022 season was a culmination of errors by multiple units. While Justin Fields is a true leader and can actively take the pressure off of his teammates, not everything can fall on his shoulders... literally.