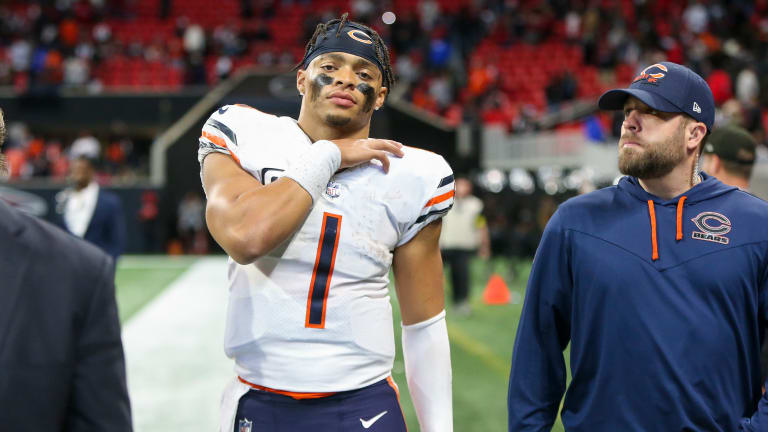 Justin Fields Considered "Day-to-Day" Per Coach Eberflus
Bears' HC Matt Eberflus said Justin Fields is day-to-day after injuring his left shoulder in Sunday's loss.
The Chicago Bears and their fans can hopefully breathe a little easier after Monday's news. According to Bears' head coach Matt Eberflus, quarterback Justin Fields is considered day-to-day after injuring his left shoulder on Sunday. 
As indicated by Ian Rapoport, and many other local reports, Fields' injury sounded worse on Sunday. However, one interesting development is the fact that Eberflus never ruled out the injury being season ending.  
Potentially, the team is examining whether risking his health right now is worth the cause. There is no doubt Fields needs further development, but letting him sit through the bye week for his health might not be the worst idea. After all, Fields has proven he can be dynamic with just a few meaningful weapons around him in the passing game. 
Certainly we'll understand more about Fields' injury as the week persists. At this point, it truly feels like Fields could be in or out this week. The odds are likely about the same as of Monday night. 
Fields was injured after taking a nasty hit late in the game against the Atlanta Falcons. It's one thing to use Fields as a weapon, but it's another thing when he continually gets hit. The referees aren't going to protect him, as indicated by Eberflus' submissions to the league office, so the Bears have to allow him to throw the ball more and take less hard hits in the open field.