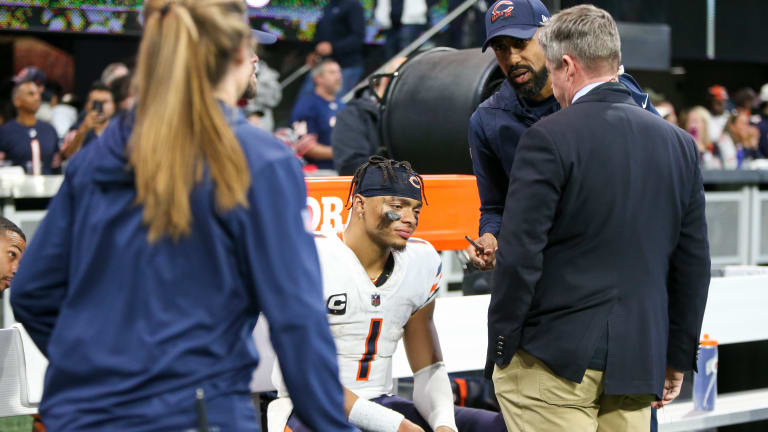 Justin Fields Dislocated Left Shoulder, Possibly Season-Ending
In Sunday's loss to the Falcons, Fields clearly hurt his left shoulder and now we have a bit more information.
Earlier Monday afternoon, NFL Insider Ian Rapoport, reported that Chicago Bears quarterback, Justin Fields, suffered a left shoulder injury during Sunday's loss in Atlanta. Head coach Matt Eberflus initially described Fields as day-to-day. 
But now we know what kind of shoulder injury he sustained and what recovery it might take.
Justin Fields Shoulder Injury
Ian Rapoport gave an update about Fields' injury after Matt Eberflus gave us a bit more detail.
A dislocated shoulder is a serious injury but thankfully, it wasn't Fields' throwing arm. Nevertheless, that's an incredibly difficult thing to continue to play through and Fields' toughness should not be in question anymore.
With optimism for Justin to play this Sunday against the New York Jets, there is still a cause for concern. Eberflus mentioned the possibility of this being a season-ending injury as the worst-case scenario.
The Chicago Bears sport a 3-8 record heading into the Week 12 matchup with the Jets and they currently sit in the third spot in the 2023 NFL Draft. Winning games now doesn't exactly help the Bears and after Fields' recent improvements, we've seen enough this year.
No one ever wants to lose but if it comes at the expense of Justin Fields' health, then it's nowhere near worth it. Resting the franchise quarterback with a good draft position and capital for a GM to toy with is the best-case scenario... now.