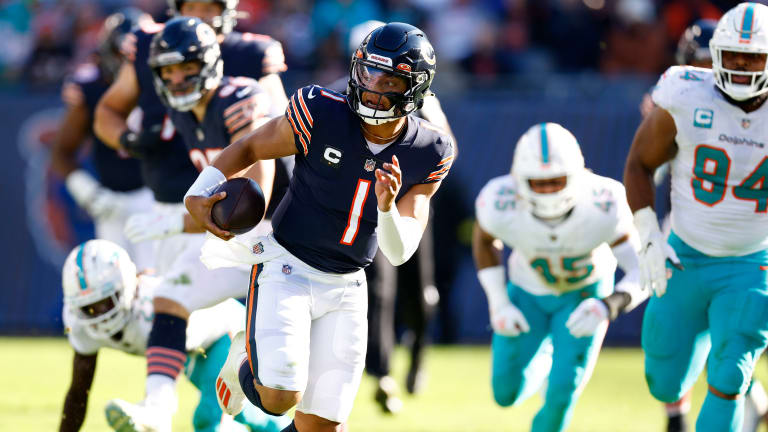 Justin Fields' Historic Game Falls Short As Bears Lose To Dolphins 35-32
An incredible performance just wasn't enough.
It's unbelievable to watch a Chicago Bears quarterback break any kind of record. Yet on Sunday afternoon, Justin Fields did exactly that at Soldier Field. But the defense couldn't give any support and allowed the Miami Dolphins to plow right through them.
Chicago Bears vs. Miami Dolphins Recap
Had the defense made more plays and there wasn't a blocked punt, the Bears would have won this game. This offensive shootout provided Bears fans with at least some hope. But while Justin Fields can take over a game, it isn't always enough, and the risk-to-reward ratio declines with every hit he takes.
First Half
The Bears got the ball to start this game. Fields led a drive that ended in Cairo Santos' first field goal of the day and a Chicago lead. But this game changed into an offensive production really fast.
When Miami got the ball back, Tua Tagovailoa led the Dolphins' offense and Raheem Mostert ran in for their first score of the day. Miami leads 7-3. 
When the second quarter began, the Bears were driving into the Dolphins' territory. Fields found Cole Kmet for their first connection of the day in the endzone. 
The Bears retook the lead, 10-7.
But that lead didn't last long. Tyreek Hill scored on the next Miami drive. Losing by four, the Bears' offense got back on the field. They were forced to punt but the Dolphins blocked it, returning it for a touchdown. Miami leads 21-10.
Then before halftime, the Bears closed the gap with a beautiful touchdown to Darnell Mooney.
Trailing 21-17, the Bears went into the locker room at halftime. 
Second Half
Miami received the football to begin the third quarter. Tagovailoa continued to rip through the Bears' defense and the scoring just wouldn't stop.
Jaylen Waddle caught an 18-yard touchdown after only four plays and just over two minutes. Miami leads 28-17.
Then one of the most impressive runs by a Chicago Bears quarterback breathed new life into this team. Justin Fields scrambled on third down for 61-yards and a touchdown!
Fields then threw to Trevon Wesco on a successful two-point conversion. The Bears only trailed the Dolphins 28-25.
But the Dolphins weren't done yet. Their offense continued to pick apart the Bears' defense. Jeff Wilson Jr. caught a touchdown and with the extra point, increased Miami's lead to ten points.
The Bears got back on offense but were forced to punt. Leading 35-25, the Dolphins took over possession of the ball.
Finally, the Bears' defense was able to contribute. They stopped Miami on a 4th and 5 play where Tagovailoa threw an incomplete pass.
On the next play after the turnover on downs, Justin Fields threw an interception. But offsetting penalties reset the play. 
As the fourth quarter got underway, Fields found Kmet for their second score.
Again, the Bears only trailed the Dolphins by three, 35-32. 
When the defense got back on the field, they continued to let Miami run right through them. Eddie Jackson was called for defensive pass interference, giving Miami a huge gain.
Then a few plays later, the defense made a stop on 4th and 1. But their offense couldn't score when regaining possession.
Miami took over control of the ball again but the Chicago defense made another stop. Justin Fields did everything he could, including breaking the NFL's single-game rushing record by a quarterback, formerly held by Michael Vick.
Finally, Miami's offense took control with a knee and beat the Bears 35-32.
Bears Player Notes
Justin Fields had a ridiculous day. His 178 rushing yards were impressive and although it wasn't enough, it should give Bears fans plenty of hope for the foreseeable future.
Justin Fields: 17/28 123 Yards, 3 TD, 15 CAR, 178 Yards, 1 TD
David Montgomery: 14 CAR, 36 Yards, 1 REC, 8 Yards
Khalil Herbert: 7 CAR, 23 Yards
Darnell Mooney: 7 REC, 43 Yards, 1 TD
Chase Claypool: 2 REC, 13 Yards, 1 CAR, 4 Yards
Dante Pettis: 1 REC, 12 Yards
N'Keal Harry: 1 REC, 6 Yards
Cole Kmet: 5 REC, 41 Yards, 2 TD, 2 CAR, 9 Yards
The Chicago Bears' defense had a hard day. Facing Tyreek Hill and Jaylen Waddle is no easy task. Kyler Gordon led the team with seven solo tackles and eight total.
Jack Sanborn stepped up and played a decent game. He had seven solo tackles and Eddie Jackson was right behind him with six. After the departure of Roquan Smith, it was surely interesting to wonder who would lead this Bears' defense.
Nicholas Morrow slid into Smith's spot but fell short with only four tackles on Sunday.
The Bears let Tua Tagovailoa throw for over 300 yards and three touchdowns. Tyreek Hill alone caught 143 of those yards and one score. For once, the Bears' run defense kept an opposing offense under 100 yards. But ultimately, that didn't matter.
The Chicago Bears fall to a record of 3-6 and host the Detroit Lions next Sunday at Soldier Field.