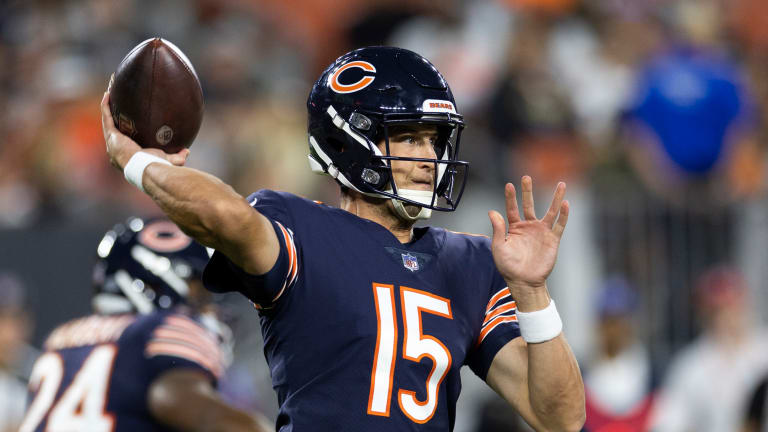 Justin Fields to Sit, Trevor Siemian to Start for Bears on Sunday
With Justin Fields' separated shoulder still in question, the Bears are turning to Trevor Siemian to start at quarterback on Sunday against the Jets.
Although Justin Fields is out to beat all the second-year quarterbacks on the Chicago Bears' schedule this season, he won't have a chance to beat Zach Wilson on Sunday. Not only is Wilson being benched in favor of Mike White, but the Bears will start Trevor Siemian at quarterback due to Fields' separated shoulder. 
Fields' availability has been up in the air all week long. Although there was hope that the second-year QB could start against the Jets on Sunday, the team is clearly taking the conservative approach with his shoulder. Rather than risk the long-term health of their franchise quarterback, the Bears will turn to Northwestern product Trevor Siemian against the Jets. 
Although reports as of Saturday morning indicated potentially positive outlooks regarding Fields' availability, there is no doubt the Nathan Peterman promotion from the practice squad indicated some doubts within the organization. Again, this is clearly the best move for Justin Fields' long-term health if he is not 100%. He has said he wanted to play all week, as any athlete would, but taking the decision out of his hands is the right move. 
Truthfully, it wouldn't come as much of a shock if the Bears sat Fields through the bye week. The Bears will take on the Green Bay Packers next week before enjoying the week off in Week 14. It might be worth allowing Fields to heal for the next few weeks and see if he's ready to go against the Philadelphia Eagles in Week 15. 
What's On Tap for the Bears?
The Bears are at MetLife Stadium for the second time this season on Sunday. After a Week 4 battle with the New York Giants, the Bears will now face the New York Jets. Kickoff is slated for 12:00 p.m. CST and will be broadcast on FOX in the local Chicagoland market.