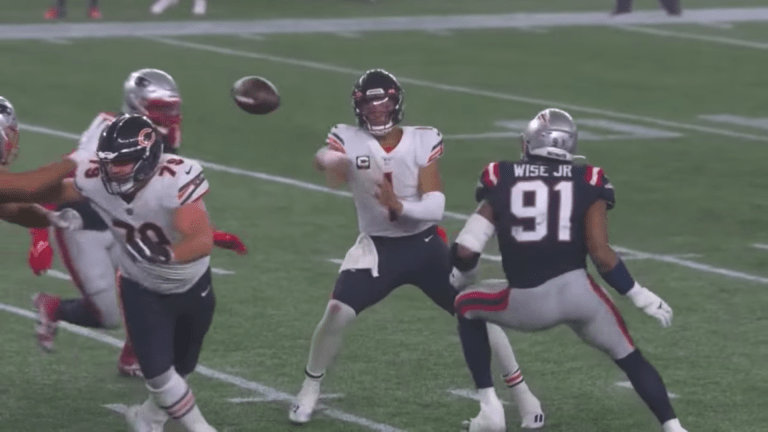 Justin Fields Not Getting Roughing The Passer Call On Herbert TD is a Travesty
Fields got crushed after throwing a screen pass.
On Monday Night Football, the Chicago Bears dominated the New England  Patriots in every phase. They shocked the NFL world and Justin Fields showcased his abilities on the national stage.
But at one point during the game, Fields got absolutely crushed after a pass and there was no flag thrown.
Justin Fields' Touchdown Pass to Khalil Herbert
The Bears were driving deep into New England territory late in the second quarter. Just outside the red zone at the 25-yard line, Chicago snapped the ball.
Khalil Herbert moved laterally to the left and Fields looked his way, setting up a short screen pass. Herbert took it to the house for a touchdown, giving the Bears the lead shortly before halftime.
But it was the end of the play in the backfield that's concerning. Justin Fields was crushed between two Patriots defenders and nearly sandwiched into oblivion.
Yet, the referee's hands remained still and no flag was thrown. Given the emphasis the NFL has placed on quarterback safety lately, especially in the last few weeks with Tua Tagovailoa, this felt like blasphemy!
Does Justin Fields not warrant the same protection the other starting quarterbacks get? Or is it just Chicago Bears' quarterbacks who don't get that benefit?
Whatever the case may be, this was a badly missed call by the officials. Sure, the Bears scored and took the lead, so it wasn't all bad. However, NFL officials are wildly inconsistent with these kinds of calls, and had Fields gone by the name of Tom or Aaron, he likely would have gotten that flag.
This isn't the first time a young, mobile quarterback has had issues with officiating. Years ago, Cam Newton spouted off about the exact same issue and some people called him crazy while others pointed out the obvious favoritism that he wasn't on the receiving end of.
Justin Fields is going through the same situation now and he shouldn't be, especially with player safety at an all-time high of concern.
Chicago Bears fans know that Fields is tough, and after the huge victory on Monday night, the whole league does too. But he shouldn't HAVE to sacrifice his body and health for this game and should absolutely be granted the same protection that the NFL offers to certain other quarterbacks.