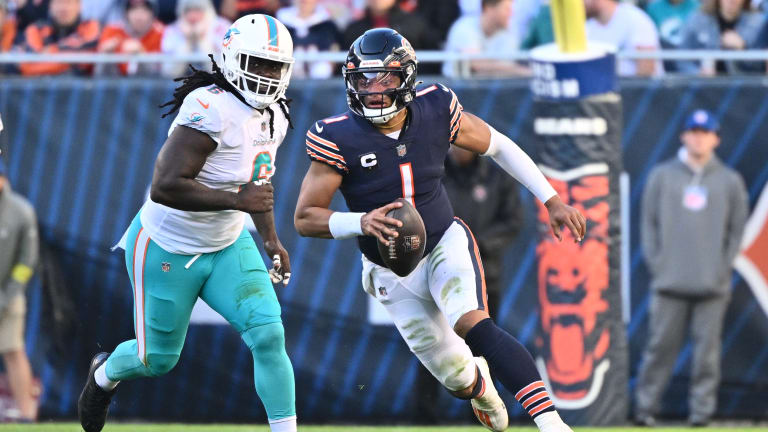 Justin Fields vs. Michael Vick: Who Did It Better?
Fields broke a 20-year-old record on Sunday and it was impressive.
The Chicago Bears might actually have a franchise quarterback in Justin Fields. In Sunday's loss to the Miami Dolphins, Fields carried the Bears on offense. He broke a 20-year-old, single-game rushing record by a quarterback. Do you know who owned that record prior? Michael Vick.
Michael Vick's 173-Yard Rushing Game
On December 1st, 2002, Michael Vick led the Atlanta Falcons to an overtime victory over the Minnesota Vikings. With 173 yards on the ground and another 173 yards through the air, Vick had a seriously impressive showcase of skill.
He did this in his second NFL season and he had one of the most incredible plays of his career.
What's really impressive about Michael Vick's game-winning rushing touchdown is he almost got tackled by several Vikings players. But he eluded them as he always seemed to do and found his way into the endzone for a 46-yard score.
Did Justin Fields Do It Better?
Comparing the numbers between Justin Fields and Michael Vick is actually quite interesting. They posted similar numbers in their huge game with only a few key differences.
Justin Fields vs. Michael Vick

Pro-Football-Reference.com

| Michael Vick | Justin Fields |
| --- | --- |
| 11/28 | 17/28 |
| 173 Passing Yards | 123 Passing Yards |
| 1 TD | 3 TD |
| 1 INT | 0 INT |
| 10 CAR | 15 CAR |
| 173 Rushing Yards | 178 Rushing Yards |
| 2 TD | 1 TD |
| 2 Sacks | 2 Sacks |
At halftime, Vick had 57 rushing yards, and Fields had 53. The biggest difference between the two was the passing touchdowns and turnovers.
Fields didn't throw an interception or fumble the football. Vick had the one costly interception that gave the Vikings another possession and ultimately made it a closer game.
Fields also threw two more touchdowns than Vick did, two to Cole Kmet and one to Darnell Mooney. But Vick did have one more score than Fields had on the ground and if we were discussing fantasy football, that may be the game-changer.
Justin Fields scored a beautiful rushing touchdown of his own for the Chicago Bears and some might say it's better than either of Michael Vick's scores.
Fields ran for 61 yards and a gigantic touchdown. He nearly got tackled for what would have been a short gain on third down, but once he was past the secondary, Miami had no chance to stop him.
Overall, both quarterbacks had impressive performances. They each had unique ways of carrying their offense and putting the team on their shoulders. So which one do you choose? 
Who did it better? Justin Fields or Michael Vick? It's a subjective question to be sure, but either way, there is a new leader in the NFL's history books and he wears navy and orange on Sundays.